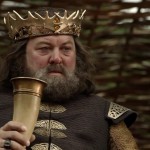 A pub crawl of ice and fire.
PUBS
In no particular order. Just pick a few of the pubs.
1. Stag's Head– Sigil of house Baratheon. You should probably have two drinks here to emulate King Robert.
2. Boar's Head– Here you have a drink in honour of the pig/boar that slayed Robert Baratheon.
3. Dragon– Put a dash of tobasco in your drink in this pub to honour Daenarys Targaryon and to really feel the fire.
4. Bull and Castle- Sit in the great hall and drink some fine beer from large tankards.
5. Knightsbridge Inn– You were a mere squire at the start of the crawl, now you've earned your knighthood!
6. Gypsy Rose– The Sigil (minus the gypsy part) of House Tyrell. Show off your fabulous wealth in this bar by buying someone a drink.
7. Bleeding Horse– Drink to all the poor horses slain in the wars of kings.
8. Howl at the Moon– Finish here in the direwolves nightclub. If you are asked to check in your jacket, say "No, for winter is coming".
RULES: 1. Instead of cheers you must say "Hodor!". 2. Each participant must at least once order a beer and say "A Lannister always pays their debts" when paying the barperson.