Edit: For an uodated version of this article '18 of the best beer gardens in Dublin', follow this link.
In no particular order …
1. Toners, Baggot street
Some might be bemused to hear that the most traditional of pubs, Toners, have a massive beer garden out the back. It's furnished, for the most part, like indoors, keeping the wood finish and vintage drinks advertisements. They have several screens outside, so it's a good spot if you want to watch sport, but it's equally good for a chat in the sun. It gets plenty of sun and you can't beat a pint of stout from this Dublin landmark.
2. The Long Stone, Townsend street
The Long Stone on Townsend street has an initial covered area when you walk out the back, but it's also got picnic tables and patio furniture areas in direct sunlight. It gives you the option of staying outside if the weather takes a slight turn (let's face it, we must prepare for this possibility). There's a pool table outside, one of the few in the city, if you want a challenge with your pint of cider.
3. The Bernard Shaw, Richmond street
Turn the temperature up just a notch and people flock to the Bernard Shaw in their droves. It's a cool and expansive spot (when they open up the other half of the beer garden) with a pool table, tiered and regular seating, not to mention a massive pizza selling bus. They've got a decent range of craft beer and a few good summery cocktail deals like 2 mojitos for €10. They've also been known to do the odd jug of pimms too, should you feel like a refreshing splash.
4. House, Leeson street
House on Leeson street is relatively new, but we've been very impressed with their astro turfed beer garden. On Thursdays you're treated to some outdoor jazz. All other days you can expect a cool atmosphere, great food, and a selection of international wine.
5. The Living Room, Cathal Brugha street
One of the biggest and best sports bars in the city centre, the Living Room also has a huge beer garden outside, complete with screens and a bar. During big competitions they have a grandstand and massive screen. For now, you can just enjoy some direct sunlight a few scoops.
6. Ryans, Beggars Bush
Ryans is probably best known for its atmosphere on match days, located as it is around the corner from the Aviva stadium (Lansdowne road). Directly out the front there are several picnic tables in open sunlight without any large buildings to give you too much shade. They're reasonably priced as the area goes and it's a good spot in our book.
7. Bad Bobs, Temple Bar

The roof terrace in Bad Bobs is one of the few in the city where you sit out and soak up a bit of sun. It's right in the heart of temple bar and they do a few mean cocktails to keep you suitably hydrated while wearing your sunnies.
8. Dtwo, Harcourt street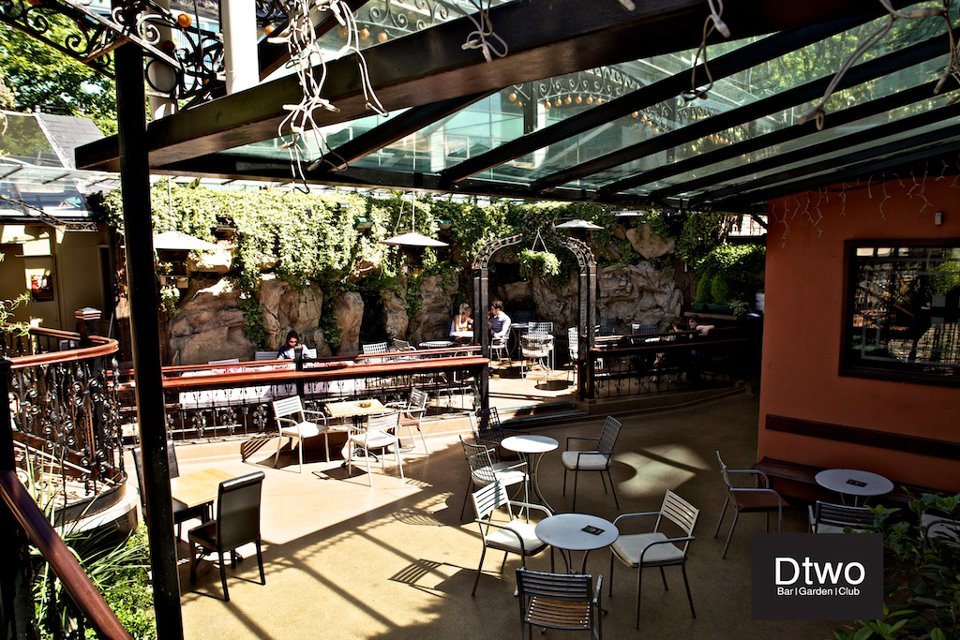 The beer garden in Dtwo has plenty of seats, some nice hanging basket features, and a good atmosphere come night time. They also have outdoor screens for big match days. For now, you can use it to lounge and treat yourself after a hard week in work. (If you're reading this on a Monday, that's also an acceptable time to visit).
9. The Odeon, Harcourt street
There's two spots in the Odeon to enjoy the good weather, and both have their charms. At the front of the building there's a strip of tables where you can people watch, enjoy a few cocktails, or nibble on their tapas. Their outdoor BBQ is returning soon. To the side of the building there's a new and more spacious area with barrels, stools, and umbrellas (in case you want to keep your pale complexion but still stay warm).
10. Hop House/The Shakespeare, Parnell street
This pub/Korean restaurant has a nice little area out the back with rows of picnic tables. There's not a huge amount of sun to be had, but you still get a nice bit of heat. What draws you here are the reasonably priced pitchers (that sometimes have disco lights in the centre) and the really good Korean pub grub. It's a reasonably quiet spot that gets a lot of custom from the mid twenties crowd living in the area.
These are, of course, only opinions. What is your favourite beer garden? What would you add to the list?