The 6 nations fast approaches and we've put together a list of good pubs to watch the games in. We've varied our choices to give you some options between big sports bars, small bars with lots of condensed atmosphere, craft beer bars, and a few others.
Of course there are loads of bars in Dublin with fine rugby traditions that would be excellent venues to watch, and of course this isn't a definitive list, but we've opted to narrow down your choice to a few that we think might be of use.
Let us know some of your favourite pubs to watch the rugby in in the comments section.
Alfie Byrnes, Earlsfort terrace
Alfie Byrnes is the only Galway Bay brewery in the city that shows sports on a big screen. They've got a huge selection of craft beers and a well prepared kitchen that serves up burgers, big meals, and match day snacks. They've also got pool and ping pong tables to keep you occupied before and after the game.
 The Bankers, Dame Lane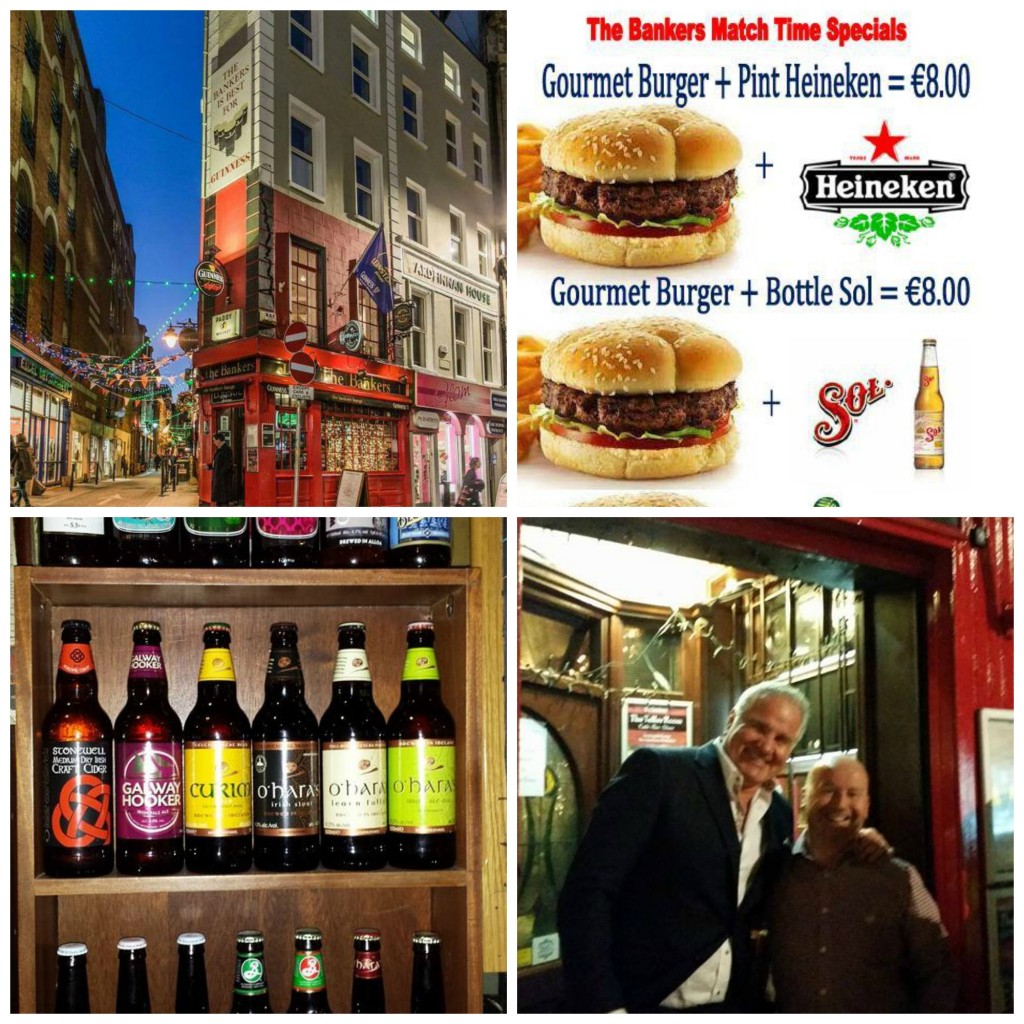 We chose the Bankers because it's a smaller bar that packs in the atmosphere downstairs. You know those pubs you see where people are celebrating Pat Bonner saving the penalty in 1990? Well, this is the type of place we have in mind when we think of that. A nice, small bar where the atmosphere in nicely condensed. They've got loads of bottled craft beer, as well a a few options on tap. They've also got the Teller Room upstairs if you want to have a sit down meal afterwards. Get yourself a burger and a pint of Heineken for €8 downstairs.
 Trinity bar, Dame street
Trinity bar is a multi screened sports bar in the middle of the city. They've got loads of room over 2 floors, and more than enough screens to make sure everyone can see the action. They've got a large menu to keep you going. This is a good bet if you're looking for a large sports bar to catch the action.
 The Bridge 1859, Ballsbridge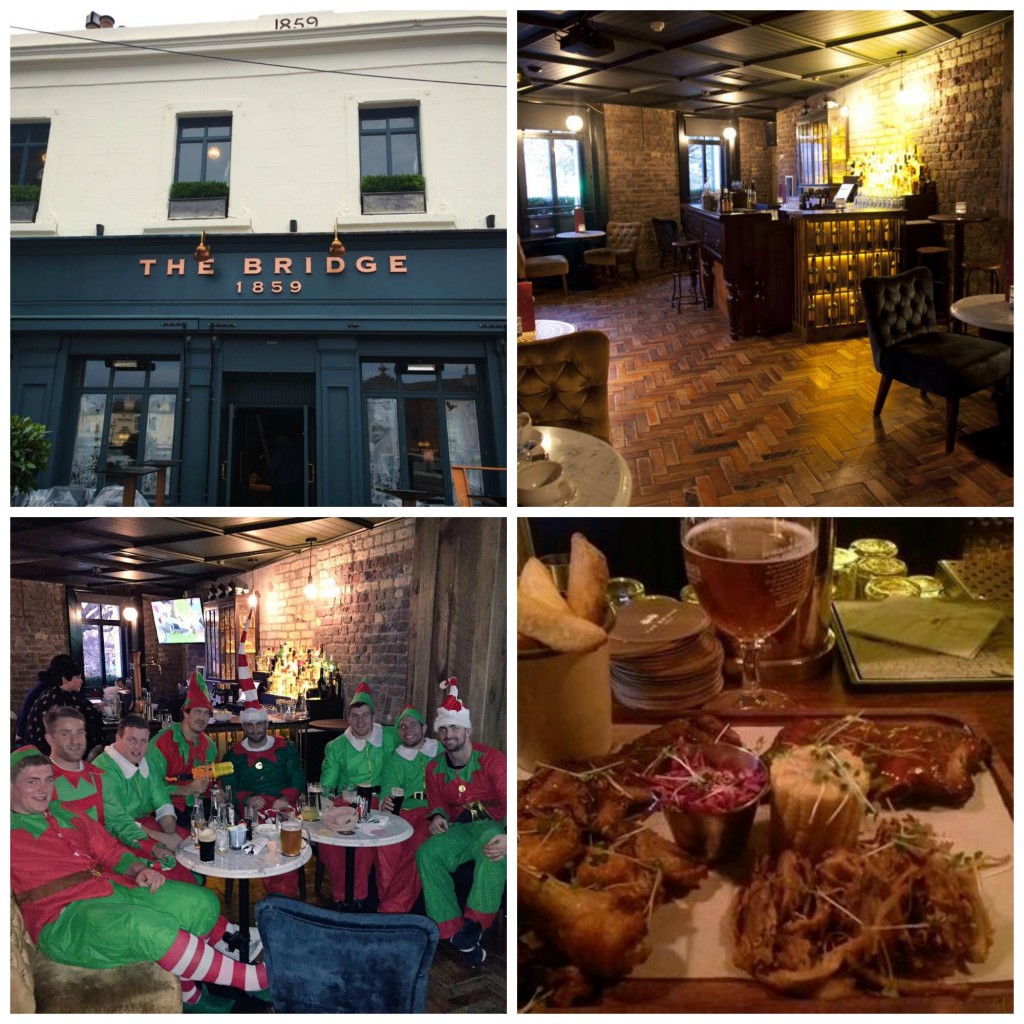 What better place to cheer on the Irish rugby team than a pub that is part owned by some of the players? The pub is part owned by Sean O'Brien, Jamie Heaslip, and brothers Rob and Dave Kearney (that's them in the elf costumes). I'm sure this place will be a real hot spot, located as it is close enough to the stadium. No doubt there'll be people staying here late after the match in the hopes that the players turn up.
 Sober Lane, Irishtown
Sober Lane have launched an initiative to help people beat the ticket tout. If you have a sapre ticket you can leave it behind the bar with your name, the bar then sell the ticket for you and give you the money after the game. You can also leave tickets for friends to collect behind the bar. As well as being a friend of rugby supporters on their way to the games, it's also sure to be a lively spot for watching on tv. They've obviously got their rugby going customers enjoyment in mind!
 Bull and Castle, Lord Edward street
The Bull and Castle has two large HD projector screens to offer and a good traditional of Ireland and Leinster rugby support. Their menu is excellent and they have a craft beer selection to match it. We'd advise booking as early as possible, as it's sure to be a popular spot.
 Kielys, Donnybrook
Kielys of Donnybrook could be considered the spiritual pub home of Irish rugby. It's located right beside Old Wesley rugby club and boasts a long history of supporting Irish rugby. It was immortalised in the Ross O'Carroll Kelly books as the place to go for rugby fans, so much so that they've erected a plaque to him in the toilets. They've got food, some craft beer, and atmosphere to rival any pub.
 Sams bar, Dawson street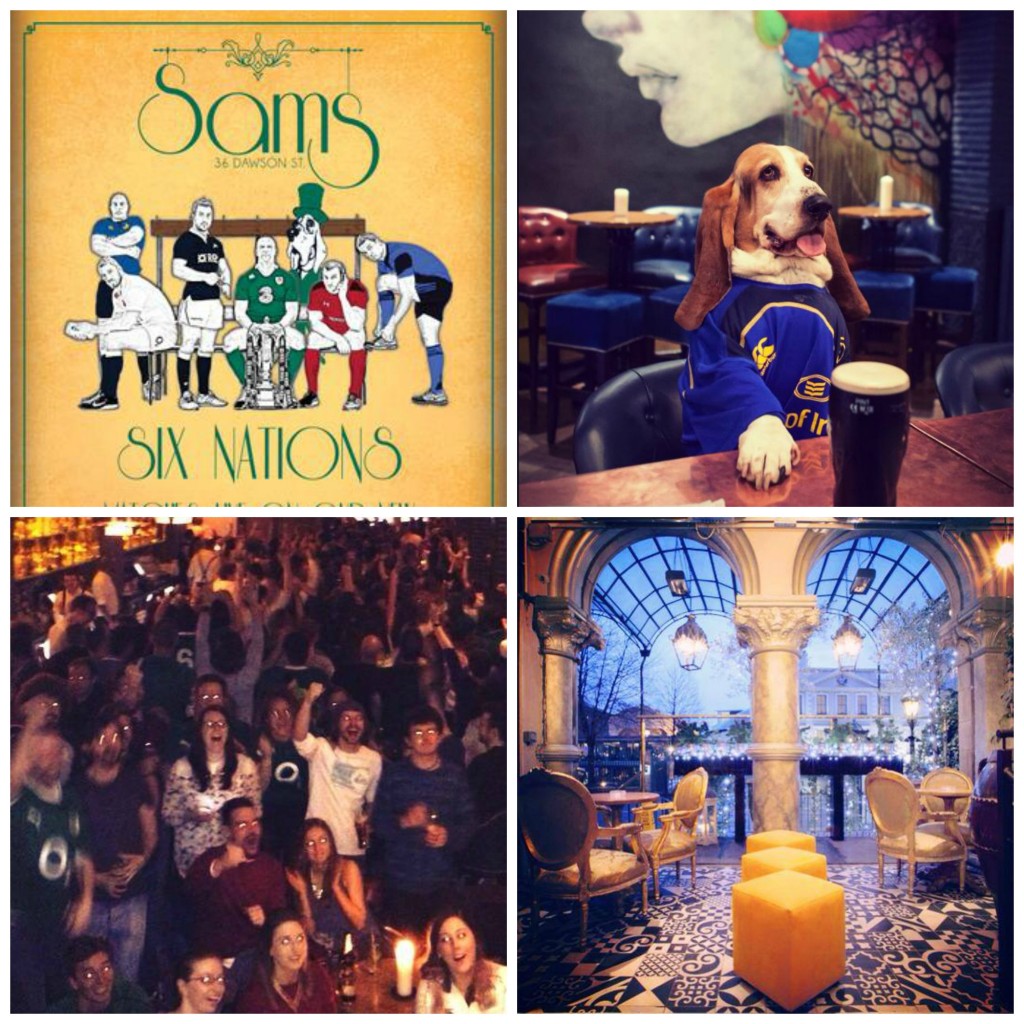 The Irish team came back to Sams after one of the 6 nations matches last year and has been known as a good rugby bar ever since. They dress their doggy mascot Sam in Leinster jerseys all the time and we're expecting a few snaps of him in an Irish jersey this weekend. They'r giving away a free bottle of beer to everyone who wears their jersey in this weekend. They've got a full food menu, as well as more snacky type things like hot dogs.
 The Living Room, Cathal Brugha street
The Living Room boasts one of the biggest screens in the city and draws crowds for football, boxing, rugby, and just about any sport you can think of. They have a massive indoor screen, loads of smaller HD TVs, and a heated beer garden with even more screens.
 The Back Page, Phibsboro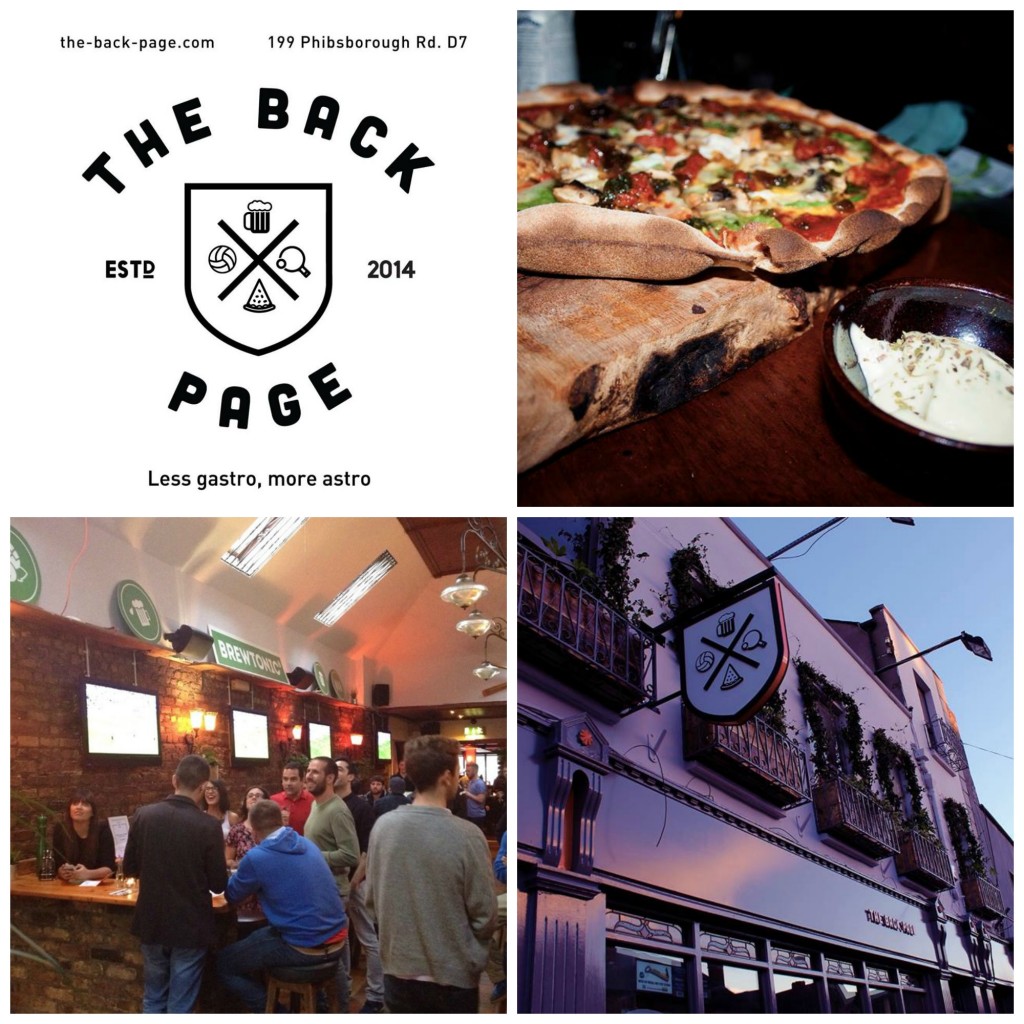 The Back Page is a relatively new bar and also a new way of doing a sports bar. They've got table tennis and darts upstairs, a fifa room downstairs, loads of screens, wood fired pizzas, craft beers, and it's generally a really nice place. Nice to have a place like this that far in the Northside. Same owners as The Bernard Shaw and Twisted Pepper but with more of an orientation towards sports.
Grafton Lounge, Duke Lane
The Grafton Lounge is a good option for watching the match for a few reasons. They've got plenty of screens, they've got a really good sharing food menu full of filling snacks, they've got heineken promotions during games (which means reduced priced pints), and it's a good place if you want to stay out late after the match. You can check out their sharing menu on their website. Plus, if Rob Kearney or Sean O'Brien score a try you get a free pint of Heineken.