Dublin pubs are, in themselves, some of the most unique in the world in terms of atmosphere and what they offer to locals and visitors alike. We've gone looking for 10 of the most unique or unusual amongst them, pubs that offer something or look unlike any other bar in the city. Here's a list of 10 of these pubs that you might like to try to spice up your Dublin pub experience.
1. Hacienda, Arran street east
You either love it, or you don't know about it. The Hacienda bar is definitely an oddity of the Dublin pub scene, given that it's not as widely advertised as others, and the door isn't even open most of the time! It usually opens later in the day and you have to press a buzzer to get in. Don't worry, this isn't because it's super trendy, it's just because the owner Shea likes to have a manageable crowd in there. They play host to a lot of wrap parties for movies and tv shows, hence the plethora of photos of Matthew McConnaughey, Kate Beckinsale, and just about every Irish actor ever. It retains a very traditional interior, but it's definitely unique in its atmosphere. There's 2 pool tables and a dart board to keep you occupied, as well as a roaring fire. The toilets are in with a shout of being the smallest in Dublin, but that doesn't really matter once you're in there.
2. Marys Bar, Wicklow street
Usually when you think of unique pubs, your mind immediately imagines a pub that has been an institution in the city for years. Marys bar, despite how it looks, is quite a new addition to the city. It's modeled on old rural pubs where the bar doubled as a hardware shop. Marys is designed to look like you've stepped back in time to a place where you can get a pint of Guinness, a pack of nails, some bovril, and a bit of WD40 for the wheelbarrow. You can actually buy any of the items on the walls, although I'm yet to see someone make a purchase beyond what's on tap or in the fridge. All the way to the back there's bric'a'brac on the walls, repurposed furniture, and plenty of other crazy crap. I would imagine that it must be a nightmare for the staff when 12 pubs of Christmas groups come in looking to rob something from the walls. I was skeptical that they could pull off the look of a Dingle pub before I went in, but they have made a very good job of it.
3. The Hop House, Parnell street
The Hop House has the distinction of being Dublin's only Korean pub. It's attached to the Kimchi restaurant next door and you can get some amazing Korean food at a very reasonable price served in the pub. Indeed the food alone merits this pubs inclusion in this list, as it is like no other bar experience in Dublin. We recommend the Bimbibap! The pub was formerly known as the Shakespeare before the current owners took it over, and it still retains a lot of the old fixtures and some of the clientele. It's a really interesting coming together of Irish and Asian influences on a street that has become known as the Asian quarter of the city. They have a decent beer garden out the back where you can bring your large, cheap pitchers of beer (the pitchers have disco lights in the middle!) and enjoy a Korean pancake for around €1/2.
4. Generator, Smithfield
It's a pretty common sight around Europe for hostels to have bars open to the public and other backpackers, but up until recently it was a hard thing to find in Dublin. Generator in Smithfield square has quickly become known as a place not just where people stay while visiting, but where people go to watch a match, to host an event, to watch a movie screening, to enjoy comedy, or even just for a few scoops with mates. This place could so easily have been just another place that the average Dubliner doesn't see inside the doors of, but it's been opened to the local public as well as the visiting backpacker. They pay homage to the history of the area with Jameson bottle chandeliers, they take part in local history events, and they've helped foster the excellent atmosphere of cooperation amongst businesses and bars on Smithfield square. Lucky is the tourist that books into Generator for their stay in Dublin.
5. The Library Bar, Exchequer street
Hotel bars have a reputation of being a bit sterile, lifeless, and generally as a place you go only to wait for someone to move on elsewhere. The Library bar is a hotel bar, but its comfort and calm have made it a place where a lot of people will gladly go for a pint and a quiet chat with friends. Perhaps its because The Library Bar retains the feel of a bygone era and doesn't have the modern feel of a hotel bar that it makes for such an enjoyable visit. It's the kind of place where you could have a lunch time pint without feeling too guilty.
6. Probus, Fenian street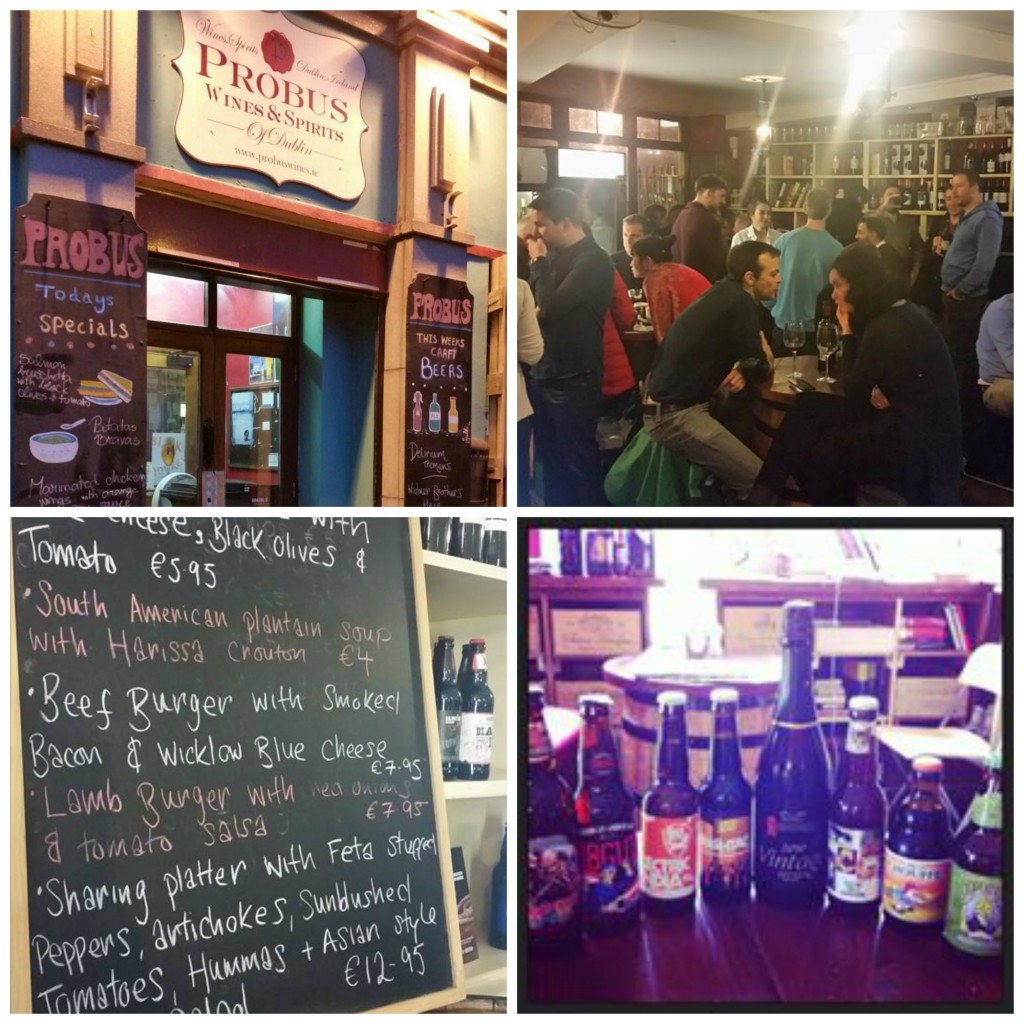 Whether you would classify this as a pub or a bar is up for debate, but I suppose that's what makes it unique! Probus wines have the honour of holding both an off and on license, meaning that they can either sell you drinks for take out, or you can choose to pay a corkage fee and drink there on site. The corkage is usually 20%. They have a great selection of hard to find Irish and international craft beers, as well as an excellent selection of fine wines. To add to that they also have an excellent deli, so you can get some very good grub to accompany your cheaper than usual drinks. They've recently added some extra seats and tables to expand the capacity a bit. It's a great spot if you fancy doing some beer/wine sampling, but don't necessarily want to do it at home.
7. Grogans, South William street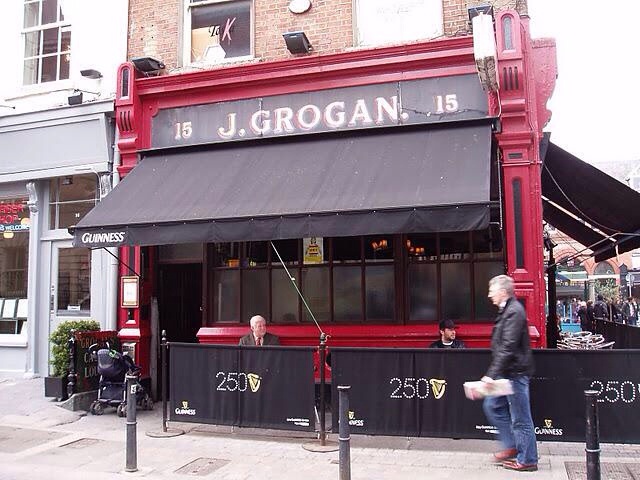 Grogans is an excellent pub and, granted, it's not too dissimilar from a lot of the pubs of its era around the city, but, what does make it hugely different is that it effectively also operates as a gallery. The pub showcases a revolving display of art from local artists, most of which is up for sale. It's like the artists stall on a Sunday around Stephens green, except on a permanent basis on the walls of a pub. What an excellent way to simultaneously decorate your pub in amazing artwork and give exposure to local artists. With the combo of a pint of Guinness (or Irish craft beer) and a toasted sandwich you'll feel all the more cultured.
8. The Beer Market, High street
The Beer Market, from the Galway Bay Brewery, is Dublin's newest craft beer bar. What sets it apart from other craft beer bars is that they ONLY sell craft beer. That means no wine, no whiskey, nothing else (apart from pies). They have around 22 taps and nearly all of them are on a constant rotation. When a keg of one beer runs out, they clean the lines and hook up another keg of a completely different beer. The taps are numbered and relate to panels above the bar that tell you what is currently on tap. These panels change when the beer does. They aim to have a lot of beers that are difficult to find or not available anywhere else. If you're into your craft beer and want to taste something new, the Beer Market would be a good bet.
Edit: Since we wrote this article The Beer Market has now added in a fine selection of wines, whiskey, a food menu, a screen for big games, and a fussball table. But, the point still stands about the depth of their craft beer selection.
9. The Church, Jervis street
What other pub in Dublin can say that their bar is located in the centre of what was a once derelict Church in the heart of Dublin city centre? The conversion and refurbishment of the Church into a bar/restaurant/nightclub kept the main fixtures of the old place of worship, retaining the stained glass, the organ, and turned the altar into a performance area for bands and traditional dancing. The Church is brimming with history, and not just in the visual sense. Arthur Guinness, the founder of the Guinness brewery was married here in 1761, and it was also visited by Sean O'Casey, Theobald Wolfe Tone, Jonathan Swift, and many other notable Irishmen and women. It's an incredible place that has to be seen to be enjoyed.
10. The Dawson Lounge, Dawson street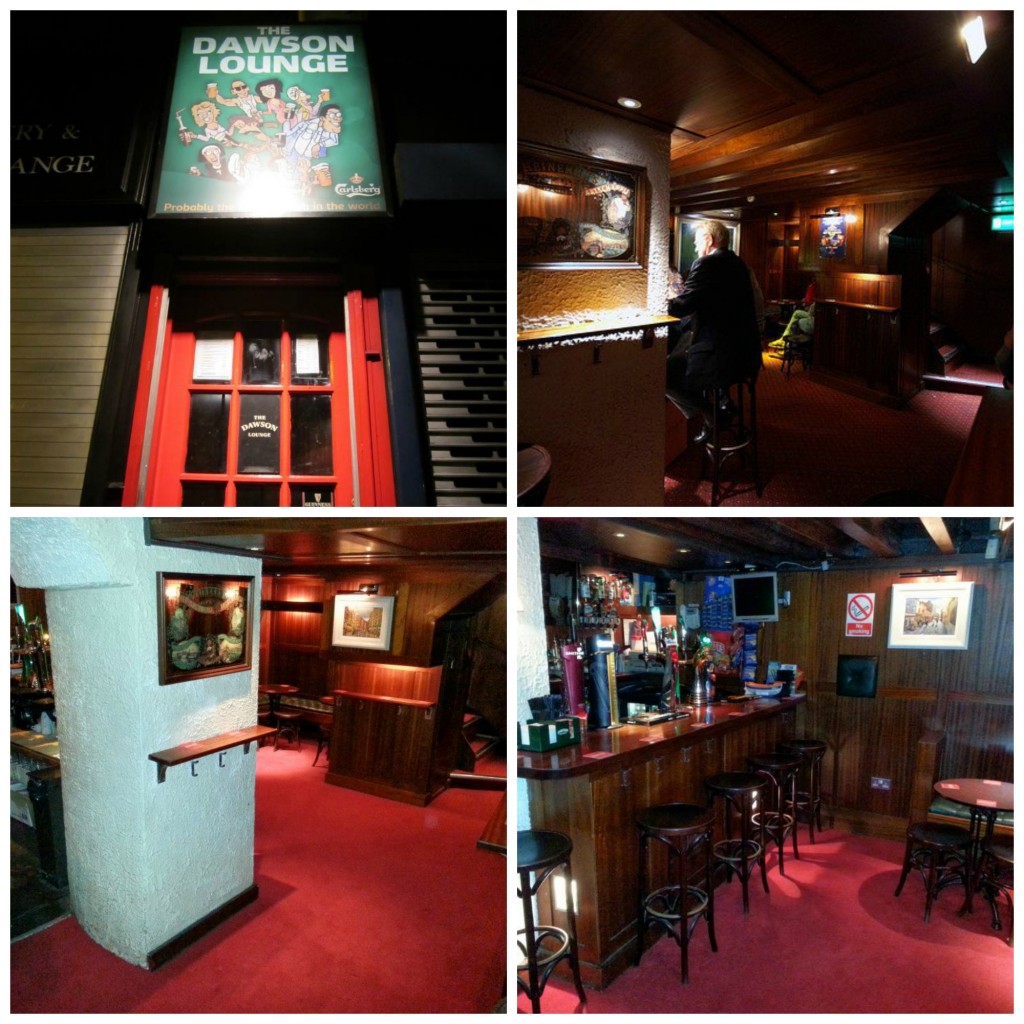 It's no secret that the Dawson Lounge is regarded as Dublin's smallest pub (although there is some debate), and it is indeed a tiny, tiny place. The entrance is narrow enough and you have to make your way down a small staircase into a basement area that is extremely snug, though very pleasant. There's rarely any need for more than one bartender, but then again, there's not much space for two. Small as it is, if you can get a seat down here you'll want to stay for quite a while to enjoy the seclusion that it brings.