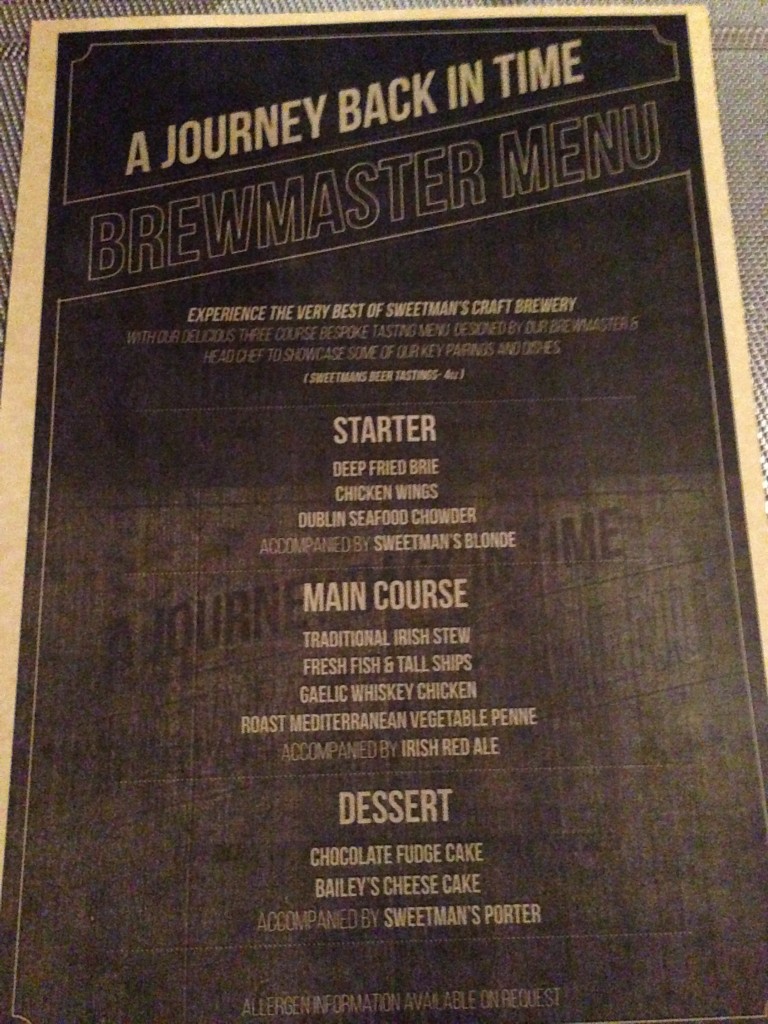 Part of the success of the Dublin pub scene is their ability to embrace the history of their past in decoration and atmosphere, while embracing the newer trends to offer quality food and drink to a more demanding customer base. JW Sweetman are seeking to put their history in the spotlight in a new themed night of talks, music, craft beer tasting, and 3 course meal.
Lucky for us, we got to see and experience all of this up close and  personal.
The night was fronted and presented by historian Gerry Cooley, who, between courses,  talked us through the history of the building, the old Sweetman brewery (that was bought out and eradicated by Guinness), and some more general history of the quays and the city.
With each course came a new Sweetman craft beer, brewed on site. The waiting and bar staff, who were very knowledgeable,  were on hand to take you through any questions you had about the beer or the history of brewing. We went for the seafood chowder, the whiskey chicken, and the baileys cheesecake, a very pleasing triumvirate. Our dining partner inquired as to whether his fish and chips was  sustainably fished cod, and fair play to the staff, they checked and it indeed was.
We were given a nice period between the mains and dessert to digest and listen to some traditional Irish music played by some very accomplished musicians. Following the meal we were welcomed into the main bar to hear the duo play an expanded variety of trad music.
If you're a visitor to the city and want to experience a good primer in Irish food, drink, and history, this would be a very good option for you. A very enjoyable night in a pub that both feels and looks historic. The nights will be starting to run on a regular basis very soon. If you want to find out more or make a reservation, visit their website www.jwsweetman.ie
Incidentally, if you're lucky enough to get a window seat, you have a great view over the Liffey and O'Connell bridge.