It wasn't that long ago that the culinary options in most pubs were peanuts, King crisps, bacon fries, and in some exotic pubs, scampi fries. Some pubs, even though they don't have use of a kitchen, are still trying to offer us some grub to help keep us satisfied. The proliferation of pizza deals in pubs is a very welcome addition, and one that offers a good bit of value to those who just need a bit of soakage in the belly. You might even say pizza is the new toastie. Or not, definitely not… but pizza is still good.
We should note that we're not going to rate the quality of the pizza because it does seem like it may well be the same company supplying everyone around town.
Here's some of the best pizza and a pint deals in Dublin.
Cassidys, Westmoreland street
Price: Pizza and a pint €10.
It's only fair that we start with one of the originators of this new trend. Cassidys were one of the first to offer it as an alternative to crisps and all that.
The Beerhouse, Capel street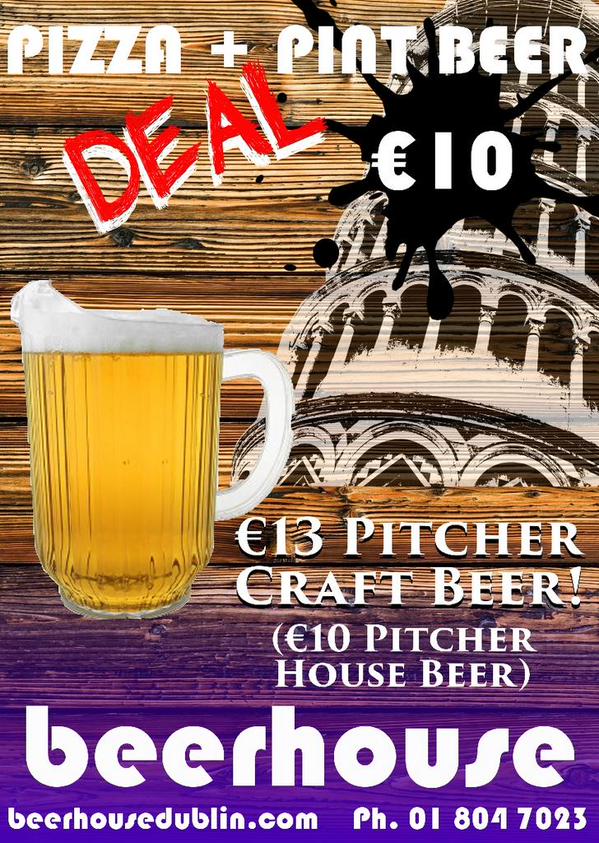 Price: Pizza and pint €10, pizza and pitcher €13
The Beerhouse boasts an impressive amount of craft beer on tap, and you can sample them with a very good quality pizza. They also do pitchers of the house beer with a pizza for only €13.
Toners, Baggot street
Price: Pizza for €9
It may not be a pizza and pint deal, but the recent addition of pizzas all day in Toners is very welcome. Having something to snack on without having to go all out for a sharing platter helps keep us in their big beer garden that much longer.
Sober Lane, Irishtown
Price: Pizza and any draught beer €10 (Mondays)
The pub with the best social media in town also make some excellent pizzas. Check out their dining options for some really good value.
 Fibber Magees, Parnell street
Price: Pizza and a pint €10
The thing about Fibber Magees deal is that it runs until 2am, which could be a life saver if you're really hungry and still out.
Sin é, Ormond Quay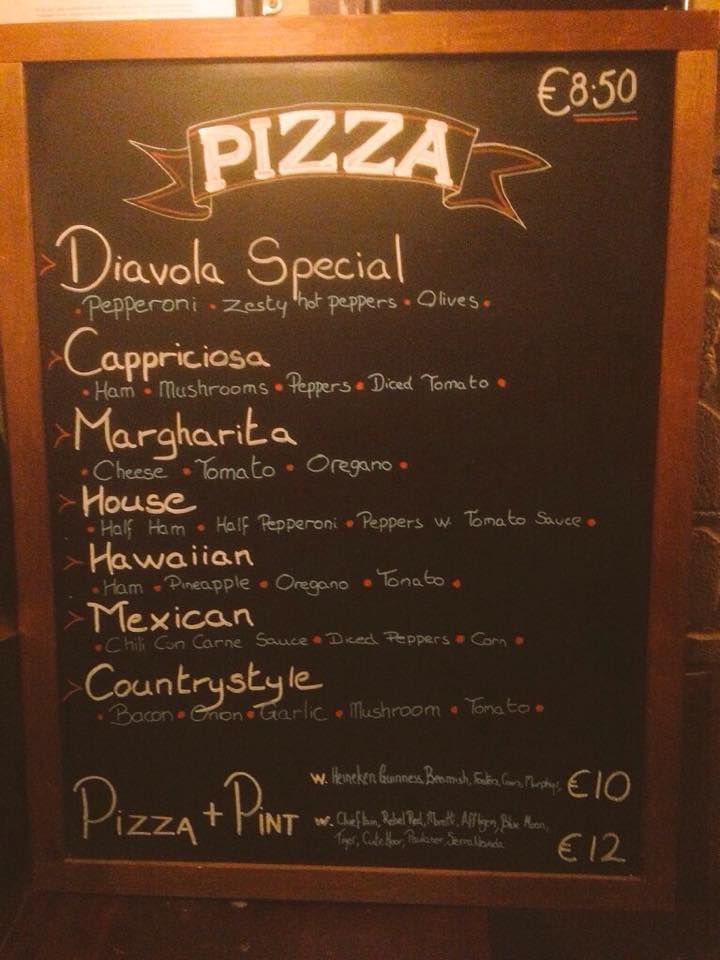 Price: Pizza and a pint €10
Sin é were another one of the early adopters of the new pizza trend. Many a time has it saved a persons bacon.
Blackbird, Rathmines
Price: Pizza and a pint €10
We do very much like the Blackbird in Rathmines. As well as the pizza deal they also have platters of sliders and all sorts of other delicious looking grub. If you're a fan of Cassidys and P Macs but want to be able to watch the football, this is for you.
Chaplins, Hawkins street
Price: Pizza and a pint €10, Pizza and a pitcher €15
If you opt for the pitcher deal you have a choice of 3 beers. They also have a bottle of wine and a pizza deal for under €20.
The 51 bar, Haddington road
You can go for their pizza and a pint offer for €12, or for the same price get anything off their evening menu and pint. That deal runs 5-9pm Monday to Saturday.
The Bernard Shaw, South Richmond street
Price: Pizza and a pint €11 (Until 8pm on a Sunday and during some football matches)
The pizza from the big blue bus at the back of the Bernard Shaw is simply amazing. Really good quality for a decent price.
Doyles, College street
Price: Pizza and a pint €11
The late night home to students for the last few decades also does some student friendly deals.
The Bleeding Horse, Camden street
Price: Pizza and a pint €10 (Thursdays)
There's usually plenty of deals going on any night of the week in The Bleeding Horse and Thursday is your night for pizza.
Karma Stone, Wexford street
The Czech Inn, Essex street
The Czech Inn have a fairly extensive menu, but if you're looking to keep it cheap and cheerful they've got your favourite deal.
P Macs, Stephens street
Price: Pizza and a pint €10
Wouldn't it be nice to get one of their secluded snugs and just savage a pizza away from the prying eyes of the world?
The Back Page, Phibsboro
Price: Pizza and a pint €11 (5-7pm)
These are all hand made pizzas named after famous sporting figures. Bonus point for creativity.
The Cat and Cage, Drumcondra
Price: Pizza and a pint €10
If you know of anywhere else in the city centre doing a deal like this, leave a comment below or email us on publinie@gmail.com