EDIT: This list is for 2015. For our new 2016 list, follow this link. http://publin.ie/2016/pubs-in-dublin-not-allowing-12-pubs-of-christmas-groups/
Love it or hate it, the 12 pubs of Christmas pub crawl tradition has returned for another year. It started this year as early as 2 weekends before December. Some use it as a good excuse to get a group of friend together for a night out, while some see it as an intrusion to the pub atmosphere.
Some pubs have decided that the negatives outweigh the positives and that they'd like to preserve the atmosphere that they're known for year round. It's either a case of not wanting to get too full, or having had bad experiences with groups in the past and not wanting the hassle. One publican did tell us that people wearing Christmas jumpers are very welcome and to not think that they will be excluded or refused entry based on what they wear.
Here's a list that we will be expanding upon of pubs that will not be allowing 12 pubs of Christmas groups in.
1. The Swan, Aungier street
The Swan is a lovely Victorian era pub that wants to keep their pub busy but not hectic. Indeed, as a result of publicity gained last year from being a safe haven away from the 12 pubs madness, they did very well out of it.
2. Grafton Lounge
Grafton Lounge hasn't allowed 12 pubs groups in for the last 6 years. They do very well at this time of year anyway. It's a good option if you want a late party with a DJ.
3. The Long Hall
The Long Hall cite the layout of the premises and respect for their regulars as reasons for not allowing the groups, which I think is fair enough.
4. The Old Stand
The Old Stand are keeping their traditional atmosphere this year, as they did last year.
5.  Walshs, Stoneybatter
Walshes in Stoneybatter is one of our favourite pubs and it would get very cramped in there should several groups come in at once. Similar to the other pubs, they want to retain their normal atmosphere.
6.  57 the Headline, Clanbrassil street
Dublin's premier Irish craft beer bar will be saying no to 12 pubs groups once again this year. A lovely spot if you want to sample a selection of 22 Irish craft beers, and their whiskey selection isn't too shabby either.
7.  Opium
Opium is a really good bar for cocktails and Thai/Vietnamese food. Unless the groups are dropping in for some canapes, the bar and the 12pubs idea doesn't really mix too well. The bar will not be allowing entry to the groups.
8. JJ Smyths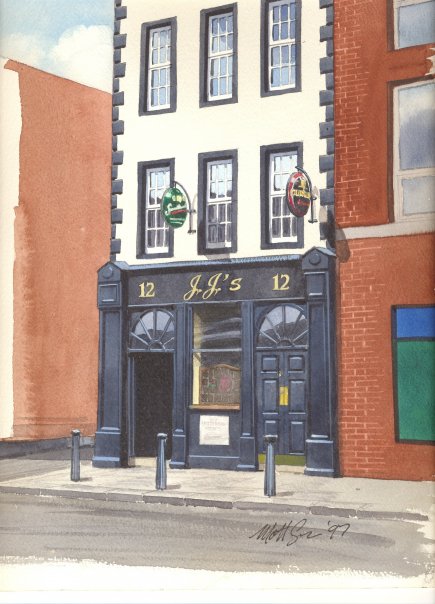 The bar famous for blues in Dublin will once again be closing their doors to the groups.
9. Bowes, Fleet street
Due to the layout and compact nature of the pub, Bowes on Fleet street won't be allowing 12 pubs groups in as they simply can't cater for them while keeping regular customers happy.
10. Anseo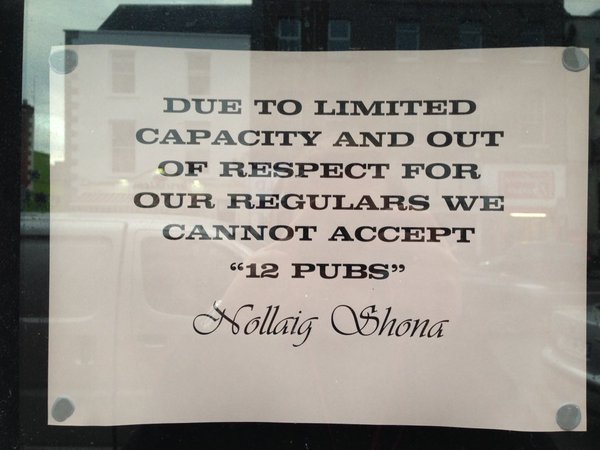 We're informed via twitter that Anseo once again have a sign at their door informing people that they will not be catering to 12 pubs groups. They didn't last year, so we're confident they won't this year.
Last year there were several other bars that were also not allowing entry to 12 pubs groups, including The Chancery Inn,  and O'Connells pub on south Richmond street. We're working to confirm their status this year. This is not a finished list and will be added to gradually over the next few weeks.
Other bars we have talked to have said that groups are very welcome so long as they don't act the maggot, steal anything, or be rude to the staff. But I don't have to say that to you, friend of Publin.
If you know of any more pubs that have an across the board policy of refusing 12 pubs groups, let us know and we'll add it to the list.