One of the most popular past times for music lovers in the city is to go to a traditional Irish music session. We're putting together a comprehensive list of trad sessions and trad singers in the city every night of the week. We've highlighted a few of the best at the start of the article, and then go through the listings day by day towards the end.
Some listings are more traditional than others, and some are geared more towards tourists, but they all have their charms.
Where there is no end time listed you can take it that the session goes on all day or to the close of the pub.
If you know of any sessions missing from this list, please send us an email to publinie@gmail.com
The Cobblestone
Owner, Tom Mulligan puts a lot of effort into getting some of the best session musicians in 7 days a week to perform for free for the crowd of tourists and trad lovers of the country. He and his family even play a few tunes themselves. It's probably the best pub in Dublin for sessions.
Times:
Monday-Tuesday 7.00- close
Wednesday-Friday 4.30 – close
Saturday, Sunday 1.30 – close
McNeills, Capel street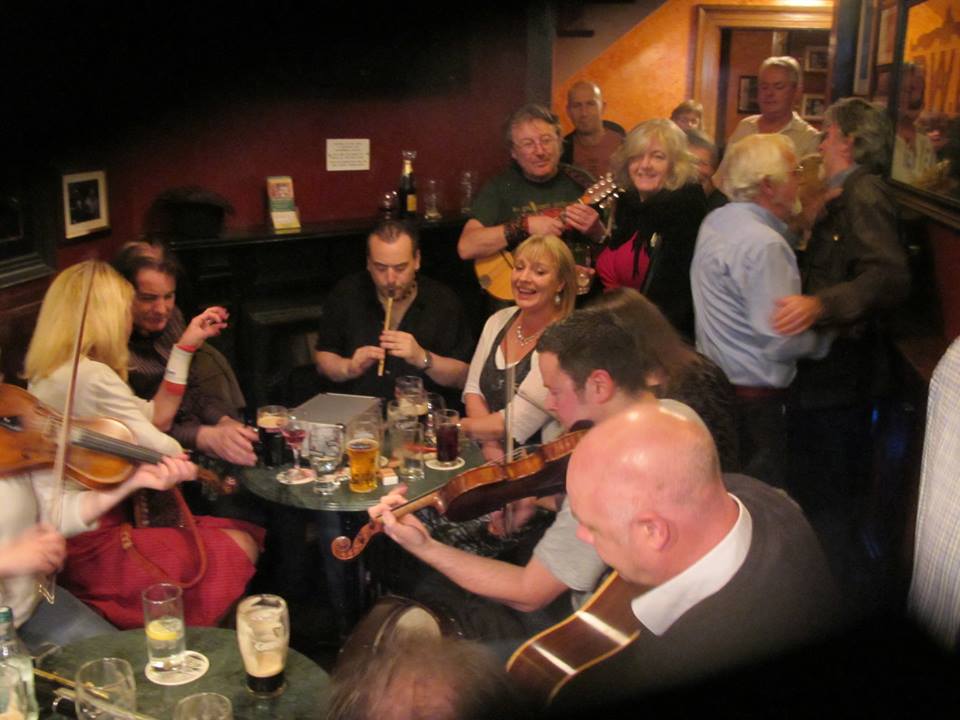 McNeills has a very warn and welcoming atmosphere, enhanced by their fireplace at the back of the pub. It's a great place to watch the very accomplished musicians do their thing over a pint of stout. They have regular contributors and invited guests.
Times:
Thursday 9.30
Friday  9.30
Devitts, Camden street
The session in Devitts is of a very high standard, and involves musicians both young and old. The Thursday session is downstairs, and the others are held up above.
Times:
Thursday to Saturday 9.30

O'Donoghues, Merrion Row
The Dubliners were known to play and drink here, and the tradition holds strong today, with 7 sessions a week. It's a great traditional pub and the tunes are an integral part of its charm.
Monday
– Cobblestone 7.00
– O'Neills Suffolk street 9.30
– Doheny Nesbitts 8.00
– O'Donoghues, Merrion row 9.15
– The Temple Bar 1.30
– Auld Dubliner 2.00
– Norseman 7.00
– Gogartys 2.30
– The Old Storehouse 6.00
Tuesday
– Cobblestone 7.00
– Marys 7.30- 11.00
– Peadar Kearneys 8.00
– O'Neills Suffolk street 9.30
– Doheny Nesbitts 8.00
– O'Donoghues, Merrion row 9.15
– The Temple Bar 1.30
– Auld Dubliner 2.00
– Norseman 7.00
– Gogartys 2.30
– The Old Storehouse 6.00
– O'Sheas Merchant 10.00
Wednesday
– Cobblestone 4.30
– Flannerys 10.00
– Porterhouse temple bar 5.00
– O'Neills Suffolk street 9.30
– O'Donoghues, Merrion row 9.15
– The Temple Bar 1.30
– Auld Dubliner 2.00
– Norseman 7.00
– Gogartys 2.30
– The Old Storehouse 6.00
– O'Sheas Merchant 10.00
Thursday
– Cobblestone 4.30
– McNeills 9.30
– Devitts 9.30
– Darkey Kellys 8.15
– O'Neills Suffolk street 9.30
– O'Donoghues, Merrion row 9.15
– The Temple Bar 1.30
– Auld Dubliner 2.00
– Norseman 7.00
– Gogartys 2.30
– The Old Storehouse 3.00
– Foleys 9.00-11.00
– O'Sheas Merchant 10.30
– The Palace (upstairs) 9.30 (open)
Friday
– Cobblestone 4.30
– McNeills 9.30
– Devitts 9.30
– Stags Head 10.00
– Darkey Kellys 6.00
– O'Neills Suffolk street 10.00
– O'Donoghues, Merrion row 9.15
– The Temple Bar 1.30
– Auld Dubliner 12.30
– Norseman 3.00
– Gogartys 2.30
– The Old Storehouse 3.00
– O'Sheas Merchant 10.00
Saturday
– Cobblestone 1.30
– Devitts 9.30
– Stags Head 10.00
– Darkey Kellys 6.00
– O'Neills Suffolk street 10.00
– O'Donoghues, Merrion row 5.30
– The Temple Bar 12.30
– Auld Dubliner 12.30
– Norseman 7.30
– Gogartys 2.30
– The Old Storehouse 3.00
– Foleys  9.00-11.00
– O'Sheas Merchant 10.00
Sunday
– Cobblestone 1.30
-Trinity bar 8.00
– The International 3.00-6.00
– Darkey Kellys 3.00
– Blarney Inn
– Bowes 9.00
– O'Neills Suffolk street 9.00
– Doheny Nesbitts 8.00
– Cassidys, Camden st 8.00
-McGrattans 8.00
– O'Donoghues, Merrion row 1.00
– The Temple Bar 12.30
– Auld Dubliner 12.30
– Norseman 6.00
– Gogartys 2.30
– The Old Storehouse 3.00
– Dame tavern 6.00
– The Wiley Fox 6.00
– O'Sheas Merchant 6.30-8.30, 9.00
– The Hairy Lemon  7.00
– Kehoes (upstairs) 8-10.00