So the standard BBQ just isn't tickling your fancy anymore. You want something new, something bigger, something grander. Well, there's a few pubs in Dublin where you can order a whole pig on a spit for your big party occasion. What could be a better centrepiece to your party than a whole hog? We've found a few places that will make your piggy wish come true. We realise there's a difference between pig on a sit and suckling pig, but we've added the two into this list.
Bull and Castle
The restaurant downstairs in the Bull and Castle have an amazing meat selection thanks to their long tradition of butchers in the F.X. Buckley family. Their suckling pig dining feast will serve 8-14 people, depending on how hungry they are. It's served with applce sauce, duck fat roast potatoes, maple roasted carrot and parsnip with candied pecan nuts and blanched green beans sautéed with bacon lardons and shalots. It also comes with a generous selection of starters and deserts as well as a complimentary cheese plate.
You'll just have to give them at least 4 days notice to get it all ready for you. Sound good? You can book via (01) 475 1122 or bullandcastle@fxbuckley.ie
Grafton Lounge
If you're having a big big party, then a Grafton Lounge BBQ might well be for you. They do a package for up to 80 people that includes a pig on a spit, and sides of baked potato, mixed leaf salad, homemade slaw, cheddar cheese, and a selection of sauces. The package runs at €1,500, but remember, that's for 80 people and a real dining spectacle. You get a whole area of the outside and the bar to yourselves on this package.
For more details see their website. Book or make an inquiry via  016796260 or email reservations@thegraftonlounge.ie
McGowans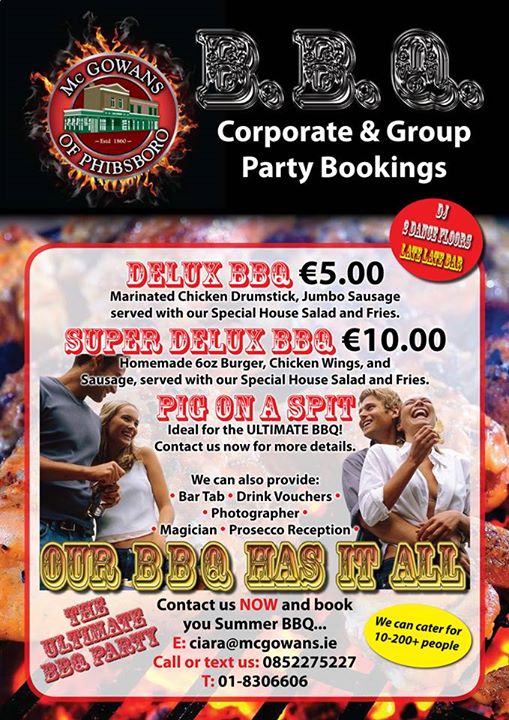 McGowans in Phibsboro has the advantage of having a late bar every night of the week, so you can keep the party going long after the pig has been devoured. They have a range of BBQ party packages, including one for a pig on the spit to make the ultimate BBQ experience.
Book or make an inquiry via 01-8306606 or ciara@mcgowans.ie
If you know of another pub doing pig on a spit, email us at publinie@gmail.com
Other pubs that have done pig on a spit before:
Oscars cafe bar in Smithfield had one last year. The Bath pub have had some in the past and they have a beautiful beer garden for holding your event. The Living Room have a massive beer garden and have used it for pig on a spit in the past.