So you've set the time, and you want to impress your date with a good venue for your first date, showing that you know all the best spots in Dublin. We've picked out a number of options for you based on different criteria of what you might want for a first date.
Some places will be good for a few cocktails and food, some are more traditional if that's your preference, and some have some interesting decor so you've got plenty to pass comment on.
1. Whiskey Palace at the Palace bar
A lot of people don't know about this option, and it's not just all about the whiskey up here. It's a dimly lit, reasonably quiet spot with real character to it. It's very different to bars and pubs around the city, so you'll earn some points for originality. They've got good selections of whiskey (obviously), craft beer, the regular beers, and wine. It's not a huge place, so it's quite intimate and you won't be sitting far away from your date. You've got the option to go downstairs for a more traditional feel if you choose. It's open on weekends.
2. Blackbird, Rathmines
Ok, so it's a little bit out of the city centre, but it's a great spot, especially when it comes to having things to talk about. It's eclectically decorated with Star Wars paraphernalia and other memories from your childhood. If you want to be a bit more active over your drinks you can play some board games or even a game of pool. If you're reading this in the summer, they have a really good beer garden out the back.
3.  Toners
Toners is one of the best traditional pubs in Dublin and if you're lucky enough, you might get the snug to yourselves for a very private chat. If you're not quite ready for that seclusion, the bar area is usually busy, so your clumsy advances will get drowned out in the hum. They also have a beer garden area that is heated in winter and glorious in the summer. If you think your date likes the traditional spots, then this could be a good idea.
4.  Opium
Some like to go for a drink, others prefer to get a bit of food. Here in Opium you've got the option for both. You can get some lovely light bites or larger meals in the Thai and Vietnamese traditions. The cocktails here are top notch and the bar staff are good at recommending drinks. It's a slick looking place, but you won't feel too formal in a date setting. It's also got a late bar if you lose the run of yourselves and don't want to have the 'Will we stay out for one more somewhere else' dance.
5. The Church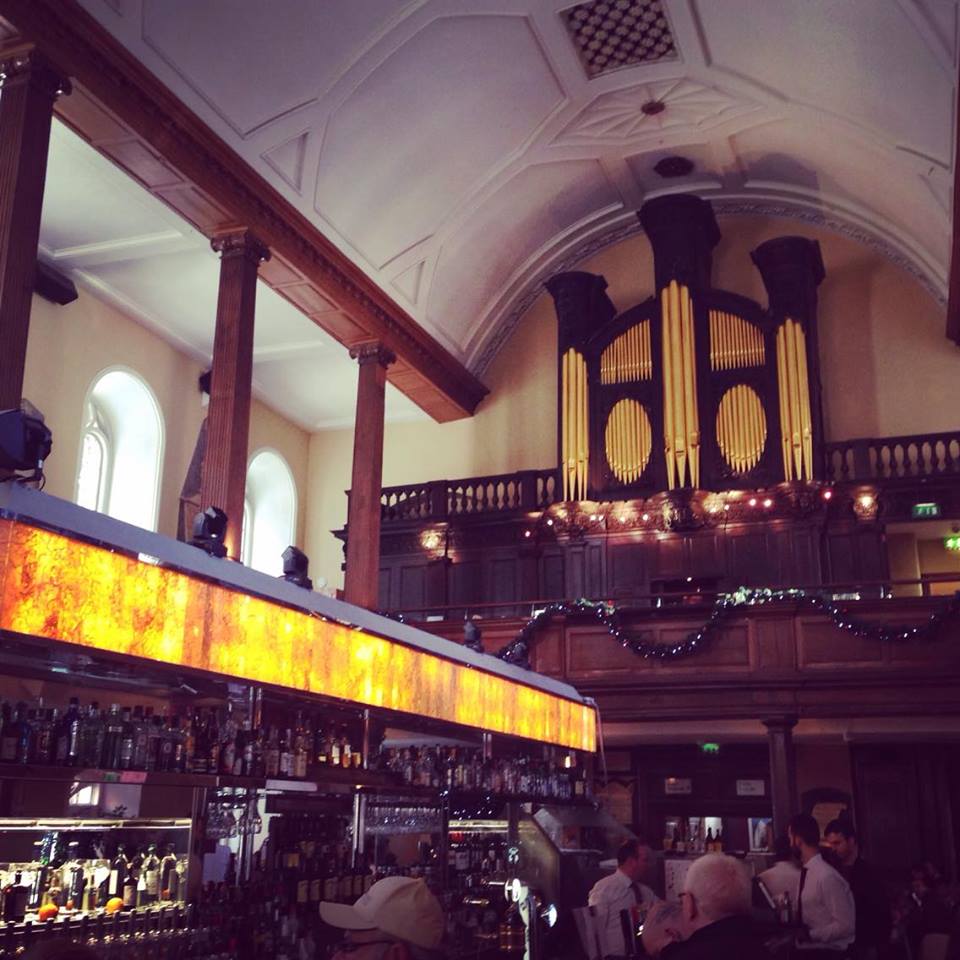 If you're looking for a place on the fancier end, then The Church can certainly provide that. It's an incredible building with a wealth of history behind it. Their food is excellent, they do great cocktails, and the building provides a few talking points if you're stuck for conversation. It's a late bar Thursday to Saturday and it's busy every night of the week.
6.  Whelans
We also included Whelans in our list of best places for single people in Dublin, but fear not, you probably won't lose your date to another singleton. There's always a crowd in Whelans, so you can bank on there being an atmosphere there 7 nights of the week. There's sometimes music in the main bar area, and there's something on 7 nights of the week in the venue. It's casual enough in here and you've got plenty of murmur around you so you can talk in peace without fear of being overheard.
7.  Sin é
Sin é on the north quays is a great spot most nights of the week and if you look around you'll notice a few dates in progress. It's a cool and laid back place that usually has live music and a DJ playing. You've got the option just to sit down and chat or even have a bit of a dance. We'd recommend you get a pair of Glendalough red eye cocktails, which are made from Poitin. Adds a bit of spice to the date. They're also open late from Thursday to Saturday.
8. Marys bar
Marys bar is a meeting of worlds; the hustle and bustle of Wicklow and Grafton streets on the outside, and the modern take on the traditional rural pub on the inside. It's a pub, a hardware store, and a local shop… by design anyway. There's a few little booths you can set yourself up in and there's no end to the tat (we mean this in an admiring way) hanging from the walls. If your date hasn't heard of it, they'll be impressed. If they have, they'll be glad to return.
9. The Swan
The Swan on Aungier street is a favourite of ours. It's an original Victorian era pub, so it ticks the traditional box. If you haven't been there before, it's quite similar to the Stags Head. There's a snug type area that could be nice to sit in, you can mount yourselves on the high stools by the window, or you get cosy beside the fire around the corner. If you need to stay out later, Wexford street is just up the road for some late night spots.
10. Wigwam
Wigwam has really changed it up since the Twisted Pepper closed down, turning the venue into an expansive dining and drinks area. They do food until late, and they're focusing on being creative with their cocktail and food offerings. There's loads of tables for two here, so you won't feel out of place on a date. The bar stays open late and by night it's bustling, but comfortably so.