We may be playing fast and loose with the term 'antiques' in this article, but we think it's a reasonably accurate way to describe what are mostly items of furniture.
These 6 pubs have salvaged or repurposed items from famous Irish locations or, more generally, have a really cool antique.
Seats from the old Croke Park in O'Shea's Merchant.
The side of O'Shea's Merchant on the corner of Lower Bridge street and the south quays has a really cool new covered smoking area. At the end and at the sides there are raised bench seating that looks pretty old. They are in fact salvaged seating from the old Croke Park, which was renovated in 2004. The pub is well known for it's GAA crowd and is packed on match days. They have other GAA paraphernalia dotted around the bar. Here's your chance to sit on a little bit of history.
The stage from The Adelphi in The Church
Linking the spiral stairs to the tower area of the Church on Jervis street is a piece of floor board. The boards were taken from the original stage of the old Adelphi theatre, which once stood on Abbey street. Among the names to have walked and played on this stage were The Beatles, Fleetwood Mac, The Rolling Stones, Bob Dylan, The Beach Boys, and Johnny Cash.
The Bewleys door on The Mission bar
The Mission bar is fairly newly opened on the north quays near the Croppy Acre. Their new door is salvaged from the Bewleys on Grafton street. The well known coffee shop and eatery has been closed for around 2 years now for renovations. Bewleys on this site dates back to 1927, but we're not sure how far back the doors date.
Seats from the Adelphi in The Adelphi
We're on our way to reconstructing the whole venue here. The old venue's new namesake, 'The Adelphi' on Abbey street came upon a row of chairs from the original theatre. Across the road you can still make out the outline of the theatre beside Arnotts.
Lansdowne road seats in O'Neill's Suffolk street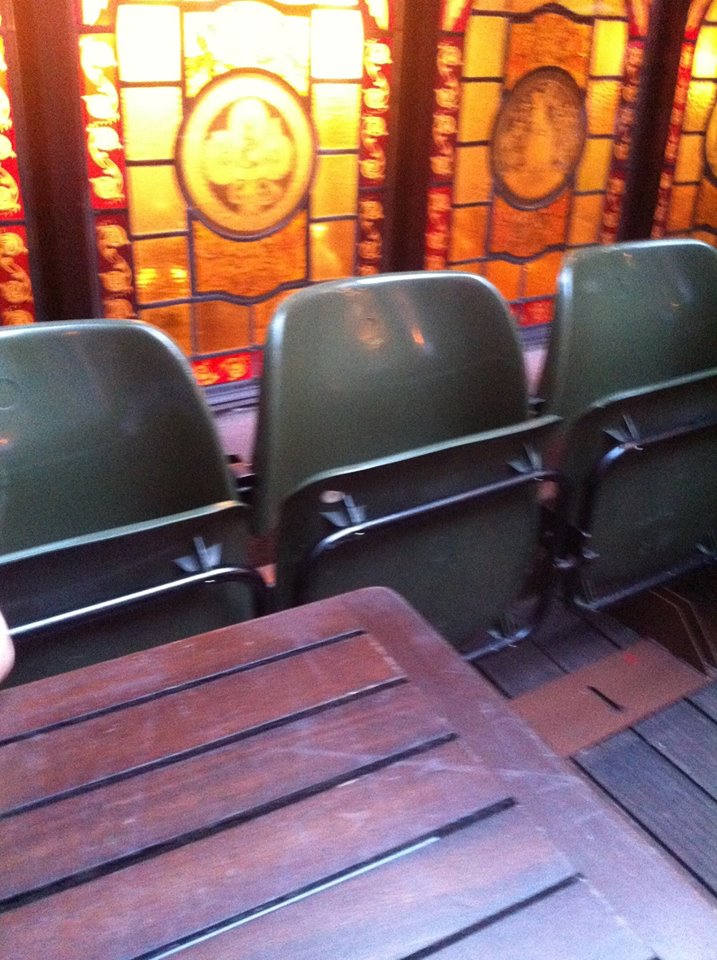 Similar to the Croke Park seats on this list, Lansdowne road also has a little piece of it remaining in a Dublin pub. In the rooftop smoking area of O'Neill's on Suffolk street you can see and sit in these seats that once resided in the old Lansdowne road before it's demolition in 2007.