Whether you're a couple or a single person looking for love or temporary companionship, you'll likely be out this weekend. We've got a few events, dining options, and even a singalong for you to try out.
1. Cocktail masterclass and dinner in East Side Tavern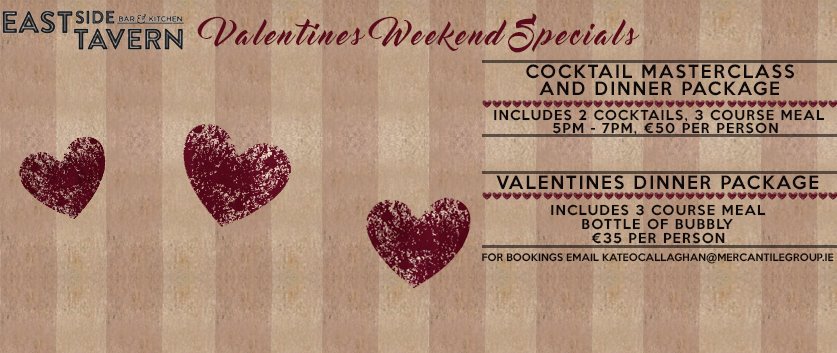 From 5-7pm you'll be instructed how to make cocktails and get 2 for yourself, followed by a 3 course dinner in a very swanky looking establishment. Sure you don't even need to be a couple to enjoy this one. You can dispense with the cocktails and get down to the dinner on its own for €35 per person or €50 pp including the class.
2.  McGowans single nights
McGowans are celebrating love this weekend with their 'Met in McGowans' party on Friday, which brings together couples who first met in the bar, a speed hook up game on the Saturday, and a singles party on Sunday with €3.50 drinks.
3. Valentines dinner at 57 the Headline
Get yourselves upstairs in The headline on Clanbrassil street for prosecco, 2 courses, and a bottle of wine for €70. That won't break the bank and the food there is excellent. We've dined there before and it's a lovely setting that has some excellent Irish food, including a few options you probably won't get anywhere else.
4. Love me tinder at The Bernard Shaw
Last year was such a success they're doing it again. A singles night in The Bernard Shaw with a bit of a Tinder theme. Show the app at the bar to get a free glass of prosecco. Knowing them, they'll have a few things up their sleeves on the night.
5. Dinner in The Teller room
It's pretty casual dining here in the Teller room in The Bankers, with some of the best Ireland has to offer, including Clonakilty black pudding, Irish stew, steak, and the chefs fish special. Menu link. A good kicking off point if you want to stick around for a drink afterwards or nip out for a cheeky cocktail somewhere in the city.
6. Smithfield Valentines fair
If you're not mad on going out at night, then the market fair in Generator in Smithfield should prove a good option. There's yoga, live music, vinyl, vintage and designer clothing, a valentines film screening, and food and drink offerings galore. Link.
7.  Dinner at The Exchequer
What could be a better way to spend the night than in one of Dublin's finest gastro pubs? They've got 3 courses and a bottle of prosecco for €70. Not bad at all, at all. You can add to the treats and have a few of their signature cocktails before and after.
8. Tapas and cocktails in Market bar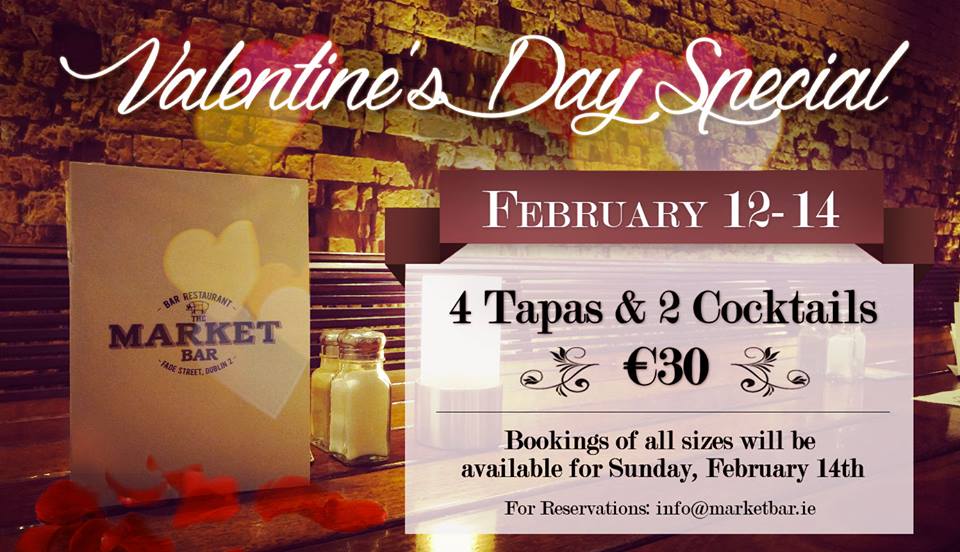 The tapas in Market bar are well known for being absolutely delish, and their cocktails live up to the same standard. Have your seated meal in the main bar and dining area and then maybe head up to the 'Black Market' upstairs or The Chelsea Drugstore, which is attached to the bar.
9.  Power ballad singalong in MVP
What better way to spend Valentines night than belting out some Bonnie Tyler with your mates in a room with strangers. Prepare yourself for 'Total eclipse of the heart', 'I want to know what love is', 'Careless whisper' and many others. It's €5 for a ticket and €100 of the door goes to the Peter McVerry trust. Link.