Every 16th of June the streets of Dublin are flooded with crowds of Joyce and Ulysses enthusiasts all decked out in period dress. People travel from around the world to celebrate James Joyce's Ulysses, it's protagonist Leopold Bloom, and his odyssey across the city of Dublin in 1904.
A number of pubs gets a mention in the book, and several others are celebrating it through food, readings, and drinks.
Davy Byrnes

James Joyce himself was a patron of Davy Byrnes, and chose to include it in his book 'Dubliners'. Leopold Bloom  also visited Davy's in Ulysses. Inside Bloom and his companion Nosey Flynn enjoy a Gorgonzola sandwich and a glass of burgundy, a pairing that is extremely popular today due to the book.
Here is the extract that mentions Davy Byrnes.
"He entered Davy Byrnes. Moral pub. He doesn't chat. Stands a drink now and then. But in a leap year once in four. Cashed a cheque for me once.
Davy Byrne came forward from the hindbar in tuckstitched shirt-sleeves, cleaning his lips with two wipes of his napkin. Herrings blush. Whose smile upon each feature plays with such and such replete. Too much fat on the parsnips.
And here's himself and pepper on him, Nosey Flynn said. Can you give us a good one for the Gold Cup?
I'm off that, Mr. Flynn, Davy Byrne answered. I never put anything on a horse.
You're right there, Nosey Flynn said.
Mr Bloom ate his stripes of sandwich, fresh clean bread, with relish of disgust, pungent mustard, the feety savour of green cheese. Sips of his wine soothed his palate.Not logwood that. Tastes fuller this weather with the chill off.
Nice quiet bar. Nice piece of wood in that counter. Nicely planed. Like the way it curves."
Mulligans
Mulligans of Poolbeg street has a plaque outside the pub celebrating Bloomsday. Joyce did come here for a drink, but there is some  debate as to whether he actually wrote some of the book at the bar or not. It has been established that he did at least make some notes in the pub that became passages in the final draft. It is definitely true that a scene from Joyce's 'The Dead' is set in the back room of the pub. The room has now been renamed 'The Joyce Room'.
Kennedys
Kennedy's pub on Westland Row was open in 1904 when Ulysses was set. This year they've teamed up with Sweny's pharmacy across the road to host a Bloomsday breakfast. Sweny's pharmacy is described in Ulysses in some detail and is today kept open as a registered charity.
The Bloomsday breakfast starts at 10.30am. Guests will be served the finest fare and treated to performances of comic scenes from the book, songs, and readings, including Molly Bloom's soliloquy and 'Barney Kiernan's pub'. Attending the breakfast will be actors, musicians, and politicians. For more details, visit www.kennedyspub.ie.
Ryans
Ryans on Parkgate street is run by the FX Buckley group, which originated as a butchers. That butchers actually gets a mention in Ulysses- 'Thursday; not a good day either for mutton kidney at Buckley's, fried with butter, a shake of pepper.' Buckley's still supply the meat to this day. They'll be giving away a free kidney taster and James Joyce cocktail aperitif with every main course.
The Bailey
The door from number 7 Eccles street, from where Leopold Bloom set off on his journey, once resided in The Bailey bar. Flann O'Brien, Patrick Kavanagh, and others set about preserving the door in the 60's when the building itself was being torn down. The door was in The Bailey for 30 years until it was reunited with its original stone surround in the Joyce centre on North Great George's street. The Bailey is still today, after years as a known literary pub, very much part of the Bloomsday celebrations. There's lots more detail on the Bailey website.
Lincoln Inn
While not a direct connection to Ulysses, Lincoln Inn claims to be on the site where James Joyce first met Nora Barnacle. It was once the front door to Finn's hotel where Nora worked.
JW Sweetman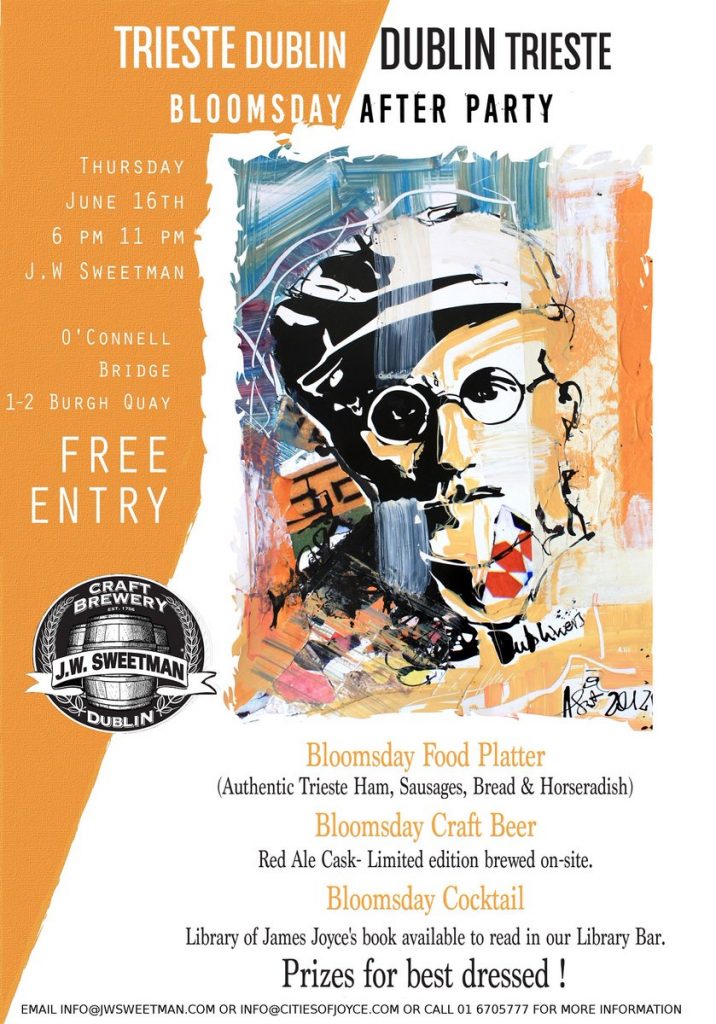 JW Sweetman will be celebrating Bloomsday with a Bloomsday food platter (Trieste ham, sausages, bread, and horseradish, a Bloomsday craft beer and cocktails.
The Church
For Bloomsday The Church will be offering crispy liver and smoked bacon paired with a signature cocktail called 'The Glasnevin Shuffle', which was created specially for the day.
Hedigans
Hedigans in Glasnevin will once again be holding the annual Bloomsday breakfast. It includes a full Bloomsday breakfast, including kidneys, with readings from Ulysses by Joycean Val O'Donnell. To book, call 8304527.
Stags Head
The Stags Head have specials of gorgonzola sandwiches for €5.50, and lambs liver with a pint of cider for €15.00.