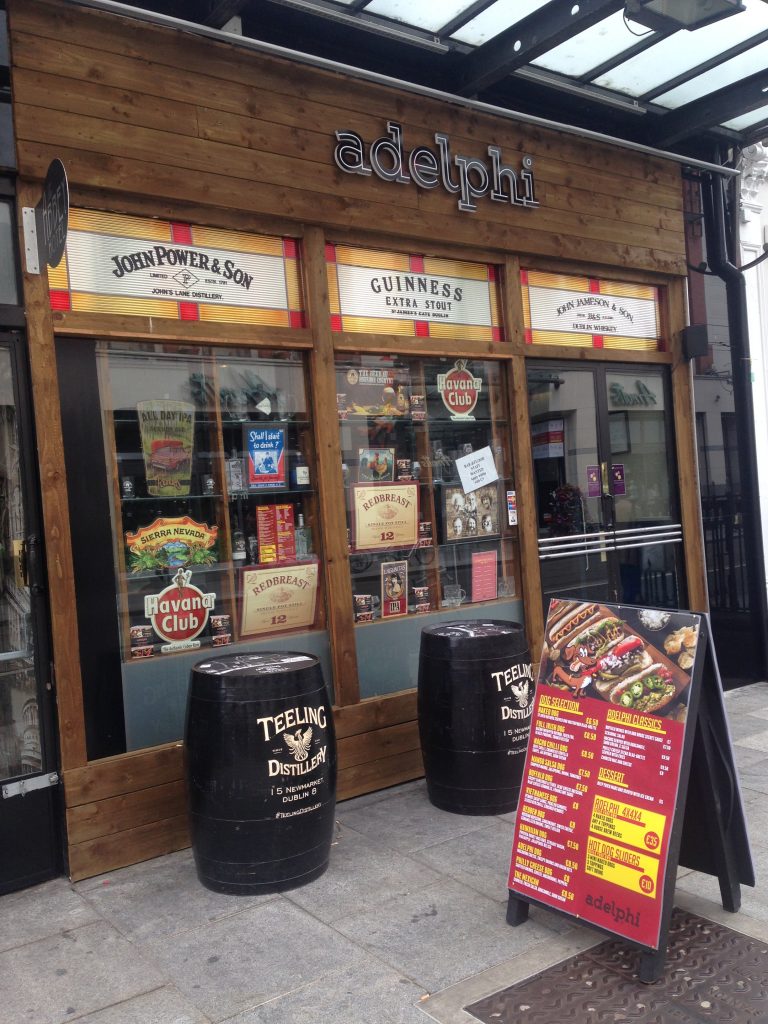 We know that the Publin audience are always eager to try out new pubs and bars, and we've got a special one here for you. It's a bit of an unexpected one, purely down to the fact that we had no idea of the scale of the building before entering. What we found was a bar with booths, amazing hotdogs, craft beers and whiskey, and deadly looking areas that groups can book.
Say hello to the Adelphi on Abbey street. It's so named because the famous Adelphi theatre used to be located across the street before being demolished. It played host to Bob Dylan, The Beatles, The Rolling Stones, and many more huge acts.
This new Adelphi packs a few surprises. As we had never been in before, we had assumed that it was a small enough bar with maybe a narrow room or two. What we found instead was a long, elegant bar that would seem at home on Dawson street.  Walking in you see a small area to the left that looks like a great Abbey street people watching spot. Your eye is drawn down the long, narrow-ish room. There there is a curtain, behind which reveals a much larger space than we had anticipated.
There's more seating, another bar, and also a deadly looking upstairs area which has space for a DJ, a stage, and a beautiful stained glass window that pours light over the venue. This area would be a really cool spot for a group booking for a birthday, corporate event, or whatever you like.
Now, let's get to what excites us the most about this new bar, the hot dogs. Their new menu is a celebration of gourmet hot dogs that would make anyone salivate. And it's not just the thought of them that's appetising. We tried them and we can honestly say it's one of the best offerings in a Dublin pub. Plus, it's filling and is reasonable priced.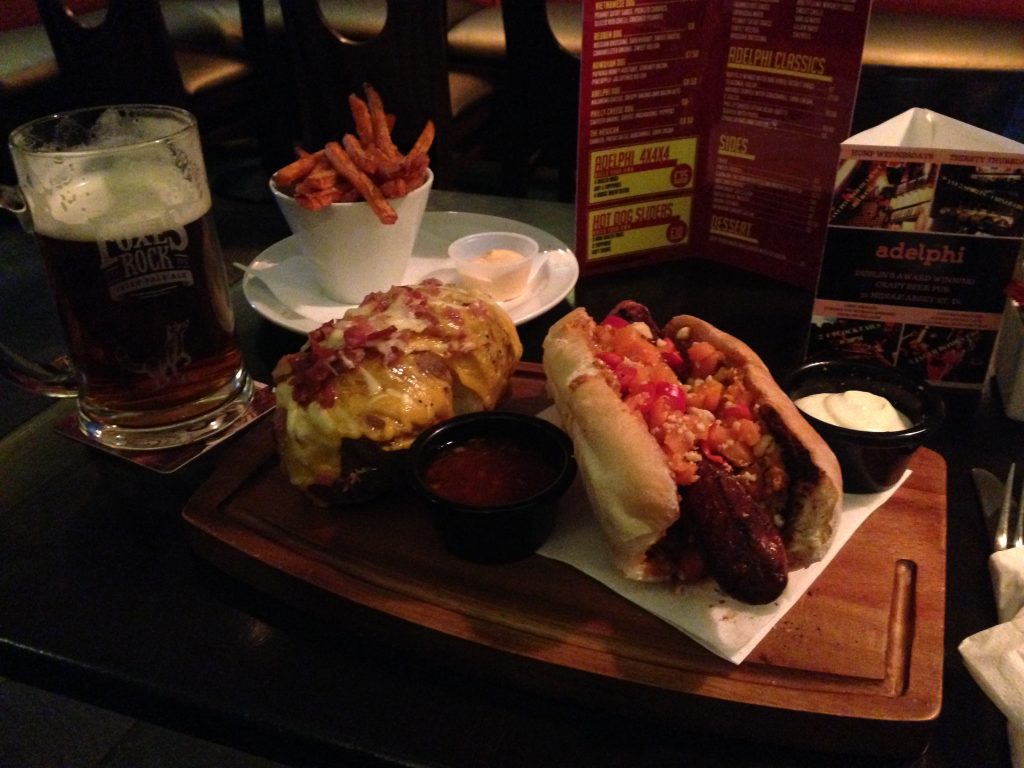 It's kind of like having Eddie Rockets style food in a pub, except it's hotdogs, and better. There's a selection of different dogs to go for, including a naked dog for €6.50, a nacho chilli dog, Philli cheese dog, The Mexican, and 7 others. We went for the Vietnamese dog, which consisted of peanut satay sauce, pickled carrots, red chili, and crushed peanuts. Because we're pig men, we also had the hasselback potato and sweet potato fries, all washed down with a Foxes Rock red ale. John the barman gave us a drinking suggestion based on the food we ordered.
I can't tell you enough how satisfying this food is. The next time we do our '100 things to do in Dublin pubs' list, these hotdogs will be on it, right beside the Grogans toastie.
A lot of the seating is booths, geared towards small groups for food and drinks. As we said earlier, the back area would be really cool as a party venue. There's room for over a hundred back there.
There's also a pool table at the back for those who want the trifecta of food, drink, and entertainment.
In terms of events going on during the week, they'll have a DJ at the weekend playing some assorted tunes, any pitcher of craft beer €12 on Wednesdays, any 2 spirits plus a mixer €10 on Thursdays, 2 for 1 cocktails 6-9pm on Fridays, and 3 jager bombs for €10 on Saturdays.
They open 3pm during the week and 12 at the weekend.
This is definitely a place that from the outside may not be what you expect it to be.