You might not think it, but The Cat and Cage in Drumcondra is one of the oldest pubs in Dublin. The pub on the site was first licensed in 1690. They've now recently taken steps to modernise part of the bar in a very tasteful way and to respond to the growing demands from Dublin patrons for a really good food offering.
They seem to have taken that challenge to heart and have turned half of the bar into a very nice dining area. It's good dining, but without any feeling of pretense. We popped in for lunch one day to check it out and we were really satisfied with the quality and the price.
For their lunchtime menu they have a wide enough variety to satisfy differing tastes, but it's not one of those menus that's so big that they can't do everything well. The offerings include A Cat and Cage salad with avocado, courgette, split lemon dressing, roasted pine nuts, and black olives, smoked haddock fishcakes, Sweetman's beer battered cod, sundried tomato gnocchi, and the pub favourite of club sandwiches and the BLT. You're talking about around the €11.00 mark for the large lunch meals and around €8.00 for sandwiches, which is pretty standard around Dublin.
The menu is designed by the pubs head chef, who was trained in one of Dylan McGrath's restaurants. This says a lot about how far dining in Irish pubs has come over the last 10 years where the demand for quality food is such that pubs will hire well trained chefs who take pride in their trade.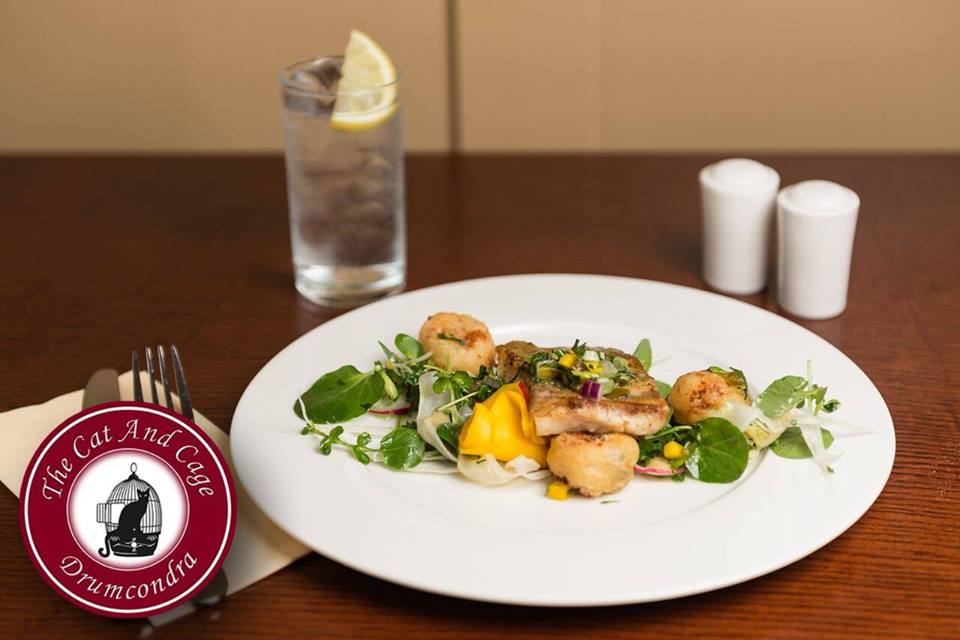 The A La Carte menu includes fresh fish like pan seared cod with a cod brandad, citrus, jalapeno, mango, and coriander dressing for €14.95, a locally sourced sirloin steak at €19.95, slow cooked lamb shoulder for €14.95, confit of pork belly for €15.95 and several more.
Their early bird menu runs from 3-6pm daily with 2 courses of your choice for €18.00, with  a €5.00 supplement for steak.
They also have a full selection of JW Sweetman craft beers, which are brewed only a short hop away in Sweetman's pub on the quays. They will give you beer pairing suggestions depending on what you've ordered.
One thing that stood out on the menu was the fact that they have a very comprehensive listing of allergens beside each of the items on the menu. They'll give you info on gluten, fish, nuts, soy, dairy, and just about everything else. Touches like that make it that bit easier for people with allergies to dine out.
It's been a while since Cat and Cage have done food, and they're very eager to let locals know that they have a new and impressive option for dining in the Drumcondra area.
It's a pub with a long and varied history who are responding to the modern tastes of the Irish pub-goer.
For full menus: www.catandcage.ie/menu.html