Celebrations are ongoing on George's street this year to mark the 250th anniversary of The Long Hall. It's one of Dublin's oldest and most loved pubs.
Last month they had a party to mark the momentous occasion. In attendance were customers, people who work in the trade, staff, and a few members of the pub press (That would be us). At the event Marcus Houlihan, the owner in whose family the pub has been since 1972, announced that the pub was soon to launch a Long Hall whiskey in partnership with Powers.
This week saw the launch of that very whiskey. There are 2 very coincidental occurrences relating to the whiskey. The first being that the barrel they used for the whiskey yielded 252 bottles. Nearly one for each year of the pubs existence (The yield could potentially be anything from 180 to 280). The other was that the number on the barrel was 11791, 1791 is the year that Power's was established. Quite the coincidence indeed.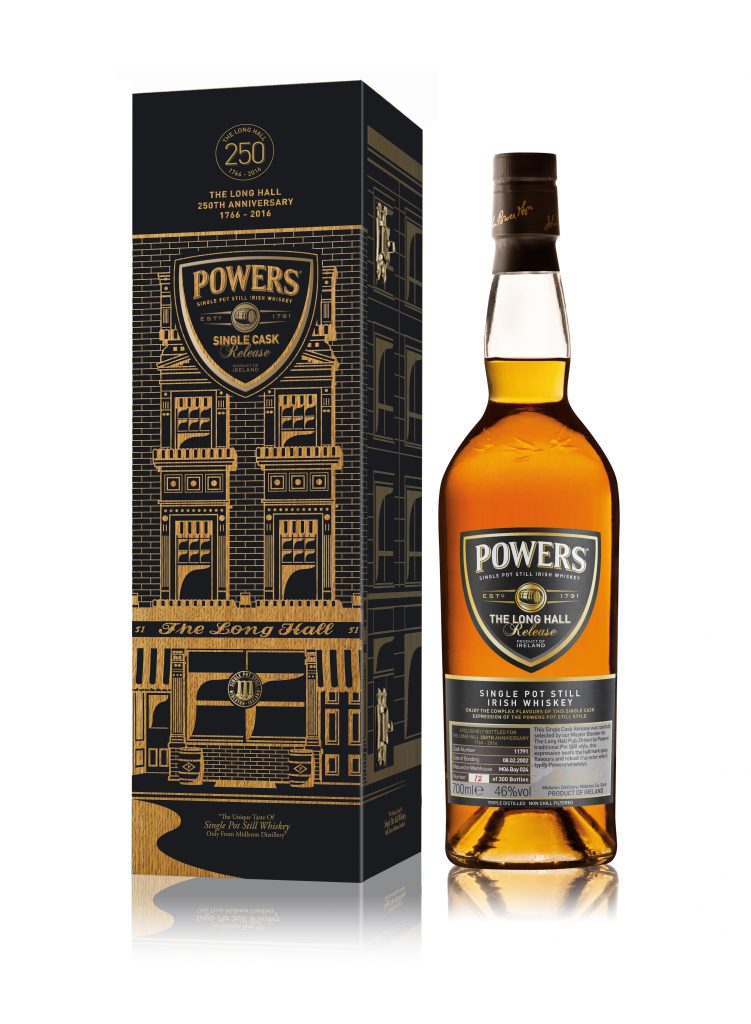 James' Power's distillery was opened around the corner in John's Lane in 1791, 25 years after the Long Hall. The staff from Powers were said to frequent the Long Hall after their shifts had ended. Marcus remarked on the launch night that he likes to think that the Long Hall has been serving powers whiskey since the day they started producing it. It's this connection that makes them perfect bedfellows for a project such as this.
A toast is raised.
Given that this whiskey is so rare and exceptional, we should address it by it's proper title, 'The Powers Long Hall single pot still, single cask release'. It was hand selected by Power's master blender, Billy Leighton.
We'll let the blurb describe it, as we wouldn't do it justice: It bears the hallmark spicy flavours of Powers, complimented by the creamy mouthfeel which is a key characteristic of Irish pot still whiskey. A finishing in American bourbon barrels adds to the complexity and allows the distillate driven style to shine.
We feel very privileged to have tried even a small drop of this whiskey which, I'm sure, will be extremely popular. I imagine Marcus will be putting away a bottle of two to be unearthed at the 500th anniversary of the pub.