On Sunday February 7th the Superbowl will take place. As usual, we've put together a list of bars that will be showing it. Some will be ticketed events, so you're advised to book as early as possible.
The Living Room
"Superbowl 50 live on our many Giant Screens with sound. No Cover Charge. Food served till late. Full late bar. Be early for the best seats."

McGowans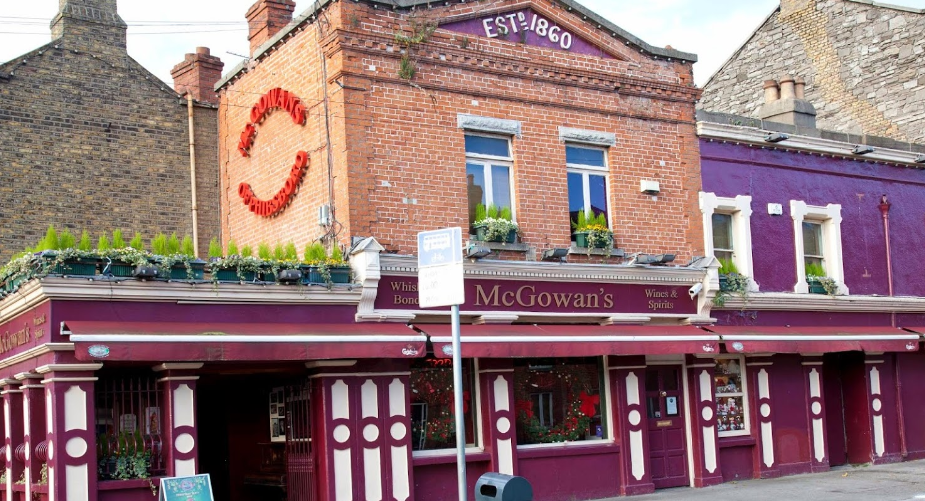 'Book your FREE tables now by emailing ciara@mcgowans.ie Every year our Super Bowl party gets bigger and bigger, all of upstairs is taken over and expect loads of food on offer til late, game kicks off at 11:30pm.'
Fibber Magees
Fibbers will have live music before the game and they'll be open very late. They've got a number of drinks specials on the night:

** 3 Sol €10**
** 3 Miller €10**
** 3 Jagerbombs €10**
** 3 flavoured Tequila €10**
** Double Vodka, JD, Morgan €10**
**€7 pizza €10 pizza/pint**
Facebook event link.
Trinity Bar
The Odeon
"The Odeon will be transformed into a digital hub of AV multimedia with the Bowl being shown live on a truck load of HD TV screens including a massive, and we do mean massive, cinema style screen. We will of course be serving finger food throughout the night with drinks promotions also available, guaranteed to deliver that NFL experience."
Tickets are €10 and can be bought via this link.
Sams Bar
Copperface Jacks
The Coppers event is limited to 200 people. There's free finger food, prize giveaways, 2 team jerseys to be won, and more.
For full details, follow this link.
McSorleys
Woolshed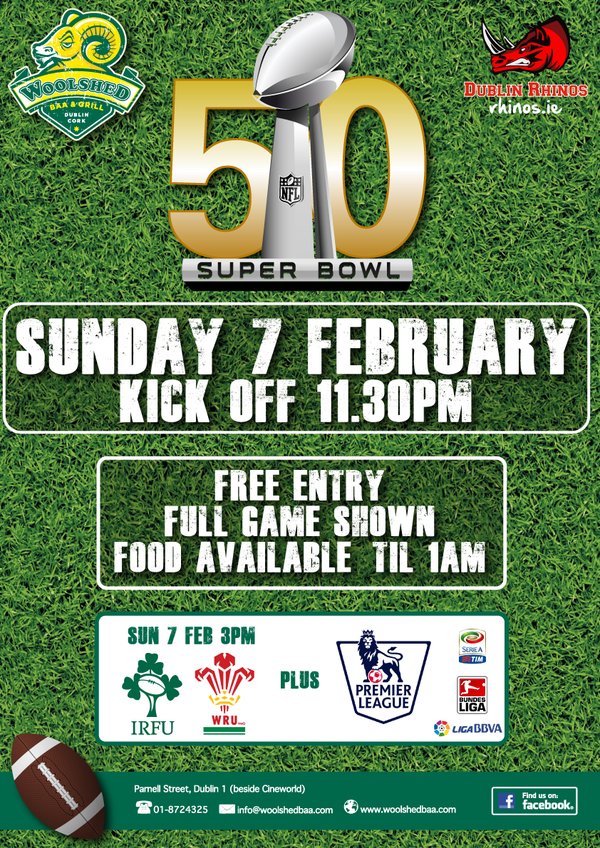 The Boars Head
We're showing it Allright details will be up shortly #SuperBowlhttps://t.co/vueBsboc6s

— The BoarsHead Dublin (@boarsheaddublin) January 18, 2016
DTWO
Harrys on the Green
Sinnotts
Peadar Kearneys
Mercantile
Wings and a pint for €10 in The Mercantile.
Everleigh Garden
Porterhouse Central
Rody Bolands
These pubs below were showing it last year, but we don't currently have information for 2016. We'll update this as we learn more.