A small pub can be a great thing. It can have the atmosphere of a large one, packed into a smaller setting. Generally, in a small pub you're more likely to get chatting to people outside of the group that you walked in with, and you're likely to have more of a chance for a chat with the bar staff.
How would you define a 'small pub'? Well, we're playing this one by ear and aren't really keeping to exact measurements. We've picked out some of our favourite small pubs for special mention. We should say that had the Sackville Lounge not closed down, it would be on this list.
The list, as usual, refers only to the city centre.
The Bankers
The Bankers on Dame Lane is a favourite spot of ours because they manage to give you a little bit of everything without diluting the product. They've got loads of live sports, they've got very good food, they've got extremely friendly staff, they've got craft beers, they've got premium whiskeys, and they've even got outdoor seating. All this, packed into a small enough and narrow space. It doesn't hurt that you can expand the capacity into the lane on busier days.
The Boars Head
We've said before that the Boar's Head on Capel Street could be considered to be the smallest sports bar in the city. It's a favourite for GAA fans, and players alike. Hugh and Anne have run this place since the mid nineties, making it a home for many who enjoy their friendship and conversation. It's also very popular with tourists who lap up the grub on offer.
The Dame Tavern
Like most small pubs, the Dame Tavern have a tight knit group of regulars who come in for the chats and the horse racing. This is another gem on Dame Lane, which can expand into the lane on busier days. They've also got a new upstairs room for functions. There's a very comradely atmosphere in here, one you'd expect more from a suburban local. That's what makes it such a pleasureable visit.
Cumiskey's
Cumiskey's on Dominick Street is a wonderful, cosy, pub that caters more to an older crowd, but draws in some younger punters who want a more relaxing pint. It's the type of place where when it's not too busy, the barman will drop the pint down to your table. The regulars here are a friendly bunch and have always been welcoming and up for a bit of craic. There's a little dog named Max who's in here every now and then who's just the friendliest little chap.
Fallons
Fallons in The Coombe is one of our favourite pubs in the city. Getting the snug in here is a prize at the weekend. It's a narrow enough pub that is usually always full, but never to an uncomfortable degree. It's one of Dublin's oldest pubs, and the well worn wooden fixtures give it an authentically rustic feel.
The Dawson Lounge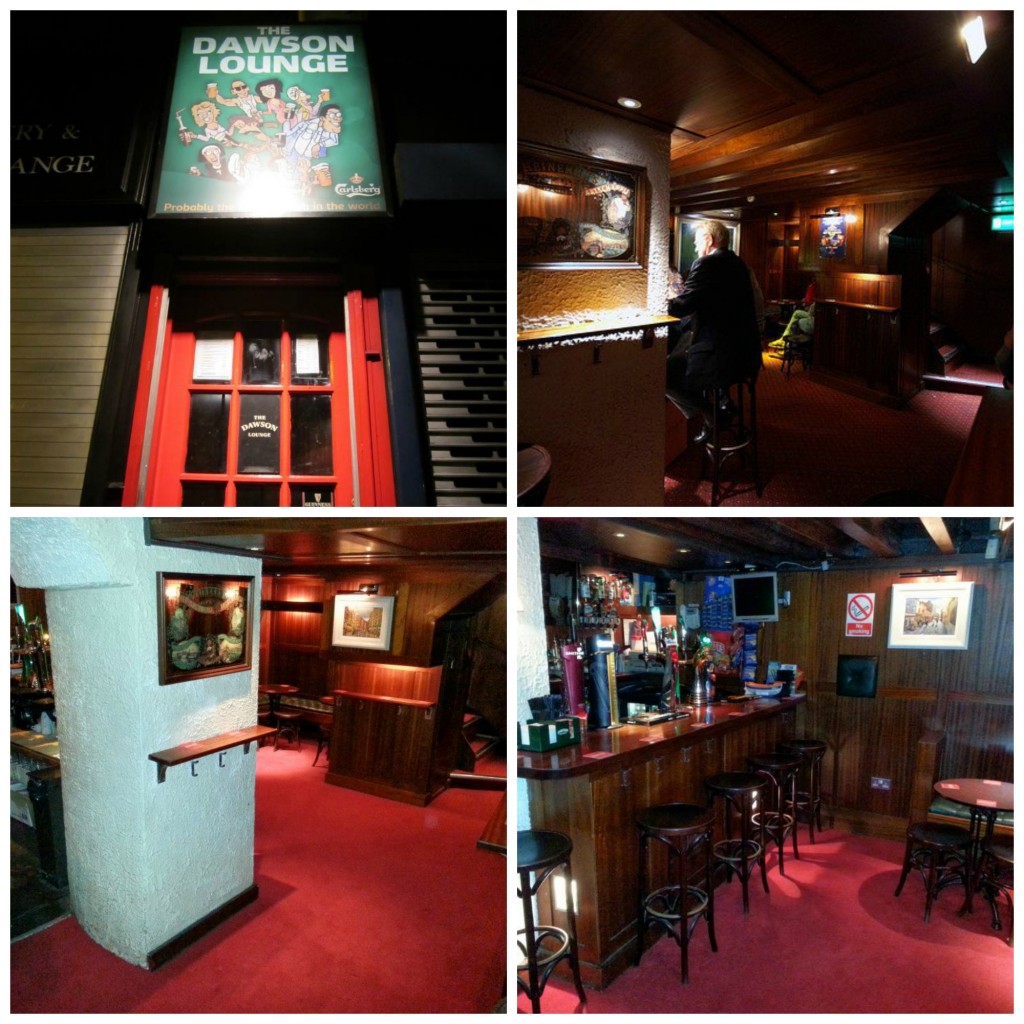 No list about small pubs would be complete without the cities smallest. Mind your head when walking around this pub, as you're likely to bonk it on the ceiling in places. They have gone to lengths to minimise the risk by placing padded leather on curved edges. There's a comfort in being here, underground and away from the hectic streets.
Bowes
Bowes attitude to their patrons is best summed up in the quote above the bar which pays tribute to "…those who make drinking a pleasure, who reach contentment before capacity, and what so ever they drink, can hold it and remain gentlemen."
It's a great spot for whiskey, craft beer, a fine stout, toasties, and the snug.
The Confession Box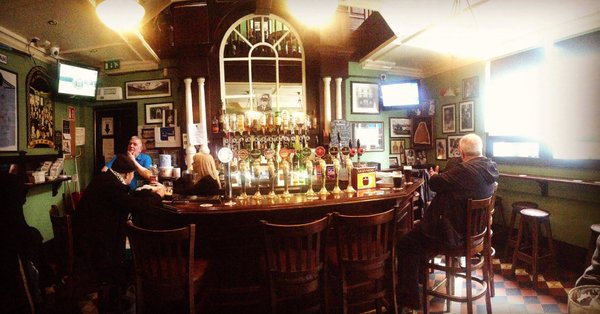 The Confession Box could make claim to being the smallest pub in Dublin, but I think they're a close second to the Dawson Lounge. It's a fantastic little pub over 2 floors. You can nearly reach out and touch the bar from any point in the room downstairs. It's a great mix of tourists, locals, and people trying it out after hearing of its reputation. There's a Michael Collins connection to the pub as well. He used it for meetings during the War of Independence.
Grogans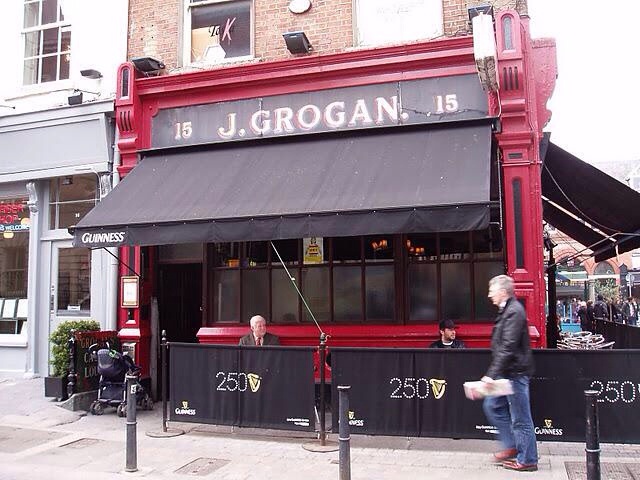 Grogans on South William Street is one of the best loved pubs in the city. It's not a very big spot, but you'll find it to be busy from before lunch time until the close of business. It's an extremely well run place. There's never any shortage of staff behind the bar, and they're always very quick with service, and always a pleasure to deal with. Inside, you're not just in a pub, but also an art gallery. The paintings change monthly, so there's always something to look at.
Briody's
Briody's on Marlborough Street was recommended to us by another publican in the city, so we had to check it out. We'd liken it to the atmosphere in the aforementioned Cumiskeys of Dominick Street. The crowd here is made up by a pleasant collection of regulars. Plastic bottles of white lemonade sit on the tables shared by groups of ladies and couples enjoying their night out.
Dice Bar
The Dice bar also makes our list of the cities best Dive bars, so it's an interesting spot on a number of fronts. Business has not slowed down here in the 10 years that we've gone here. It's always guaranteed a weekend crowd sampling some of their own beers (which predated the Irish taste for craft beer). It's a small place, but they're known to put on some gigs in the bar. There's usually a DJ spinning a few funky tracks as well.
Brennan's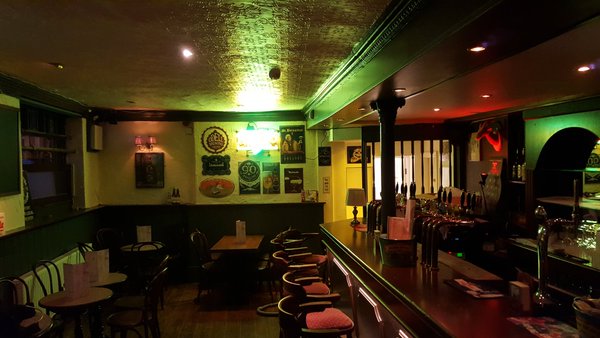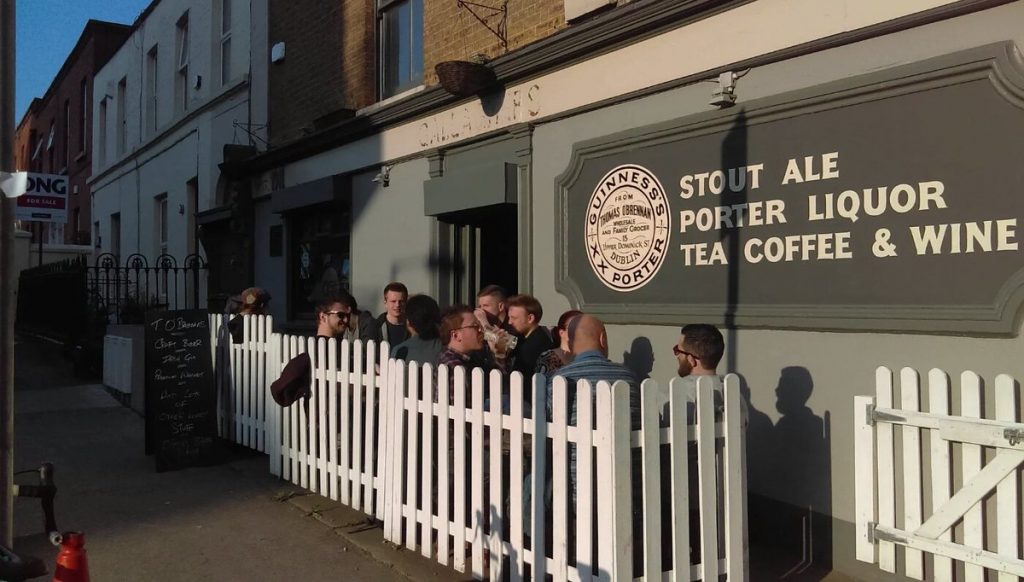 T.O. Brennan's on Dominick Street is the newest pub on the list. Outside they've got a small, astroturfed sun trap at the side of the building. There's always a crowd drawn to these seats. Inside, it's one small room with multiple tables that give each party a degree of separation and space. They're very engaged in Irish produced here, serving excellent Irish craft beers, and spirits.