We're having a look at some potential Christmas Party venues for those of you that haven't already booked. We've tried to spread them around the city a bit to give options wherever you might be located. We have another article with 9 other options that might also be of interest- Link.
If you need help planning this party or any other Christmas party, please email us at publinie@gmail.com and we'll be happy to help.
If you want a bit of an alternative Christmas Party in the New Year, you might be interested in one of our Publin Pub Crawls. publinpubcrawls@gmail.com for more details.
McGowan's
McGowan's in Phibsboro have the benefit of having a late license every night of the week, so you can hold a Christmas bash here any day in the lead up to Christmas and have the same atmosphere. They've got a few different areas that could work for your party, including their upstairs room, which gives you a degree of privacy. They have a great selection of finger food or full menus. Just have a look at the flyers above for all of the details you could need.
You can opt to get a bar tab, drinks vouchers for the night or have a prosecco reception on arrival. In short, they can sort out any type of night you're looking for. Link.
Slatterys, Beggars Bush
We recently wrote about Slattery's in Beggars Bush as a good location for large scale events. This applies to Christmas parties too. You could book out the whole of the back bar and loft area for a very stylish Christmas party. They've got catering options for the festive period, so you're covered in that regard. They also have some function rooms for slightly smaller parties that want some privacy. Take a look at the spaces in our video above. Link.
Doheny and Nesbitt
There's more space and a bar to the left of this photo.
You might be familiar with the main bar areas of Doheny and Nesbitt, but did you know that they've got party rooms downstairs and on the top floor? They've both in the traditional style of the main bar, but offer complete privacy. They both have their own bar area, as well as toilets on the same floor. This is a brilliantly central location for anyone working in Baggot Street and the surrounding areas. You could probably fit 60 or so people in each area. They can arrange finger food options for your party. Link.
Oscars Christchurch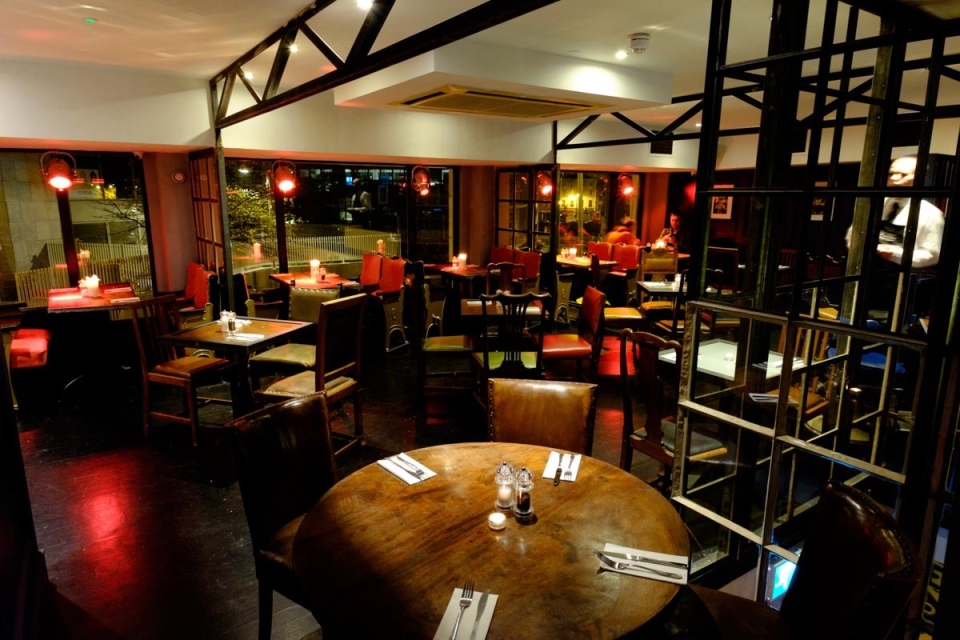 Oscars Christchurch is made for events. They even have a special 1800 phone number just for that purpose. Over Christmas they put on a great array of live entertainments to keep the night buzzing. They can host sit down dinners or finger food affairs. We've hosted events here before and the attention to detail was absolutely brilliant. They have €5 bombay saphire and tonic all the time here, so it's easy on the pocket for gin lovers. They have several areas that can be split up depending on your group size, including the upstairs area that has ample seating, as well as some snug type areas. If you want a meal option, they can put together a feast for €35pp. Link.
The Boars Head
The Boars Head Capel Street have a free function room. Check it out @boarsheaddublin pic.twitter.com/MWg9WnIxmN

— Publin.ie (@publinie) March 7, 2017
If you want a nice, informal, and family run pub for your Christmas party, then upstairs in The Boars Head is a good shout. They can cater finger food for the event, they've also got a projector screen, you can play your own music, and there's even a bar up there. It's a grand spot on Capel Street.
Cleary's
Cleary's on Amiens Street is a fantastic old school type of pub. It's got a rich history and a very warm atmosphere. You might not know that they have quite a large function room attached to the main bar. It looks to have quite a large capacity and would be ideal for any offices on the North side of the city that want a Christmas party in a traditional pub.
Kavanagh's
Kavanagh's on Aughrim Street have a wonderful little function room upstairs that we only recently found out about. It might be suitable for groups who are dining elsewhere. The pub doesn't usually do food, so we're not sure if finger food could be organised. It's in Stoneybatter, so would suit any offices in that neck of the woods. It's a very charming pub and the function room looks like a good bet.