Craft Beer tasting sessions vouchers from Beerhouse
The Beerhouse on Capel Street have a superb selection of Irish craft beers. They have vouchers for craft beer tasting sessions. It's a perfect experience present where you give them the present on Christmas Day and then enjoy it together at a later date.
A bottle of Toners whiskey
In Toners on Baggot Street they keep up James Toners' tradition of having a whiskey named after the pub. It's available from the pub during the Christmas season for €50.
A Publin pub crawl
We've got 2 pub crawls planned for the New Year. One is 'Philo's Old Town Pub Crawl', where we bring you around pubs themed around the Thin Lizzy front man on the 3rd and 4th of January. The second is our historical pub crawl where we visit 4 amazing pubs with a rich history. Link.
Bull and Castle FX Buckley knives
The Bull and Castle in Christchurch is known for its amazing steaks, and to cut any good steak you need a good knife. They have a wooden box of 6 FX Buckley knives for €90. They're available in Bull and Castle and Ryan's Parkgate Street.
Craft beer growlers and gift cards in JW Sweetman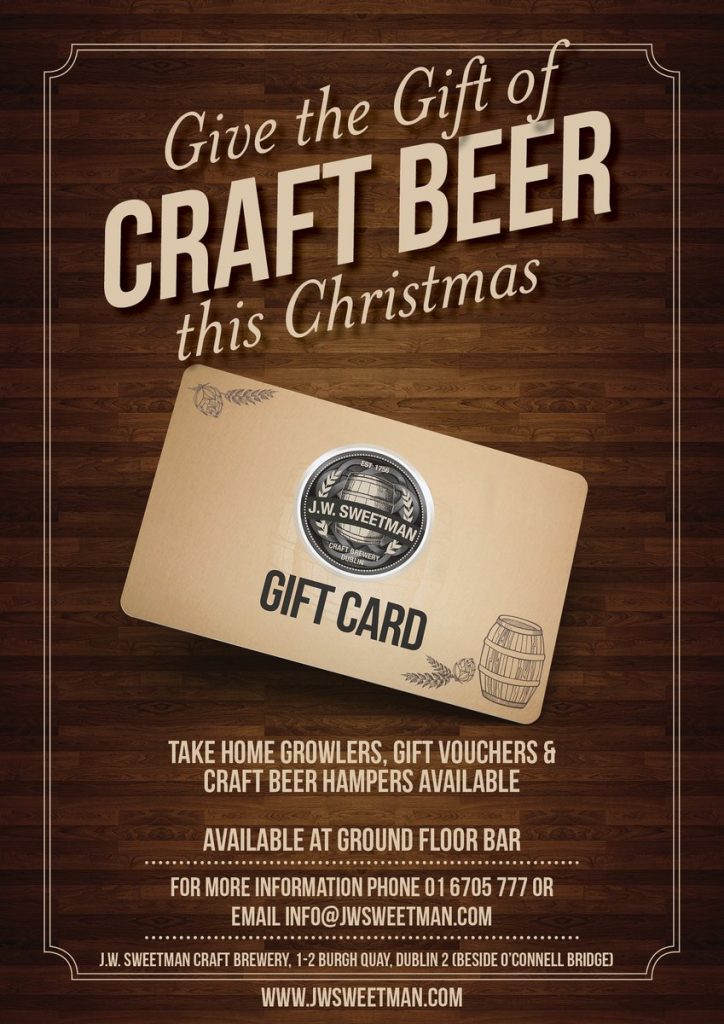 JWSweetman on the quays are well known for brewing their own beer on site. You can pick up a growler of their fres h craft beer or a gift card for your loved one to spend in the pub after Christmas.
The Old Spot gift voucher
A Gift Voucher for The Old Spot is the perfect present to mark any occasion! Available to purchase online https://t.co/NBWZib5aev /016605599 pic.twitter.com/xVirqr16RV

— The Old Spot (@theoldspotdub) October 18, 2017
Lemon and Duke gift voucher
If you're looking to give someone a treat this Christmas, a voucher from us is the perfect gift.https://t.co/ZaXGGgvzMd pic.twitter.com/D5fEArTNIG

— Lemon & Duke (@LemonAndDuke) December 6, 2017
Exchequer gift voucher
If you're looking for a last minute Christmas Gift – look no further! An Exchequer Voucher will do the job! Show your friends you care! 😉#Exchequer#Xmas pic.twitter.com/A1eDCMZ2Gi

— The Exchequer (@theexchequer) December 22, 2017