Any mention of Christmas this far in advance draws the ire of many people who dread the oncoming assault of Christmas talk and the ever advancing Christmas countdown.
But, the reality of the matter is that a lot of businesses already have their Christmas parties booked, and availability gets scarcer by the day.
We've put together a few options for those of you who may be yet to choose your Christmas party location. We'll be doing more lists just like this in the next few weeks.
The Barge
The Barge at the top of Charlemont Street by the canal is an incredible building on the inside. If you have a big enough corporate group, you could book out the entire bar. Alternatively, they have many areas that are easily segregated into semi private spots. There's the downstairs bar area, the upper floors that have 2 or 3 areas suitable for 100 or so guests, and then there's the loft area which gives the most privacy. They can do party food packages at a reasonable rate. They also do cocktails and a good range of drinks. It's a good central option that has availability. When you book a party with The Barge you will receive complementary finger food and prosecco.
The Beerhouse
The Beerhouse on Capel Street is the perfect location for a casual Christmas party. The pub is well known for its craft beer, and they can arrange tasting trays for large groups if you want to do a bit of a sampling session. You could book out the entire pub, or opt for the room at the back that has a lovely open fire and has a good deal of seating. The back area can also be used as a stage if you need one. They can lay on pizzas here as finger food.
The Den Bar
We recently discovered the Raglan function room in the Den Bar on Baggot Street and it's a really good option for large Christmas parties. The room seats up to 100 people for a full dinner, which they do offer at a very reasonable price. It can also be set up as an open plan function room, or with partial seating. If that room isn't enough for you, you could also book out their bar area too. If you're looking for something on the smaller size, there's an area to the left as you walk in that resembles an old library. In here you could have approximately 40 people comfortably.
Dame Tavern
Upstairs in the Dame Tavern opened last year and it proved to be a very popular spot indeed for parties. It suits perfectly small groups of around 40 or so who want a private area with their own bar and some of the best pints of Guinness in the city. It's a lovely little pub and it's so central. Having a Christmas party on Dame Lane would be a hugely attractive proposition.
McSorley's of Ranelagh
If your business is located on the south of the river, and near the canal, McSorley's is a great shout for a late bar. They've got a great selection of craft beers, wines, and cocktails. You could book individual parts of their bar area, or if your group is big enough, you might even be able to take it all.
Kennedy's Westland Row
Kennedy's on Westland Row have a superb bar downstairs known as 'Kennedy's Station'. It's a beautifully renovated space in a very central part of town. It's so close to Pearse Station and loads of bus routes. The bar itself has lots of booths and nooks, as well as ample standing room. They have both finger food and dining menus for Christmas party groups. It really is a superb location.
Ryan's, Store Street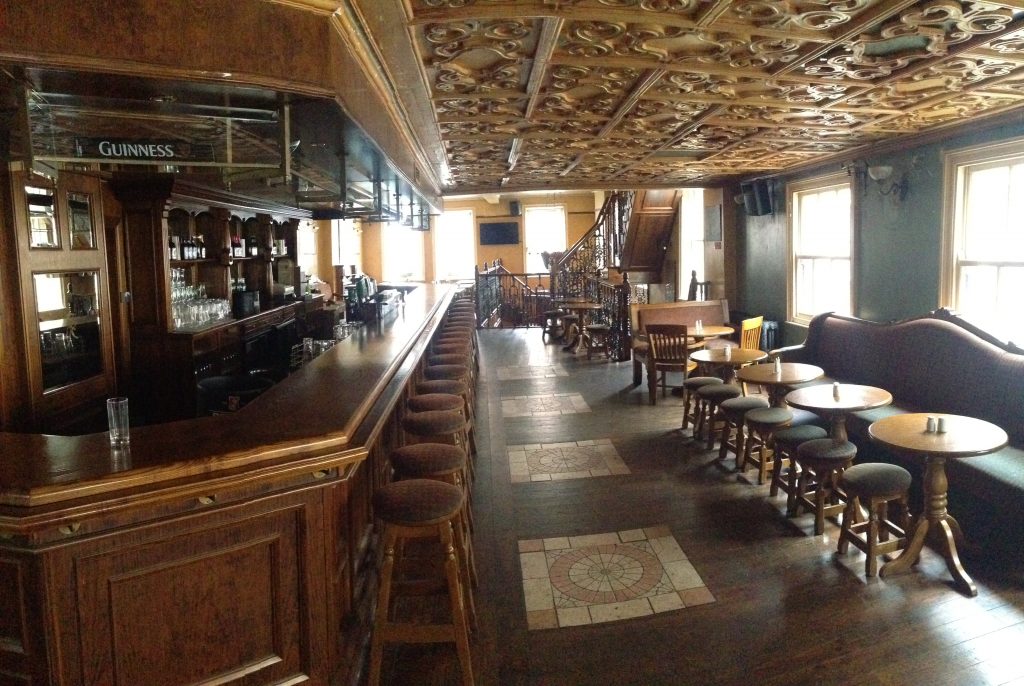 We've spoken before about how Ryan's on Store Street has some exceptional areas for after work groups, and that translates well to Christmas parties too. Their upstairs area has a very large capacity and a degree of privacy. Downstairs can be split into multiple areas for small to large groups. It's located beside the Luas, Connolly Station, and major bus routes. They can do finger food for groups of any size.
The Pav
The Pav in Trinity College is very much open to Christmas parties, especially on Saturday's and Sunday's. If you're looking for a central spot that can cater food and host up to 200 people, then The Pav could well be worth a look. There's also the prospect of having the outdoor picnic tables on the balconies as your smoking area. The Pav would certainly be a unique spot for a Christmas party, and since they're usually overlooked they should have good availability for this year.
Murray's Whiskey Bar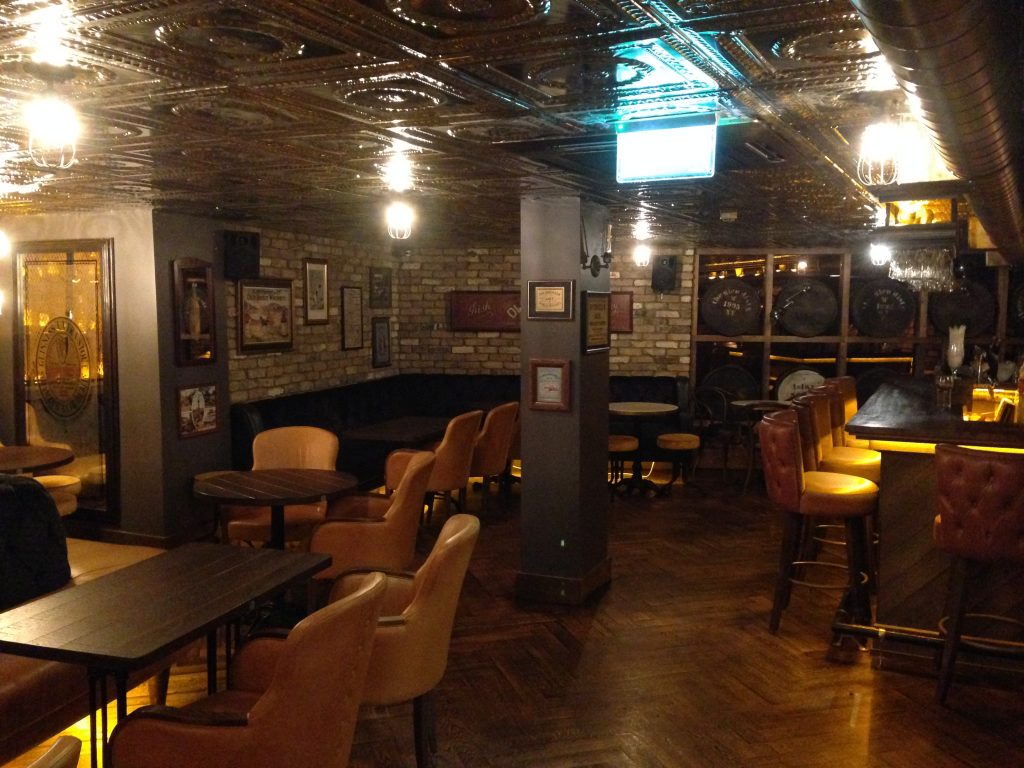 You might be familiar with Murrays on O'Connell Street as a good pub for sports and live music, but did you know that they have a superb whiskey bar downstairs? The bar can be split up into several areas or rented out in its entirety. It's a very elegant space and could be perfect for a group looking to sample some premium spirits. They can of course cater finger food for groups.