So, you're looking for a spot for a party. You want a part of a bar, but not a completely secluded function room. You want the option of Irish craft beers, pizzas to eat, maybe a fireplace for when you get cold, plenty of seating, and a nice atmosphere. Well, you can get all of these things and more in The Beerhouse on Capel Street.
The Beerhouse has made what was once a difficult location for pubs into a very successful and pleasant pub to visit. They've been going for around 3 years now at this stage and they've really found their feet.
There's a room at the back of The Beerhouse that can be booked out for large groups, or divided up into smaller areas for smaller groups. We've booked tables before and were always well looked after. Groups of 10 or so people can be comfortably accommodated and there's something about the layout of the pub and it's tables that mean you're never too far away from anybody in the group.

Check out this quick minute long video for a really good look at the space.
If you've got a larger party, you can book out the entire back room. You can add a bit of privacy to the affair by closing the door linking the front bar and back area. There's a good amount of seating on the right hand side and some standing room along the ledge on the left. There's a raised area at the back with more lounging seats and a fireplace for when it's a cold time of year.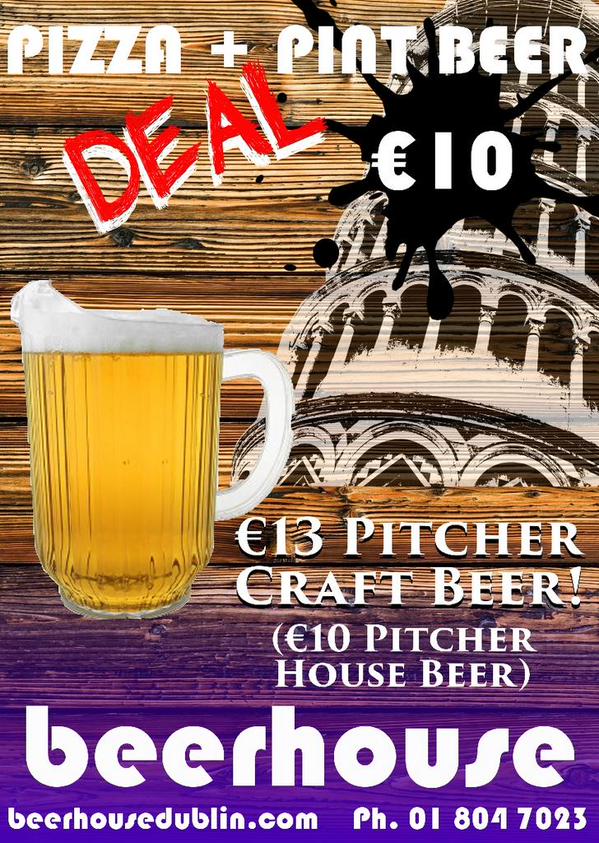 The pub has an excellent selection of draught and bottled beers which you can sample on the night. They also do pitchers of craft beer and their house beers. There's also the option to get their pizza and a pitcher deal for €13. Very good value.
If you really want a fancy affair for your small group, you could opt to go for their tasting experience. You can choose 6 half pints of a selection of Irish craft beer. The staff can talk you through the tasting experience. It's €15.95 per person.
It's a really good spot for parties big and small, and one of our go to places for group pints in the city.
You can contact them at info@beerhousedublin.com or 01 8047023