2 weeks ago we had the pleasure of finally dropping into Francis Street to try one of the most innovative bar experiences in Dublin today. It's called Drop Dead Twice, and it's a cocktail night like no other.
Basically, the idea behind it is that you book in, each person in your group brings in around a naggin of a certain spirit, a bartender/mixologist/cocktail maker, or whatever you want to call them, will then whip up a selection of different cocktails right in front of you. The deal is that you book your spot for 2 hours if you all bring naggins, or 3 hours if you bring a shoulder. We're going to refer to the naggin details from now on. Over the 2 hours, your bartender will make you up 4 cocktails.
They're also be doing food platters to go with your cocktails, including a mix of of meat and vegetarian options. The meat options include beer battered fish tacos, chicken wings, barbecoa beef cheek empanada and more. The vegetarian option sounds equally enticing, with Mexican three bean cake, Cheese and black bean quesadilla, smoked chipotle tofu and vegetable taco, and several other options.
We couldn't have had a better experience when we went in. Kelly was there to greet us at the door and introduced us to Mick, who was making the cocktails for the evening. We got to sit at the bar as he made an assortment of cocktails, using the spirits that we had brought with us. One that caught our eye included a Guinness reduction and a very impressive technique, which involved lighting some peat ("Straight from the back arse of Westmeath"), and trapping the rising smoke in the shaker. That made for an extremely Irish combination.
Aside from the cocktails being absolutely stunning, the craic we had with Mick also made the experience worthwhile. He had all the answers to our questions and attentively showed us what he was doing when we wanted to know more.
At the start of the tasting they asked whether we had any allergies or there were any flavours that we didn't like. There were a few, and so Mick worked around these for the evening. You can get specific in your requests as to what you want made, or you can just let the staff do their thing and have some surprising tastes along the way.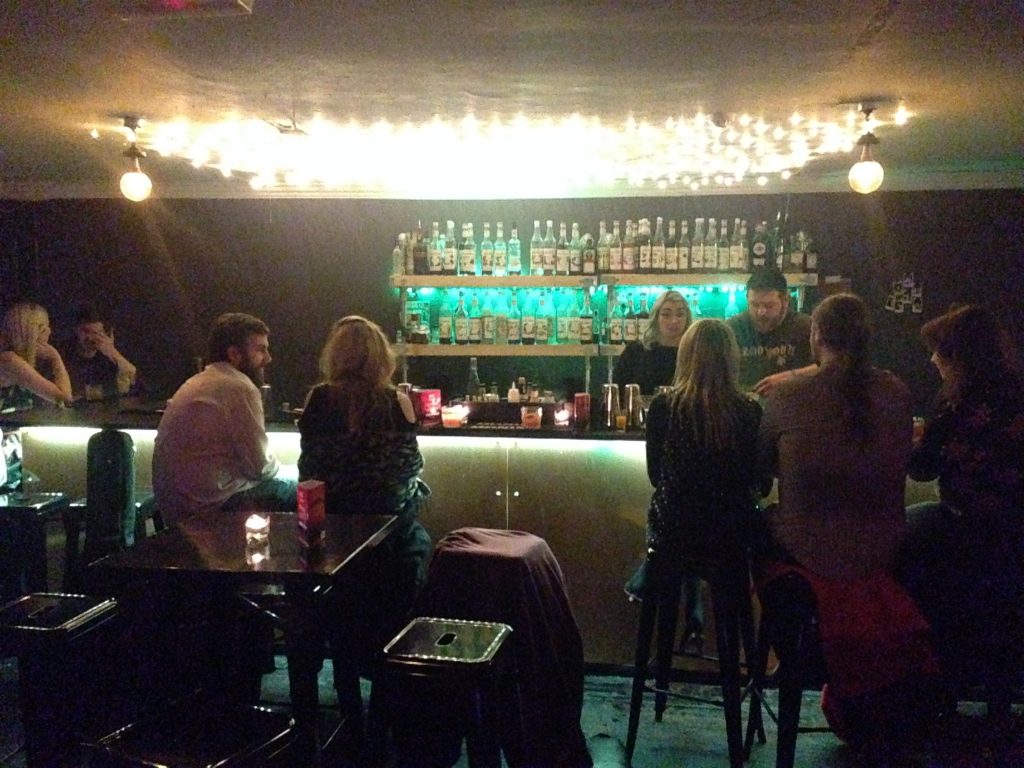 Our group of 6 brought gin, vodka, whiskey, and rum, and we had a excellent selection of drinks made in front of us. As it was quiet, we got to sit at the bar, and Mick could take his time. On busier nights, there are other seats around the room where staff come to you and make it in front of you. There are 3 bars in the room, so the likelihood is that you'll get a seat at one of them.
This is one of those activities that could suit various different types of nights out. We went as a group of 6 friends on a regular night out, but it could also make for a great work night out (they can cater to private and large parties), or even an unusual date for 2.
This is definitely one of the most unique experiences we've had in a bar, and it's also superb value. With food on a Wednesday or Thursday, it's €30 per person (That's 4 cocktails and a platter), or without for €15, and for the weekend it's €25 per person for 2 hours. You can find full details on pricing, as well as booking, and the full menu on their website. They have a good FAQ that should answer any questions you have in advance.
You can find Drop Dead Twice upstairs on Francis Street above Street 66, which used to be Tivoli Backstage. it's nearly directly opposite the Tivoli Theatre.