Most pubs wouldn't see a lot of trade in the wee, early hours of the morning. But, now they have a reason to open. The Lions are playing their first full test match against New Zealand on Saturday the 24th of June. We've put together a list of pubs that will be opening for this match and the other tests. Some pubs have an early house license and will be able to serve alcohol. We'll let you know which ones they are.
These are all the pubs that we could find advertising online. If you know of another pub showing the games, please let us know via social media or at publinie@gmail.com
The Boars Head
The Boars head on Capel Street is a smashing little pub. They have an early house license, so will be able to serve alcohol during the games if that's what you'd like. If that's far too early for you, they have a full breakfast menu and will be serving tea and coffee.
RYAN'S
RYAN'S on Store Street aren't really known as an early house, but they do still have a valid license. They'll be using it for all the Lions games. They'll be open from early, offering a full Irish breakfast and a pint of Heineken for €12.50. They'll also be giving away some Lions jerseys.
The Swan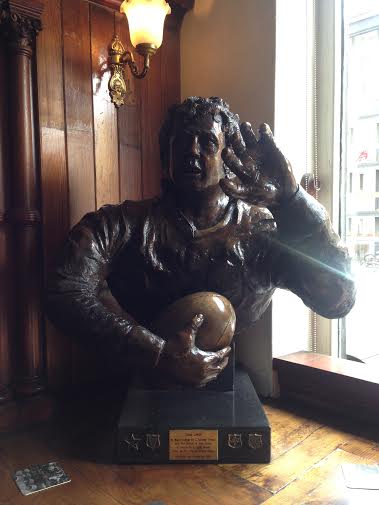 The Swan on Aungier Street has the distinction of once being run by Sean Lynch, who played for Ireland and the Lions, and was part of a tour team that beat New Zealand. They'll be serving coffee and some food.
Buskers on The Ball
Buskers on the Ball on Fleet Street are open for all of the Lions games. They'll be serving breakfast rolls during the games. They've got a massive screen wall and plenty of other TVs as well. There's a free breakfast roll for anyone in before 8am.
The Living Room
Of course the Living Room on Cathal Brugha Street will be opening early for the Lions action. They have loads of massive screens all around the bar. Always an atmosphere in here.
Devitt's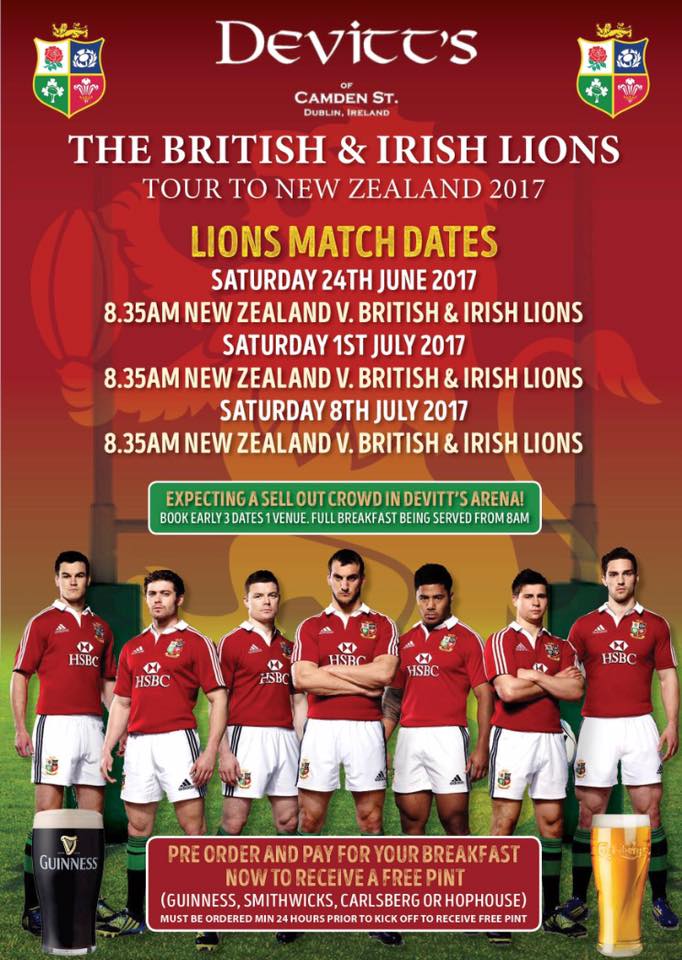 The newly renovated Devitt's on Camden Street will be open for the games and serving breakfast. If you order and pay for your breakfast 24 hours in advance, you'll get a free pints.
McSorley's on Ranelagh
McSorley's will be open for the games, showing them on their big screens. They'll be serving breakfast.
Slatterys Capel Street
Slatterys on Capel Street is another early house option that will be open for the games. There's plenty of screens, and they do a great full Irish breakfast.
Woolshed
The Woolshed on Parnell Street will be showing all the action on their colossal screens. There should be a few Kiwis here as well.  They'll have a breakfast menu available.
The Bath
Watch the Lions Tour LIVE at The Bath Pub! Open & serving a roaring Brunch from 8am Saturday, 24th June / 1st & 8th July pic.twitter.com/6JvplzQbIM

— Thebathpub (@Thebathpub) June 20, 2017
Slatterys, Beggars Bush
Don't miss #LIONS v ALL BLACKS first test match this Saturday in Slattery's! €5pp includes sausage bap + coffee https://t.co/yOKcCTkrOa pic.twitter.com/lIyi7LWuJk

— Slattery's Pub (@slatterys) June 20, 2017
Slatterys in Ballsbridge will be open for the games from from 6.30am, showing Ireland v Japan before the Lions game. Book a table for 4 for €20 and get a breakfast bap and coffee each. Details.
The Back Page
The Back page in Phibsboro will be open from 8am, serving brunch, teas, and coffees.
The Bridge
The Bridge in Ballsbridge has the distinction of being part owned by some of the competing Lions players. They'll be open for breakfast for each of the tests.
The Square Ball
The Square ball on Hogan Place will be open for a very tasty looking BBQ style breakfast.
Kennedy's, Mount Merrion
River bar
River bar are open for all the games, and are serving breakfast. it's right on the South Quays at O'Connell Bridge.
Searson's
Searson's on Baggot Street will be opening for breakfast for the match.
The Wateroo
The Waterloo on Baggot Street will be opening and serving breakfast. There's always been a good link between this pub and rugby, especially with the women's teams.