We recently made a trip to Bruges in Belgium. As well as being a beautiful medieval city with hundreds of years of history and culture behind it, it also has an amazing selection of beers.
When you go into a bar there, you're greeted by an extensive list of bottles and draught beers from around the country. The best thing to do with a couple of friends is to get yourselves a tasting paddle and share them out. In one bar, they had the option to try a sample of everything on tap, 12 beers, for a fairly reasonable price.
This way you get to sample a very wide selection of flavours, without having to buy pints and pints worth. It also helps that some of the beers are high in alcohol percentage, so by sharing with others you get the taste them, but don't necessarily have to feel their full effect that night or the next morning.
In Ireland even a few years ago it would have been very difficult to find somewhere that could give you this type of experience, mainly because they'd would only have been able to serve a paddle of Heineken, Carlsberg, Guinness, and Bulmers. Now, things are very different. Some pubs have enough beers on draught that they can give you a nice variety of beers that you may not have tasted before.
In JW Sweetman on the quays you can sample a tasting tray of their own beers, brewed on site. They bring out a place mat with tasting notes and a description of each beer. The selection is their blonde, weiss, red ale, pale, porter, and a seasonal beer. It's really tasty and well regarded stuff. Why not try it all?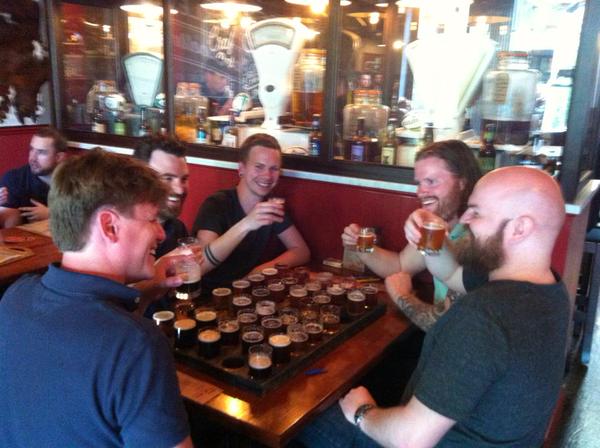 The Bull and Castle have a very good selection of Irish beer upstairs in The Butchers Bar. They too have tasting paddles for you to mix and match and selection an assortment of their finest to sample.
57 The Headline on Clanbrassil Street has around 22 beers on tap at all times, with some of them rotating regularly. You can pick from a number of these in a 3, 6, or even 9 beer paddle. They have a great selection of beers that you might not be able to get elsewhere here.
Ryans on Parkgate Street provide a beautiful Victorian setting in which to try a tasting tray of 4 of their draught beers for €7.
L. Mulligan Grocer has received praise from international publications such as The New York Times for their food and drink selection. They have a very good range of beers on tap and occasionally have some on cask too.
The Galway Bay bars, The Black Sheep, Against the Grain, The Gasworks, The Beer Market, and Brew Dock all have beer paddle options.
The Porterhouse bars are pioneers of craft beer and micro brews in Ireland. You can sample a range of their own range of beers on one of their trays.
The Galway Bay brewery bars, including The Beer Market, Against the Grain, The Black Sheep, and Brew Dock offer beer bats, on which you can try any three of their own beers for €5.50.
While not a tasting paddle, The Beerhouse does a tasting session that you can buy as a gift voucher. You get to choose 6 half pints from a selection of mostly Irish draught beers for €15.95. The staff can talk you through the selection.
As well as being a delight for the taste buds, it adds a bit of a talking point to the pub visit. You don't all need to know your stuff or be able to wax lyrical about the flavours, but it does broaden your horizons and challenge your tastes a bit. We find that it's a really enjoyable experience that everyone should give a go.