A bit of space to sit outside and enjoy a pint can be a rare thing in Dublin. Even rarer is the weather to enjoy it. As we're having a great Summer at the moment, it's only fitting that we give you the low down on some great beer gardens to sit outside and relax in. For now, we'll be covering the north side of the city.
We're being loose in our definition of beer gardens in this list, so reasonably sized outdoor areas will do.
We're always looking to add to our lists, so if you have any suggestions, please send them our way.
The Church
The Church is one of the best sun traps in the city with seating for large crowds of people. They do some really good food here, so you can dine al fresco. As impressive as the interior of this bar is, the outside is pretty nice too.
The Living Room/Murrays/Fibbers
This trio of bars all back out onto one of the best beer gardens in the city. If you're looking to watch a bit of sport with your pint, then this is as good an option as any.
Delaneys
People keep telling us to keep stumm about this place, regarding it as they do as a bit of a hidden gem in the area. It gets a good deal of sun and it's a fine spot for a toasie and a pint.
Kavanaghs
It might not get a lot of sun but it's still a very good option for anyone who wants to sit outside but not in direct sunlight. They've got TV's out here. so it's another good spot for sport.
L Mulligan Grocer
Outside L Mulligan Grocer in Stoneybatter they have a sandwich board advertising their sunny beer garden. While it might not be the biggest in the area, it's a pleasant place to sit while enjoying a craft beer.
The Glimmerman
The back garden of the Glimmerman is a wonderful collection of couches, tables, a Vietnamese food truck (at weekends), a vespa table, and a boat on the roof. This eclectic space gets a good deal of sun and you'll be well entertained by the interior decor when you go in for your pint.
The Hop House
The food here is unreal and it can be enjoyed in their back garden area with a few pitchers of beer.
The Barbers
Ok, so this is a bit of a stretch and there's no permanent outdoor seating, but outside of The Barbers is a lovely spot to enjoy a drink. It gets loads of sun. Just be sure to be mindful of the neighbours and stay at the front of the pub.
T.O. Brennans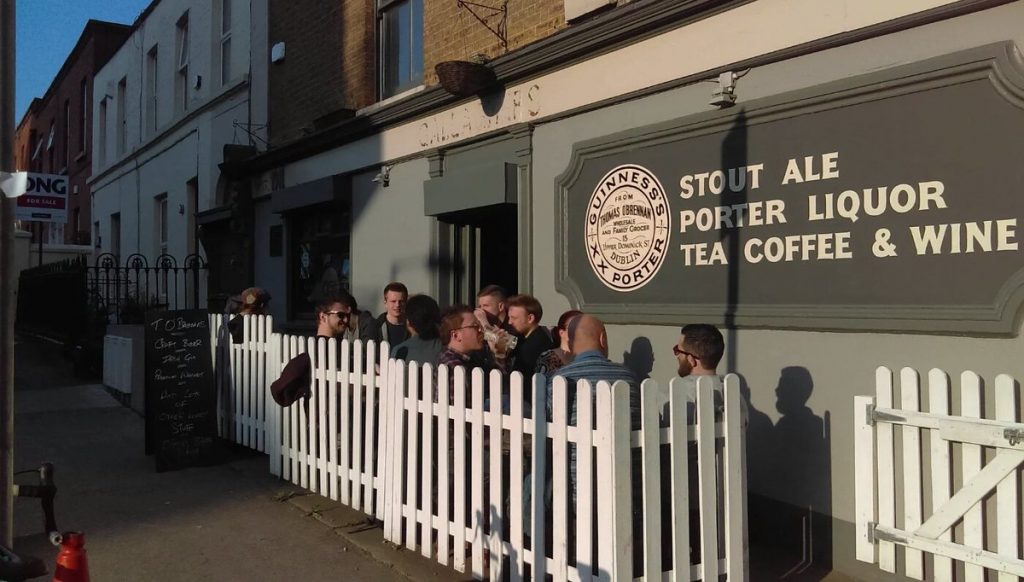 This is no beer garden, but it is a superb sun trap. There's seating along the 2 sides of T.O. Brennans on Dominick Street and the sun stays shining on one side very late into the evening. They've got a good selection of craft beers here.
The Cobblestone
The outdoor area of The Cobblestone is mostly covered, but again, it's a good spot for anyone who wants to be outside but out of the sun. It's always a friendly crowd in here.
Wigwam
The outdoor space in Wigwam is up on the first floor and has a retractable roof. The toasties here are top notch and are best enjoyed with the sun shining on your face.
The Belfry
Another entry for Stoneybatter. The Belfry have an area to the side with a bit of seating and a rotating food truck. At the moment it's vegan pizza.