Ryan's of Parkgate Street is one of Dublin's most celebrated pubs. The interior is an exceptional example of a Victorian era pub with an ornate bar, the oldest two faced clock in the country, and 2 fine snugs that reflect the design of the time. The pub isn't just a good spot for pints in a traditional setting, they've also got one of the best menus for Irish produce in the city.
Ryan's is part of the FX Buckley family who own, among other things, the oldest butchers in Dublin. As such, their meat is of the highest quality and it's all locally sourced. The same can be said of their seafood selection, which is also quite impressive.
Upstairs is the restaurant steak house area of the bar, but some of the food can be ordered downstairs.
Let's take a look at the menu.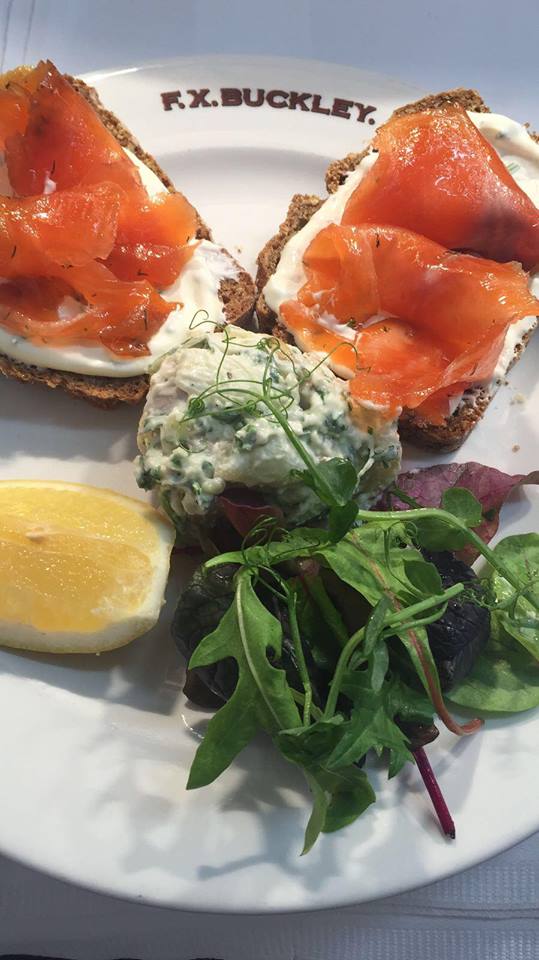 For an island nation we don't really have much or a seafood offering beyond battered fish, but Ryan's have a really good selection of gambas, salmon, oysters, and chowder for starters, probably the best in the city outside of speciality seafood restaurants.They also have lamb kidneys and foie gras. It was of course in FX Buckley's butcher where Leopold Bloom bought his kidneys in Joyce's 'Ulysses'.
They have a tapas menu that can be ordered downstairs. Just look at this suckling pork belly or maybe try the polenta chips in truffle oil.
The mains menu is quite extensive considering it doesn't even include the steaks (that has it's own separate section). The next time we go in we're going to try out the Castletownbere Mussels with beef dripping chips.
The steaks are the big draw here and this photo tells you all you need to know about it. This is a sharing steak for two.
If you want to see a few more photos of the pub, explore the history, and maybe book a table, you can find all the info on the pubs website. Link.