For the purposes of this article, we wanted to suggest to visitors to the city some pubs that lie outside Temple Bar. Earlier this year we were at a networking event where Pat Liddy, Dublin's most well know tour guide, was giving a talk in which he told the audience about the ever increasing numbers of visitors coming to the city and the necessity to show them something new and to broaden the attractions, areas, and pubs that we as Dubliners and tour guides direct them towards.
It's in that spirit that we write this article.
Tourists visiting Dublin and Dublin pubs arrive with expectations and an idea of what an Irish pub is. It's important that we give recommendations that meet these expectations, but also perhaps show them something different that they might not have experienced before. A lot of our suggestions have some form of entertainment in the form of live music or Irish dancing, but several are havens for the practise of the art of conversation where you yourself must be the entertainment as much as anyone else.
This is far from an exhaustive list. We just wanted to give visitors a flavour for pubs around the city. It should also not be read as an anti-Temple Bar article. Far from it. We love Temple Bar. We'll be writing a guide to Temple Bar pubs some time in the future.
The Church
The Church is a visually stunning bar and restaurant on Mary Street on the North side of Dublin. As the name would suggest, the bar is actually a converted church and retains all of its best features. It's very walkable from lots of visitor attractions. Try taking the self guided tour around this bar that is rich with history of the capital city. Whether you want pub food or more of a restaurant experience, this place caters to both with excellent cuisine. They frequently have live entertainment on their stage, including Irish dancing shows.
Toners
Toners Cut 2.2 from Straywave Media on Vimeo.
Toners pub on Baggot Street dates all the way back to 1734, making it one of the cities oldest pubs. It's one of the 16 remaining Victorian era pubs in the city and retains all the design characteristics of that time. The pub is frequented by Dubliners who love old traditional spots. You won't find any music here, but there are a few TVs for those who want to watch football, Gaelic football, and rugby. Past patrons of the pub include such literary greats as Bram Stoker and W.B. Yeats.
Whelans
In guide books Whelans is usually referred to as 'that pub from the film 'P.S. I Love You", but it's so much more than that. The main bar is a beautiful in the old traditional style and plays host to a lot of live music. In the venue you're likely to find anyone from Damien Rice to Ed Sheeran to a local emerging artist on the stage, or maybe just a DJ banging out some tunes. This is a great place to go for late drinks and a bit of a dance.
The Celt
The Celt on Talbot Street has live music 7 nights a week. They also host a regular Irish folklore and storytelling night that we've attended in the past. The food here is superb and they've really captured an atmosphere that visitors to the city really love.
The Hairy Lemon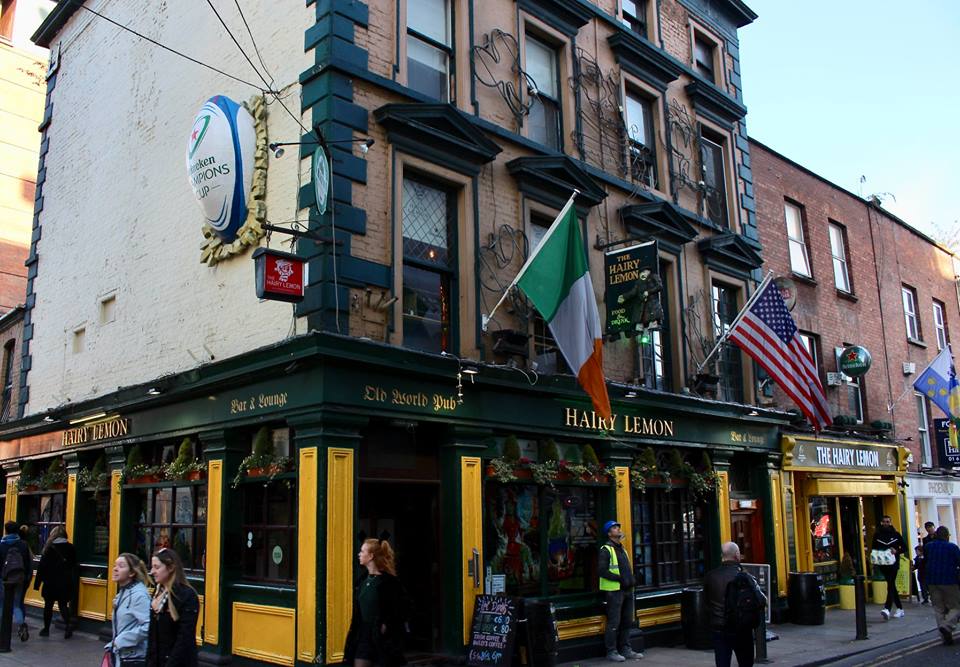 It's a pub with an odd name that does a great trade with locals and tourists alike. The food here is well regarded and they even brought out their own cookbook! The walls are a cool mish-mash or bric-abrac from Ireland and around the world. Stop in for the traditional music session on Sundays.
The Boars Head
If you're looking to experience a real family owned pub in the heart of the city, then stop into The Boars Head on Capel Street. The owner Hugh will give you a crash course in Gaelic football or hurling. The pub is the best small sports bar in the city and they have a good food menu all day long (including breakfast).
Ned O'Shea's
Ned O'Shea's on Lower Bridge Street is quite close to the Guinness Storehouse and might be worth a visit on your way back for some food. They do an excellent deal of a pint of Guinness and a bowl of Irish stew for €10. That's a filling lunch! They have live music 7 nights of week and even have an Irish ceili dancing night earlier in the week!
The Cobblestone
The Cobblestone is one of the most highly regarded music pubs in the city. The traditional music here is authentic and it could be said that this pub right in the heart of the city most resembles a rural Irish pub in tone, friendliness, and atmosphere. There's live music here 7 nights a week and you're likely to hear some of Ireland's best talents playing the fiddle, Uileann pipes or guitar.
McNeills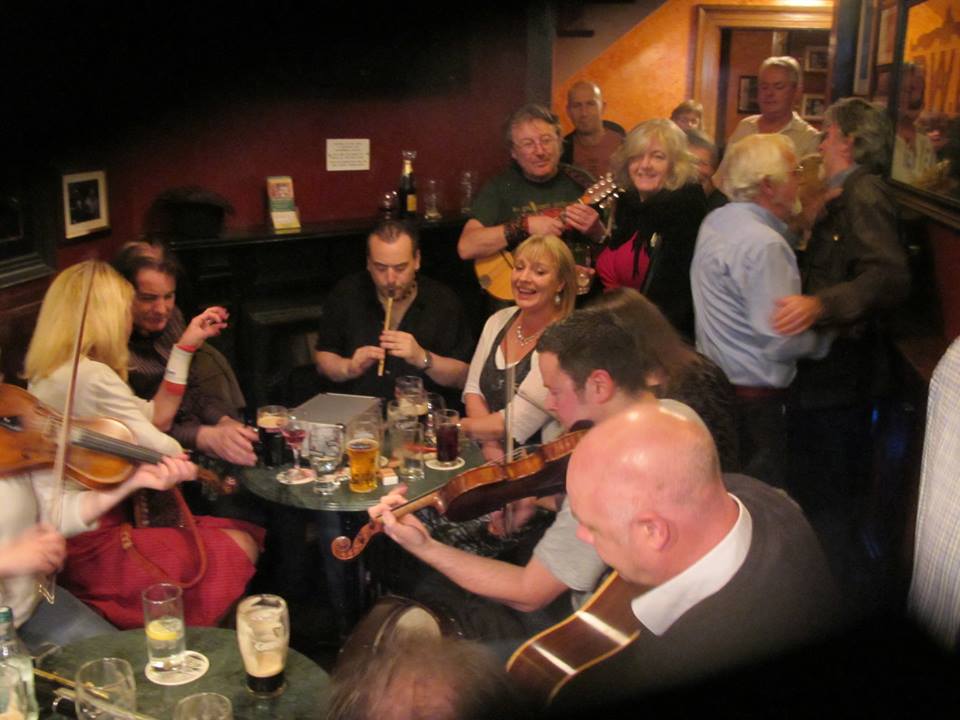 McNeills on Capel Street is another pub with an excellent reputation for live traditional music. It's a small and narrow pub but that just means a great condensed atmosphere. The musicians cosy up beside the fire 7 nights a week during the summer and belt out some toe tapping Irish standards.
The Bankers
Located on one of the best streets for pubs in the city is The Bankers of Dame Lane. Downstairs you can enjoy bar food, a selection of Irish whiskey, and some great Irish hospitality. Upstairs is The Teller Room if you want more of a dining experience. This is another pub that blends local and visiting crowds well.
Slatterys Capel Street
Yet again Capel Street gets a mention in this list. It's one of the most interesting streets in the capital and it boasts a great selection of pubs. Slatterys is open early for breakfast and drinks. They're one of the few pubs in the city that still operate with an 'early house' license, meaning they sell alcohol earlier than other pubs. The pub was visited by Anthony Bourdain and featured in one of his travel guides to Dublin. Stop in for a full Irish breakfast, although it doesn't necessarily have to be eaten in the morning.
The Long Hall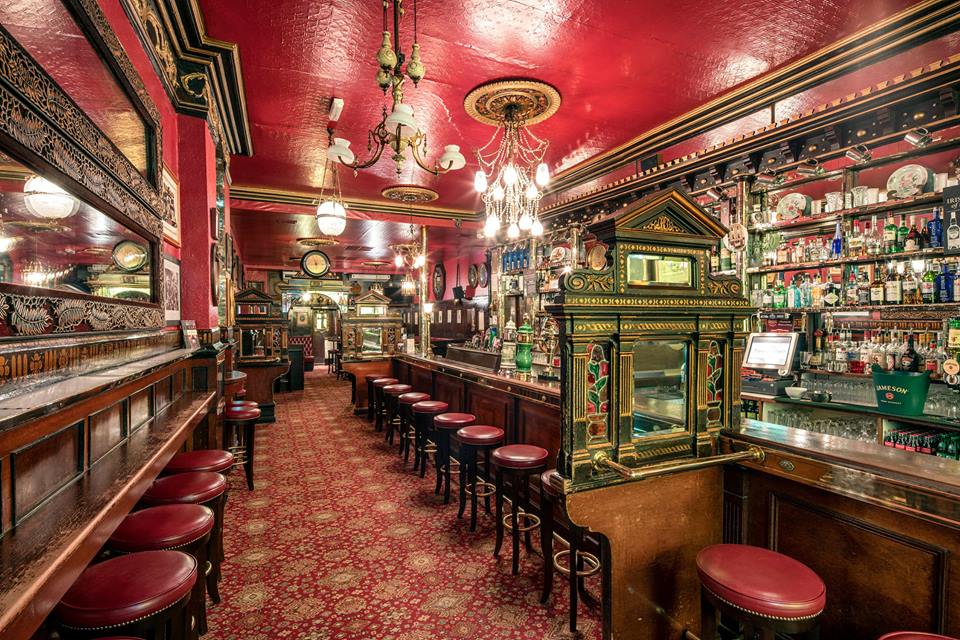 The Long Hall is one of the most ornate pubs in the city. Formerly owned by an antique collector, the pub retains a lot of the character and ornaments that the publican once crammed into this gorgeous pub. During the winter it's one of the cities most popular spots among locals, having as it does a really cosy atmosphere.
JW Sweetman
This pub is a great option for food and craft beer. Over 4 floors, it's a vast pub but you never feel like it's cavernous or impersonal. It boasts great views over the river Liffey and it's the only pub in the city that brews its own beer on site.
Devitts
Devitts on Camden Street is a brilliant example of a pub that underwent refurbishment recently but lost none of its character or charm in the process. In fact, it took what it had and built upon it. This is a pub that ticks a lot of boxes. They do an excellent selection of whiskeys, they do great food from breakfast onward, and they have live music sessions upstairs 7 nights a week.