On these cold, harsh Irish Winter nights the traditional pub is a great hideaway from the weather. An added plus in some of these pubs is the existence of a magnificent open roaring fire to keep you warm.
We've focused on several fire places in the first part of this article and listed all those others that we've found below those.
The Swan
The Swan is a beautiful old Victorian pub with the perfect setting to sit next to the fire with an Irish coffee.
McGrattan's
McGrattan's off Baggot Street might be the only fire on this list with seating on its perimeter. You can get really snug here before retreating to nearby seating when you've fully warmed up.
The Lord Edward
There's few places cosier than upstairs in The Lord Edward. The red carpet and upholstery combined with the open fire make this look as well as feel warm.
O'Shea's, Talbot Street
O'Shea's on Talbot Street are making a drink beisde a fireplace extra enticing with complimentary mulled wine and mince pies on Fridays from 5-6pm.
The Bridge, Ballsbridge
There's some stylish chairs beside the fire in The Bridge 1859.
The Kings Inn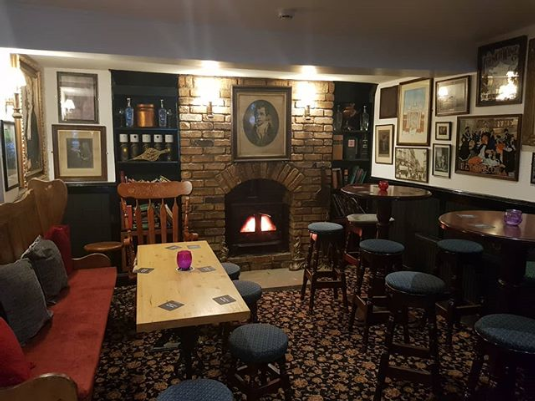 The Kings Inn is a mashing pub on Bolton Street that you should really check out. It's dog friendly so you and the pooch can sit beside the fire in full comfort.
Idlewild
You can get 4-6 friends in these uber-comfy seats in front of the fire in Idlewild on Fade Street.
More pubs with fires.
The Four Provinces, Kimmage
Dame Tavern, Dame lane
Slatterys Beggars Bush
McNeill's, Capel Street
Kehoe's (Upstairs)
McGrattans, Baggot St.
Hacienda, Arran St
McCann's, James St
Whelans, Wexford St
Walsh's, Stoneybatter
The Barge, Portobello
Rody Bolands, Rathmines
Arthurs, Thomas st
Rag Trader, Drury Street
The Gin Palace, Abbey st
Delaneys, Smithfield
Smyths, Haddington road
Blackbird, Rathmines
The Bath, Bath avenue
TP Smiths, Jervis st
Mulligans, Poolbeg street
No Name bar, Fade street
Library bar, Exchequer st
The Bank, College Green
O'Neills, Suffolk st
The Workmans, Wellington Quay.
Madigans, Abbey st
Mother Reillys, Rathmines
The Royal Oak, Kilmainham
The Glimmerman, Stoneybatter
Harry Byrnes, Clontarf
Ryans Beggars Bush,
Slatterys, Capel Street