We had the great fortune last night to be able to attend an event launching a historic whiskey collaboration between 7th generation whiskey bonders and 3rd generation Dublin publicans.
The Palace Bar has become the first bar in the world to be honoured with their own single cask of Green Spot whiskey to sell exclusively in the pub. Anyone with even a mild familiarity with Irish whiskey will know the name Green Spot and the reverence with which it is celebrated. It's a whiskey we frequently recommend to people on our pub tours who are looking to taste something Irish that might be on their radar.
The collaboration between 2 institutions of the Irish drinks industry, The Palace Bar and Mitchell and Son's whiskey Bonders, was celebrated at a launch upstairs in 'The Whiskey Palace' where whiskey lovers and people in the trade came together to mark this momentous occasion for the pub. Willie Aherne , the proprietor of The Palace Bar spoke about his families history in the pub business and how his grandfather came to Dublin from Tipperary to learn the trade, starting with another premises in town before purchasing The palace in 1946. The room in which he spoke was once both the family kitchen and living room, with the bedrooms being another floor above.
Willie spoke of the pub not just as a place of business but as 'the house', and there's obviously still a regard within the family that this pub is also the family home. For us, this brings a new dimension to the welcome that pubs extend when a punter comes in for a drink. We're literally being invited into someone's family home to share a drink and a chat.
It was also a fascinating insight into Mitchell and Son's whiskey bonders, a family business for 7 generations going all the way back to 1805. Both father and son were on hand to talk us through the connection they share with the pub and with the Aherne family, as well as the links they've made around the world with wine producers who have Irish heritage or an affinity with Ireland. These wine casks are then used for the aging of their whiskies.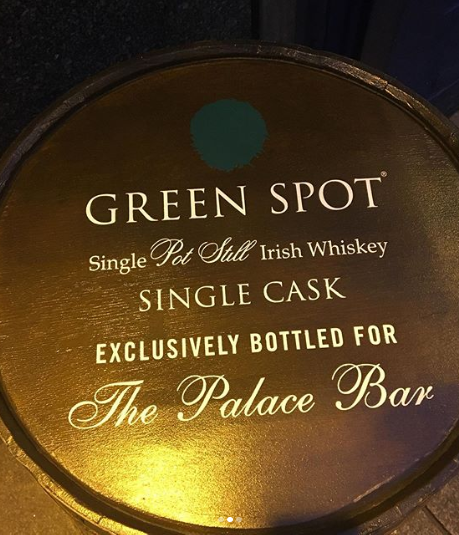 In an age of chain pubs coming into Ireland and setting up shop and large marketing campaigns, this evening was a wonderful reminder of the roots of Irish whiskey and the Irish pub. We go to the pub not just to drink, but to converse, share stories, share history, and to share new experiences. What better way to do this than to drink a whiskey from a family owned business in a family owned pub.
You can try the whiskey by the glass in the pub or take home a bottle with you.