Some pubs in Dublin city have beautiful artwork on display 365 days a year. Pay a visit to Davy Byrnes, The Gingerman, or Grogans to see what we mean. Some pubs have gone so far as to commission artists to paint depictions of the bar on an average day, featuring some of their more regular customers and staff.
One interesting common thread running among these pubs is that they're all independent pubs. Perhaps this is part of what creates and keeps the connection between publican and punter.
The Dame Tavern
The artwork in The Dame Tavern is what inspired us to collect other examples of patron focused paintings. It's a lovely touch and nice tribute to the customers of this establishment. It's a place that clearly inspires loyalty in regular and even occasional patrons.
The Palace Bar
This artists depiction of The Palace of Fleet Street in the 1940's captures some of their famous patrons of the time, including former Irish Times editor R.M. Smyllie.
Jack O'Rourke's
Jack O'Rourke's in Blackrock was a pub that we were delighted to have stumbled across in recent times. It has ornate features, a beautiful fireplace, a nice snug, and some great artwork. We'll have to try to get a better photo of the painting when we're in next, but suffice to say that it depicts the bar in a lively but not too busy state. It's above the seating straight in front of you as you enter the bar. From the hair cuts and style, we reckon it's set in the late 60's, early 70's.
Grogans
Grogans pub commissioned 2 stained glass pieces of art to hang on the walls of the pub, celebrating their loyal customer base. The glass was made by artist Katherine Lamb. The Irish Times made an excellent video about the creation of the pieces and the history of art in Grogans. Link.
The Long Hall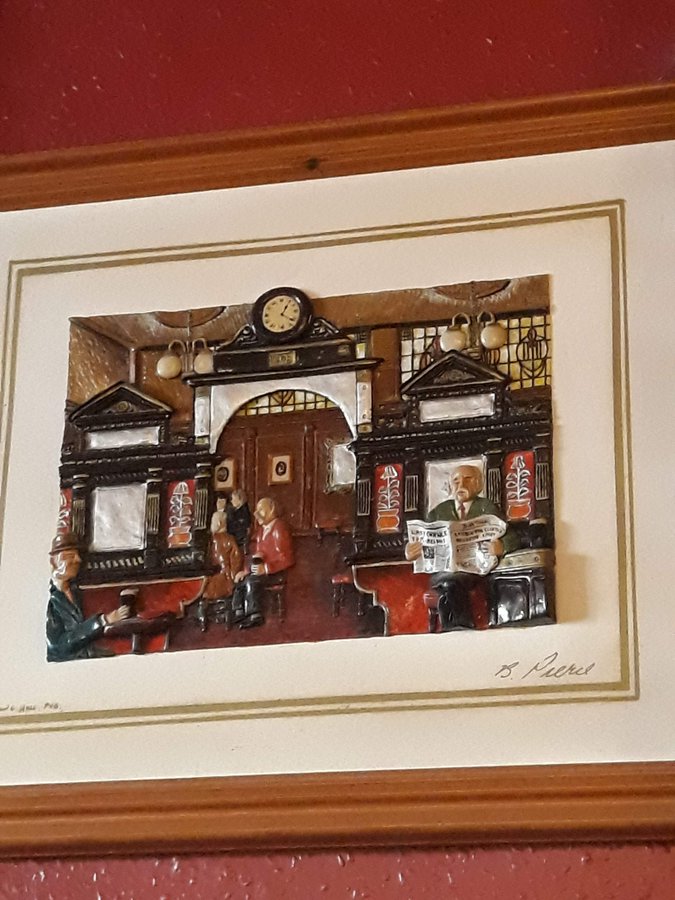 The Long Hall has lots of artwork and antiques hanging on the walls of the pub. One such piece is this ceramic work capturing the divider, clock and back area of the bar, including several patrons reading papers and chatting.
O'Neill's Pearse Street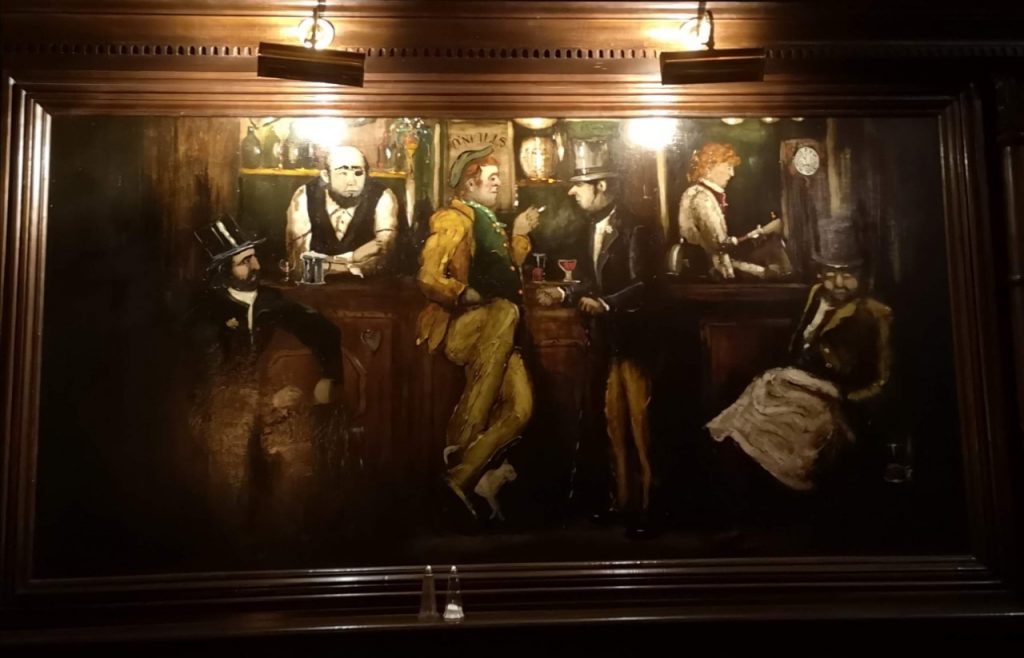 We had presumed this painting in the bar to be a depiction of no pub in particular until Gerry O'Neill sent it on to us. And indeed, you can see the name O'Neill's in the background and you can make out features of the bar as it still is today.
The Confession Box
This is one of 2 paintings/murals of customers hanging in The Confession Box on Marlbrough Street.
If you know of more examples of paintings or artwork featuring customers in a pub, please email us at publinie@gmail.com and we'll include it in.