O'Shea's of Talbot Street have recently unveiled a new beer garden area in their pub, rivaling anything else the cities pubs have to offer.
As you enter from the main indoor bar area you'll first find a speciality whiskey bar for tasting sessions. Up the stairs and you enter the main garden area.
To the left is the the bar in a shed style design. If you stand a few paces back you'll notice a fairly unique design element; a bed! Above the bar in the loft area of the barn is a bed. Of course it's for design and not relaxation purposes only.
Along the sides of the garden there are what at first look like rural shop fronts, but they're actually the colour schemes and names of several pubs owned and operated by O'Shea's in Dublin and Kerry. The bright, colourful doors bring a vibrancy to the space, heightening the suns effect on the area.
You'll also notice that the doors have usb charging points built into them, so there's no need to throw your phone behind the bar for a charge.
Of course, it's Ireland so a canopy to close the space off from the elements is in place and can be rolled out quickly. They've taken sports into account as well, with a large TV screen mounted to the wall. They'll be showing all large sporting events.
They have a functioning post box where you can drop a postcard and they'll see that it gets sent.
Other cool elements of the garden are a water feature in the shape of an old water pump, keeping with the rural town theme going on.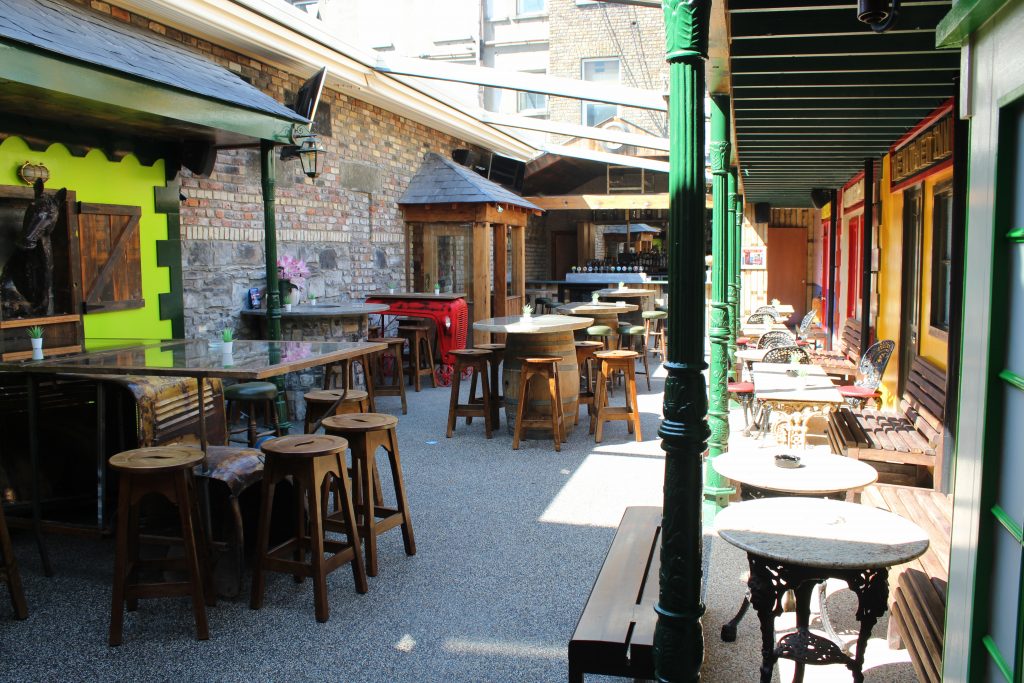 As you can see from the photos, this is a beer garden worth traveling for.