Cheese puns are the lowest form of humour. They're also very easy to come up with. Hence, the headline. Read on if you can camembert some more. Some of them may not have previously ocurd to you. One thing we can all a-gruyere upon is that it's one of the tastiest snacks you can get to accompaneer a good wine or a jar———-lsberg of beer.
Peter's Pub
Peter's Pub is the type of traditional spot where you might be forgiven for expecting that the food menu doesn't go beyond the classic pub toastie. Thankfully, they've also got a sumptuous cheese board that is great for 2 people sharing. While it's traditional to have a glass of wine with your cheese, a pint of Guinness did us no harm as an accompaniment recently.
57 The Headline
The Headline are a great pub for encouraging local produce and that certainly extends to their cheese board. We can spy some Knockanore white cheddar on this photo of their cheese board. Pair it with one of their extensive range of Irish beers or ask for a wine recommendation.
Searson's
Searson's are keeping it local with an Irish cheese board consisting of Cashel Blue (Co. Tipperary), Red Wine Cheddar (Co. Limerick), Smoked Gubbeen (Co. Cork) & Brie (Co. Waterford). Menu.
JW Sweetman
If you're looking for a plate on the larger side for sharing, JW Sweetman does large cheese boards for snacking on over a craft beer brewed on site.
The Bank
If you're looking for an elegant snack then you may as well eat it in an elegant setting and there's few to rival The Bank on College Green. Menu.
The Legal Eagle
The Legal Eagle has an excellent selection of of bar snacks, including their own pickled eggs that need to be tried. On the cheese end of the spectrum they have a Ploughman's board which includes the eggs, as well as 3 Irish Farmhouse cheeses, Legal Eagle pickles, apple, celery, piccalilli & sourdough.
The Big Romance
The Big Romance on Parnell Street has a rotating cheese plate selection from 'Chew Food'. Pictured in this photo if Comte, a French hard cheese. The cheese come served with grapes, artisan crackers and quince paste. They also have an antipasti board that comes with cheese.
Ryan's
Ryan's on Parkgate Street serve up a selection of Sheridan's cheese with house onion jam, fennel honey, and water biscuits. Get the snug for private enjoyment. Menu.
The Bailey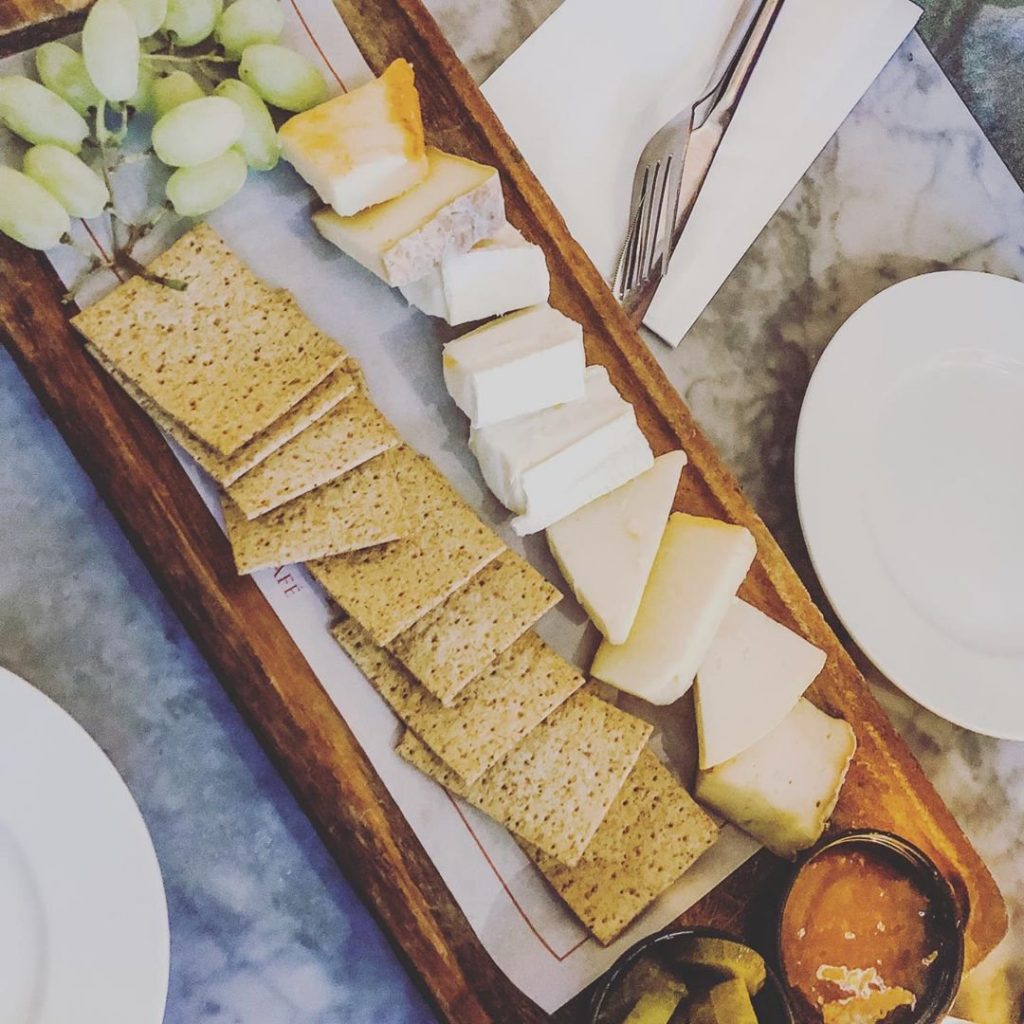 Sitting outside the Bailey with a glass of wine in hand, a blanket over your lap, and a cheese board in front of you to share. Now, that's a nice scene isn't it?
The Market Bar
The Market Bar is one of these best places in the city for tapas and light snacks. They have a cheese board with some Spanish favourites served with crackers and olives.
Underdog
Underdog on Dame Street is a pub with an ever changing and always exceptional craft beer selection. Pair one of them up with a cheese or charcuterie board.