Brunch seems to be the meal of choice for those who want to spend a bit of the day drinking but also getting to bed at a reasonable time. Maybe hit the gym in the morning to earn a few body brownie points before having a good meal and a few drinks with it. Some pubs offer the opportunity to make the most of brunch with bottomless brunch deals. Usually a bottomless brunch means refills on cocktail or prosecco in the 2 hour period.
If you're wondering whether this is some sort of free for all, it's not. It's more of an opportunity to have a few drinks with a meal during the day without raising the price of the day out too much. It sorts of works out as a free drink extra and it's more in place of a night out than preceding or beginning one.
Wigwam
Wigwam on Abbey Street do a €30 bottomless brunch where you get a 2 hour sitting with a brunch item off the menu and one of prosecco, cuba libre, dark'n'stormy, and brahma. Website.
The Square Ball
The Square Ball have 2 bottomless deals depending on the mood you're in. You can opt for bottomless wings for €30 or the bottomless brunch for the same price that includes bottomless drinks, one food item, and unlimited board games. The drinks included are prosecco, bellini, mimosa, moscow mule and peroni. You can book in for brunch between 12-4 on Saturdays and Sunday. The brunch menu includes pork belly benedit, french toast, a breakfast burger, and chicken burger. Link.
Bow Lane Social
Bow Lane Social on George's Street is well known as a go-to for brunch at the weekends. They offer a bottomless boozy brunch for €25 per person extra on top of whatever food you get. Website.
Zozimus
Zozimus near Grafton Street do a dim sum brunch with bites and bottomless drinks for €35 all included. They run on Saturday and Sunday from 1-2.45 and 3-4.45. Website.
The Jar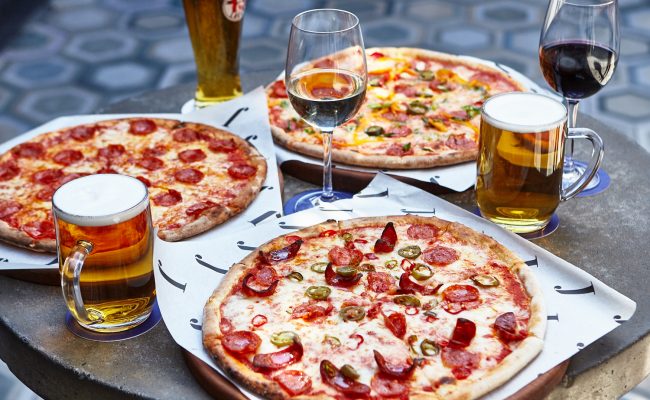 The Jar are offering bottomless of a different kind. They do superb base pizza and offer bottomless pizza for €15 on Sundays. Website.
The Camden
The Camden on Camden Street is a great place to watch a match with drinks and a bit of food. If you add €25 on to the price of a main dish you can get yourself a bottomless brunch on Saturday and Sunday until 4pm. Website.