Sometimes you want to take a break from the drink either for a few days, a longer period of time, or just to alternate your pints with something else to keep you out and about.
You only have to look at the advertising campaigns in and around pubs to see that there's been a shift to more low alcohol and alcohol free options. People want to occasionally swap one drink for another but they don't want to swap the pub experience. We thought we'd make life a little easier for you by highlighting a few pubs that have good options for you.
57 The Headline
The Headline on Clanbrassil Street are well known for their wide and varied craft beers options, mostly from Ireland. They've continued on that selection when it comes to low and non alcoholic options. They've got beers from Wicklow Wolf, Dungarvan Brewing, Mikkeler, and several others.
Lemon and Duke
Lemon and Duke just off Grafton Street put together a video in January highlighting some of their non alcoholic offerings, which include beer and 2 cocktails. One of the cocktails is the 'New York Sour', which includes non alcoholic wine, pressed lemon, simple syrup, whites, and maraschino cherries. They've gone a step further and actually stock non alcoholic gin so you can have a gin and tonic that still has the bite.
The Back Page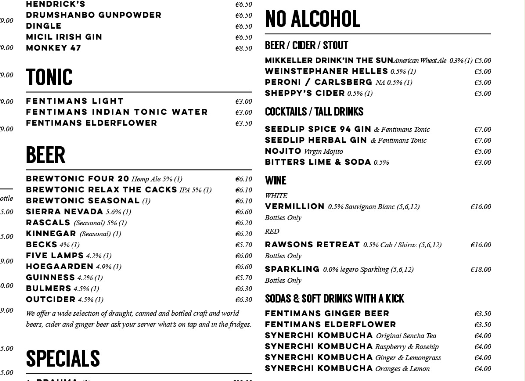 The Back Page in Phibsboro has a brilliant section of their drinks menu devoted to low and no alcohol drinks. They've got 4 beers and ciders including Mikkeller, Weihenstephaner, Peroni and Sheppy's. They also have 4 cocktails, red, white, and sparkling wine. They've also got a few drinks other than the usual soft drinks to give you a bit of flavour.
The Virgin Mary
The Virgin Mary is a very interesting concept; an alcohol free bar in Dublin. They're located on Capel Street and all of their drinks are alcohol free. They want to provide the Irish bar experience without any of the alcohol. Named after an alcohol free cocktail, they've been on a mission to create tasty drinks, or as they put it:
Our philosophy is simple, our completely original cocktails embody the TVM signature style that is clean, complex and exceptionally balanced. All of our drinks are multi-layered, aromatic and created to stimulate your social appetite.
37 Dawson Street
37 Dawson Street have a whole menu devoted to low and no alcohol options. We can't get our hands on it online but if you visit the bar you'll be sure to find something to your tastes.
Just a few of the alcohol free and low alcohol beers and drinks available in Dublin:
Dungarvan Main Sail
Weihenstephaner
Pistonhead Flat Tire (0.5%. They have a beer of the same name that's 4.5% so be sure you know what you're pouring)
Mikkeller Drink'in the sun (0.3%)
MacIvors alcohol free cider
Brewdog Nanny State
Wicklow Wolf Moonlight
Whiplash Northern Lights (2.8%)
Sheppy's Cider
Rascal's Nanu Nanu (2.8%)