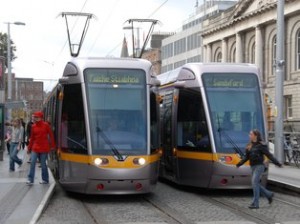 Make your way along the red luas line from Park gate street into the city centre, with a pub at every stop.
1. Ryan's Parkgate street for the Museum luas stop.
2. Frank Ryan's for the Smithfield luas stop.
3. The Legal Eagle for the Four courts luas stop.
4. T.P. Smyth's for the Jervis luas stop.
5. The Flowing Tide for the Abbey street luas stop.
6. The Brew Dock for the Busáras luas stop.
7. The Harbour master for the George's Dock stop.
That should keep you busy enough.