Paddys day is one of those times that everyone who generally stays out of town, or goes to the local, flock into the city centre and swarm every pub in sight. What we're going to try to do is to give a few suggestions for places to go that might give you a bit of breathing room, without losing the atmosphere or having to travel too far. If Arthurs day or the 12 pubs of Christmas are anything to go by, it's worth putting in a bit of research.
I should say that Publin doesn't think you won't have a good time in other pubs or that they're not up to scratch. We're just suggesting a few places that you might be able to get in the door a bit easier.
While we can give no guarantees that these pubs won't be rammed with people, they may prove to have a bit more leg room.
Obviously all the main thoroughfares are going to be filled with people (Baggot street, Dame street, O'Connell street, Grafton street), so it's worth looking for a pub you haven't tried before that might be on a side street or in areas like Thomas street, the Docklands, a bit further down the quays towards the Pheonix Park, Smithfield, and Portobello. A ten or fifteen minute walk at the start of the day/night could make for a more pleasant experience for the rest of the day.
Arthur's on Thomas street is the closest pub to the Guinness storehouse and has a good reputation for catering to big crowds on celebratory days like these. They have plenty of standing space downstairs and will be opening their upstairs area as well.
The Thomas House is mecca for those looking for an alternative Paddys Day. They describe themselves as 'Dublin's best dive bar', and they're not wrong. Open from 3pm. You'll be treated to some indie, ska, and punk from 7pm. They should have some drinks specials on pitchers of beer.
Darkey Kellys is a pub that, despite being in the heart of town, might escape some of the crowd's attention due to their location on copper alley off Dame street. They'll certainly have some live music and will cater for bigger crowds in their beer garden at the back. There's value for money to be found here as well. Hoegaarden, Franziskaner, and Paulaner pints are only €4.50, and you can get 3 bottles of Erdinger for €10. Not quite Irish beverages, but they get the job done.
Smithfield may avoid some of the large throngs of people staying around after the parade. In this area you have The Cobblestone, Dice bar, Frank Ryans, Walshes, and Mulligans, which are all great pubs. Smithfield will likely attract a lot of tourists, given that they're in most of the guide books, but there might be standing room outside in the smoking area. Dice bar usually allows people to stand outside so long as they're not interfering with the Luas, so that means there's room for overflow. Across the road there's a pub called McGettigans, which is a more traditional pub, and they're good value too.
On Parkgate street there's a row of pubs, some of them quite large. Nancy Hands, Eamonn Reas, and Ryans all have a lot of space between them and this location would suit people coming from Blanchardstown or other areas on the northside.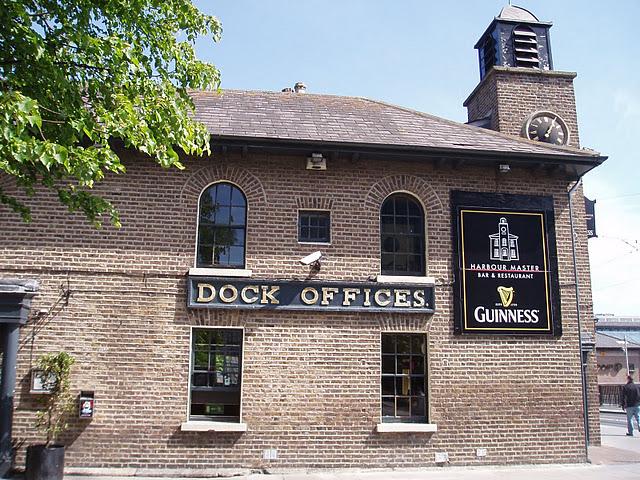 The Docklands area has a few pubs worth consideration that might escape notice more than others in the area. Brew Dock is likely to attract the craft beer crowd, but they might have less foot traffic than their sister pubs, Against the Grain and The Black Sheep. The Harbourmaster has plenty of standing room inside and can also cater for more on their outdoor terrace by the dock. Lagoona is good value and, being in the heart of the IFSC, might be a bit off the beaten track for some.
Further south places like The Portobello, The Barge, and The Lower Deck all might prove useful. The Barge frequently allows for overflow outside where people can drink their pints along the canal, or even in their beer garden. You'll have to go inside to get served, but at least outside will give you some fresh air and a bit more leg room. The same could be said of The Lower Deck, although straying too far with their glasses isn't advisable.
Club Chonradh na Gaeilge is located down a staircase on Harcourt street. As you have to know where this place is and you have to buzz to get in, it might be overlooked by passers by. What better way to celebrate your Irishness than ordering as Gaeilge. Knowledge of the Irish language isn't essential, but an attempt is appreciated.
Sister pubs Becky Morgans , and The Pimlico Tavern might also prove to be useful spots for those wary of the crowds. Becky Morgans is 5 minutes from the Aviva stadium on Grand Canal Street Lower, while the Pimlico is located close to the Guinness storehouse close to the Liberties.
That's our pick of pubs that might avoid some of the crowds. We may be right, we may be wrong.  If you find a pub that has space on Paddys day, let us know on facebook or twitter.
Enjoy your day!