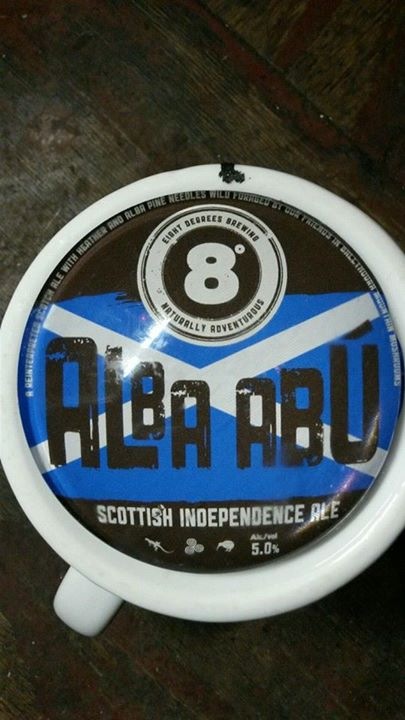 The good folks at 8 Degrees brewery have seized the opportunity to make a politically themed beer centered around the Scottish Independence referendum. This isn't the first political beer, following on from Brewdog's 'My name is Vladimir', but it's certainly the only one that has been so timely.
The name of the beer is 'Alba Abú' or 'Up Scotland'/'Come on Scotland' and it's tagline is 'Scottish Indepdendence Ale'. It clocks in at 5% Alc/Vol, so it's strong stuff to be celebrating with.
You can't make an ale that's all about the name, so they've added heather and alba pine to give it a more distinct Scottish flavour.
It's great to see breweries having a bit of fun with their beers and branding. More of this sort of thing we say!
If any Scottish independence advocates or Irish sympathisers want to get themselves a pint of this brew of history, they can pick it up in The Beerhouse on Capel street.