Summer is fast approaching and we'll all be spending as much time outside as possible. So, with that in mind, we've put together a list of pubs and bars that do BBQs throughout the summer months both for small groups and large bookings.
Be sure to mention Publin when you're making an inquiry.
Here's some of your options.
The Odeon
The Odeon on Harcourt street have been throwing BBQ bashes on their terrace for a few years now and the feedback has been good. Their BBQ is on Thursday to Saturday from 5pm and you can get great group bookings for €11.50 per person. If you're going without a booking each grill item is €7, and you can add a glass of prosecco to that for €12. If you book for a group before May 1st you get 10% off. Also, going on a Thursday night would mean there's lots of 2 for 1 cocktail offers.
Contact: hello@odeon.ie
Grafton Lounge
Grafton Lounge have a wide range of options to suit your group booking. They have silver, gold, and platinum packages starting at €12.95 per person. The platinum package includes a pig on a spit! That would be some way to celebrate the summer. With your group booking (minimum 40 people) they would also give you an area inside where you can party until late on the dance floor with their DJs. You can check out their very extensive menu by this link.
Contact: reservations@thegraftonlounge.ie
Alfie Byrnes
Alfie Byrnes on Earlsfort terrace have a very nice terrace at the front of the bar that they will be running all summer. They've got a huge selection of Irish and international craft beers, as well as a burger and a pint of Galway Bay beer for €10. They take inquiries about group bookings.
Contact: (01) 602 8900
Horse Show House
Madigan square garden in the Horse Show House in Ballsbridge is a recently redesigned, gigantic outdoor area that do BBQs and can cater for very large groups.
Contact: pubs@madigan.ie
DTwo
The Backyard BBQ in DTwo on Harcourt street is now set up to take bookings big and small for their beer garden. It has a capacity of 500, so there's plenty of room for multiple groups. It's also an all weather garden, so there will be burgers and more served whatever the weather. They do steaks, ribs, burgers, gourmet sandwiches, and plenty of sides. You can see the full menu via this link.
Contact: michelle@dtwonightclub.com
McGrattans
McGrattans off Baggot street are available to book for company BBQ events throughout the week. They've got a lovely outdoor area and a large area at the back of the bar for BBQing.
Contact: info@mcgrattans.ie
Everleigh Garden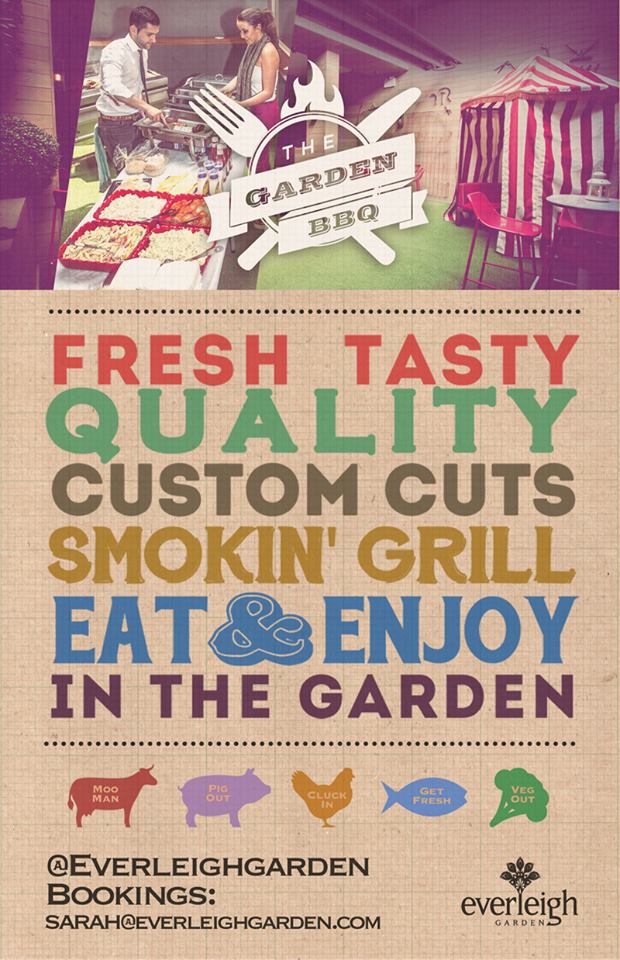 The folks at Everleigh Garden are no strangers to organising work events, and the BBQ is just one of them. Their BBQ options start at €10pp and they can do extras or dessert, steak, and cajun salmon.
Contact: sarah@everleighgarden.com
Sams Bar
Sams bar on Dawson street have some good options on their front terrace for work and group parties. They start at €10.95 pp and are sure to keep you full for the rest of your night.
Contact: reservations@samsbar.ie
Diceys garden
Diceys on Harcourt street have food options beginning at €6.50 pp and some of the cheapest drinks deals in town. They have a ten person minimum for booking.
Contact: events@russellcourthotel.ie
Darkey Kellys
Darkey Kellys on Fishamble street have a free BBQ every Thursday from 7pm. This one would be more for small groups of friends, rather than large corporate bookings. They have live music and a good selection of Irish craft beer.