The first game of the Rugby World Cup draws near and there's a level of excitement around the city for a tourament that we have a genuine chance of progressing far into. We've put together this list of city centre pubs that can provide a great atmosphere for anyone wanting to watch the games.
We haven't just gone for a strict criteria of those pubs with the biggest screens or the most seats. We've tried to vary the list a bit to include pubs that you might enjoy depending what it is you want to get from a game. So, we've included pubs with traditions of rugby, some with beer gardens, some with small condensed atmospheres, and pubs with other things to offer.
It's always tough putting together a list of 10, so we hope we've given an option to everyone who is looking for something different.
We'll also be giving you a rundown of drink and food deals in another article.
The pub owned by players- The Bridge 1859
As this Ballsbridge bar is owned by Leinster and Ireland players Sean O'Brien, Rob and Dave Kearney, and Jamie Heaslip, there's bound to be amazing crowds in for the Ireland games. The place will be heaving with fans who are used to making the trip a few yards down the road to watch Leinster play in the RDS. They've even teamed up with Heineken to have their own 'Bridge 1859' branded bottles for the tournament. They're sure to become a collectors item if we do well.
The Northside Sports bar- The Living Room
Although rugby would traditionally be seen as a sport of the southside of the city, there's still an avid interest across the Liffey. The Living Room has some huge screens and has undergone a face lift just in time for the start of the World Cup. They usually have tiered seating in their massive beer garden for events as big as this, so expect a rocking atmosphere outside as well as in.
The Pub with the condensed atmosphere- The Bankers
A small pub though it is, there's a certain charm to watching a big match and going collectively ape shit with a load of people crowded into the same spot. They've got 3 screens around the bar and if you do get a seat you can get a burger and a pint of heineken for €8 or wings, chips, a side salad, and a bottle of sol for €9.95.
The pub with the beer garden- Toners
There's a rich tradition of rugby support in Toners, and there's also a huge beer garden dotted with TVs. We had the pleasure of watching the soccer world cup final here last year and the atmosphere was electric. Just imagine what it would be like for an Ireland game. There's plenty of cover if we don't get the Indian summer that we wanted, but let's hope for the best. Always good pints here and the staff are excellent.
The traditional pub- The Swan
You might want something more along the lines of a traditional pub so that you can feel at your most patriotic when cheering on the team. The Swan is a beautiful pub that is adorned with items of historical rugby significance, including a bust of a former Irish player. There's 3 screens in here and a good selection of craft beer as well as the usual standards. If you haven't been here before we'd describe it as similar to the Stags Head, given that they're both original Victorian era pubs.
The Southside Sports bar- Trinity bar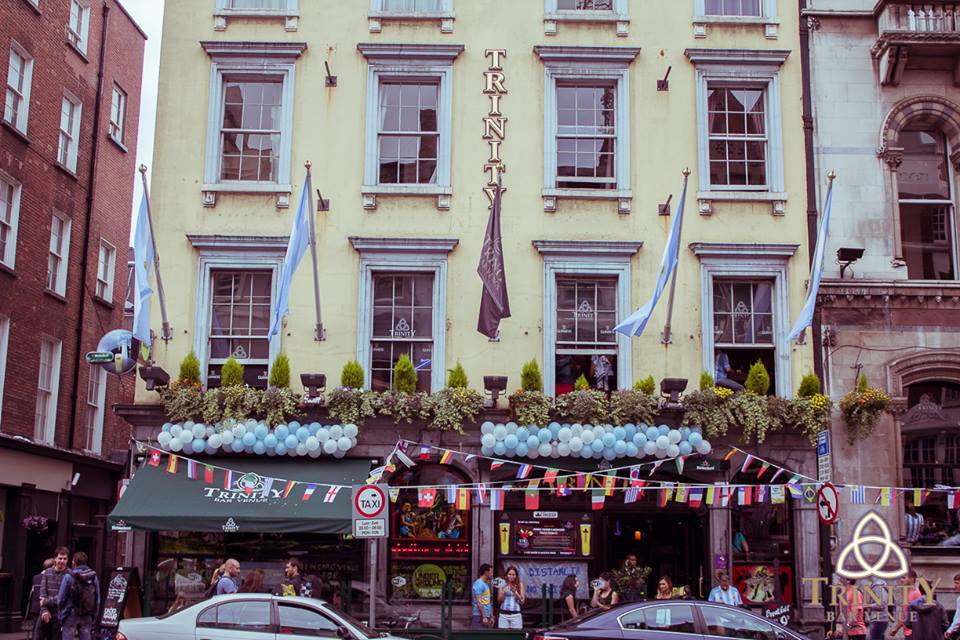 Trinity bar has been becoming a 3 floored sports bar over the last few years, and the transformation is now complete with the opening of their dedicated basement sports bar. They have a large mural of the Aviva on one of the walls, making you feel right at home. They've got loads of high def screens around the bar and one massive ultra HD screen on the ground floor. It's on Dame street, so it's very central. They also play host to a lot of Argentinians, so it should be a good spot to watch their games.
The craft beer bar- Alfie Byrnes
If you want to watch the matches but are also a fan or good Irish and international craft beer, then Alfie Byrnes on Earlsfort terrace would be a good bet for you. They've got 2 big screens and plenty of space. They've also got pool and table tennis if you want to make a sporting day of it. They've got a deal for the World Cup called 'The Brute Burger'. It's a double burger and a pint of one of their Galway Bay beers for €18.50.
The traditional rugby pub- The Old Stand
The Old Stand on Exchequer street has long been synonymous with rugby in the city and they uphold that tradition to this day. It would have an older age profile than some of the bars on this list, but that's no bad thing.
The pub near the stadium- Slatterys
Slatterys of Beggars Bush are no strangers to match days, given that they're a stones throw from the Aviva stadium. After a series of extensions it's become a colossal pub with screens in every room. A favourite amongst soccer and rugby fans alike, it should prove one of the places to be during the tournament. They have an excellent deal for groups where you can book a VIP table for €80, which gives you a bar tab of €100. Yes, that's €20 extra.
The bar with the international crowd- DTwo
DTwo has long been an unofficial home for expats of various nations living in Ireland, including Italy and France. If you want to watch the game in a place with a friendly adversarial atmosphere, then DTwo could be a good bet. They have 20 screens around the bar, including several in their beer garden.They can get over 1,000 people in for a game, so it should be almost a stadium atmosphere. They give free finger food at half time as well as deals on buckets of beer and burgers.