You want to get that shopping done, but you're just completely devoid of ideas. We've all been there. Don't worry though, we've got a few ideas for presents for the person in your life who likes pubs, beer, and maybe even some whiskey.
Clover Rua prints, notebooks, and cards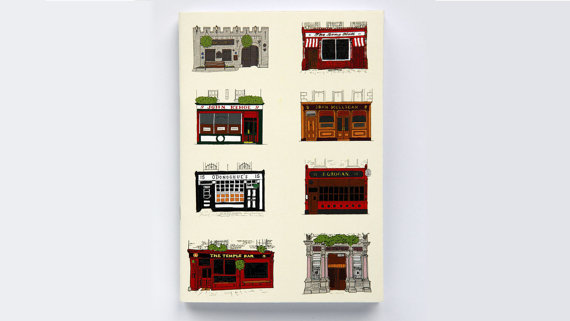 Clover Rua have a lovely Etsy shop which includes prints featuring iconic Dublin pubs that you can have framed. They also have a selection of pub Christmas cards, and note books with similar designs.
Price: Notebook €4.00, Large print €12.00, Christmas cards €3.00
Link: www.etsy.com/ie/shop/CloverRua
Pub Crawl print from Celtic Photography
Celtic Photography have a new design, specially for pubs. You pick 4 or 5 of your favourite pubs, and they make a collage of them from their original photography. You may have seen some of them around pubs in the city centre already. They're 10″ by 36″
Price: Framed picture €125, blockmount picture €125, print only €45.
Link: www.celticphotography.ie/order-page/
Books about pubs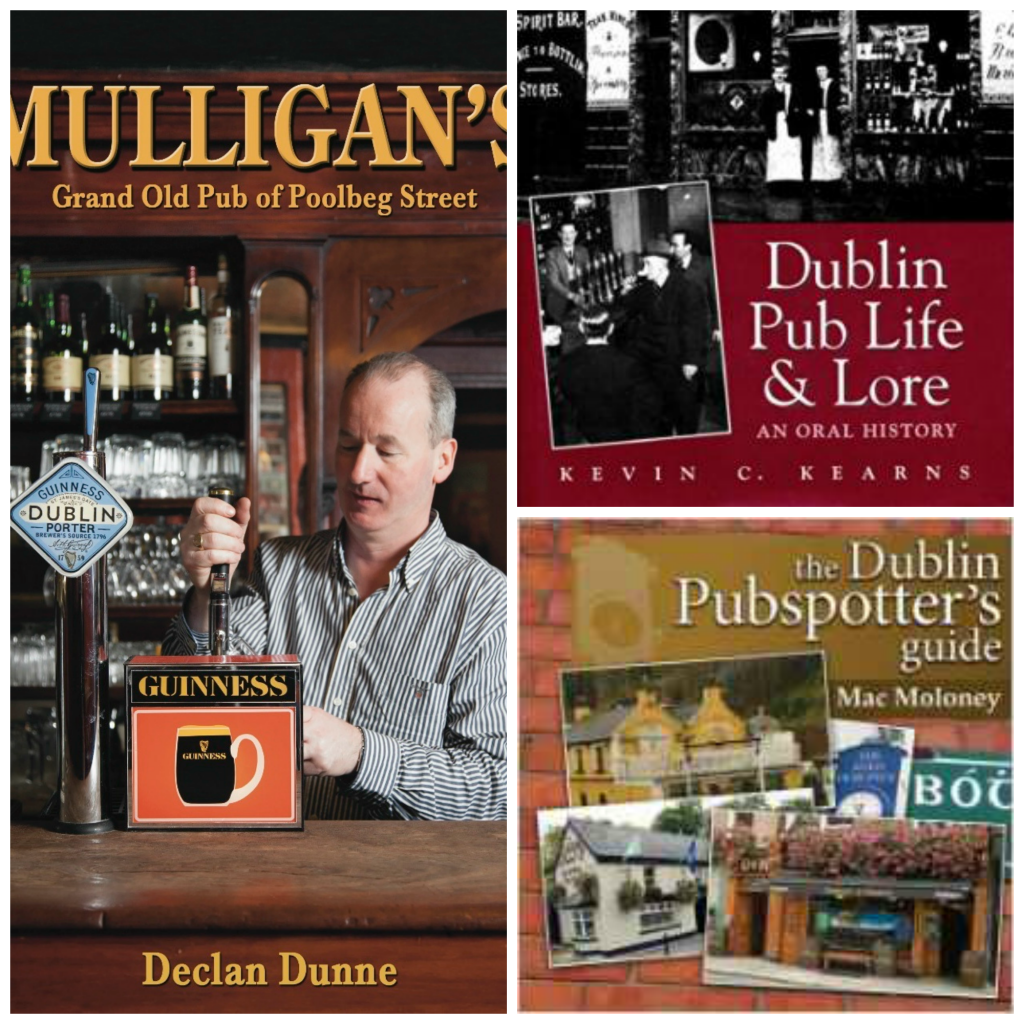 We've selected a few books about pubs, new and old, that might be of interest to the pub goer in your life.
'Mulligans, Grand old pub of Poolbeg street' by Declan Dunne. A fantastic new book that came out this year. Some great stories featuring the regulars that drank there, the staff that served there, and the big stars that on occasion popped their heads in. We loved this book and wrote a review of it earlier in the year. Link.
Price: €19.00
Link.
'The Dublin Pubspotters guide' by Mac Maloney. Mac Maloney took it upon himself to catalogue all the true pubs of the city in this excellent book. You may have heard of it recently in relation to the exploits of Yuya Abe, who is attempting to have a Guinness in every pub in Dublin, with the book as his guide.
Price: Paperback €10.00on Amazon. Can be bought in some pubs around town, including The Long Hall.
Link.
'Dublin pub life and lore' is a an oral history of Dublni pubs recounted from barmen and regulars. Some of the accounts are absolutely hilarious. A must read for anyone interested in Dublin pub history. It's a decade old at this stage, but still holds up well.
Price: €18.00
Link.
Pubstops metro map
How about a metro map of all Dublin city centre pubs. A fantasy for pubs enthusiasts and lovers of phantom infrastructure.
Price: £8.00
Link.
5 Lamps Whiskey barrel aged series
Cut out the middle man and just get them some beer. In this case, fancy beer. The 5 Lamps have a special whiskey barrel aged series for Christmas. You get three of their regular beers, aged in whiskey barrels, and a 5 lamps glass too. The beers are much higher in percentage after their stint in the barrels. Contact the Lamps @the5lampsbeer to find out which off licenses are stocking it.
Price: €15.00
Tickets to the Teeling distillery
Still haven't checked out Dublin's latest drinks tourism offering? Why not keep the gift going by taking them out to the Teeling distillery in Newmarket square. Not only do you get to see how it's all done, you'll also get to sampel their selection at the end.
Price: €14-€30.00 per ticket depending on whiskey sampling at the end.
Link.
Galway Bay Brewery Christmas beers.
Another option for people who want to open the stocking and see beer looking back at them. Available from off license and Galway Bay pubs (Against the Grain, Beer market, Black Sheep, Brew Dock).
Gift Vouchers for pubs
Searsons/ Chalke group have a gift voucher to spend in any of their pubs.
The Galway Bay bars have vouchers available from all of them. An excellent option for someone who wants to try the best of craft beer in Dublin. The pubs include Against the Grain, Black Sheep, Brew Dock, Beer Market.
The Bailey on Duke street also have vouchers if you want to have a few drinks in a pub steeped in history.
Oscars cafe bar in Christchurch and Smithfield also have vouchers.
The old pubs of Dublin poster
This old pubs of Dublin poster is available from behind the bar in The Long Hall.
Price: €7.00
Pub t-shirts
A number of Dublin pubs have their own t-shirts for you to buy. Off the top of our heads, you can get them in Mulligans, The Brazen Head, The Gravediggers, Stags Head, The Bankers, O'Neills, and loads more. Maybe find which is the favourite pub of the recipient of the gift and buy them one for there.
Price: between €10 and €15.
Beoir membership
Beoir are a group of consmers who promote native independent microbreweries in Ireland. They have a membership option that gets you a discount in a number of places including JW Sweetman, drinkstore, Galway bay brewery pubs, and several others.
Price: €10
Wicklow Wolf Beer gift pack
The Wicklow brewery are also getting in on the beer hampers with their own offering. Available from O'Briens off licenses.
If you know of any good presents that should be on this list, email us at publinie@gmail.com