So, you're a small company or a small group and you want to celebrate your Christmas party, but you don't want to book somewhere too big. You might want a sit down meal, or maybe just somewhere to have a few drinks. We've put together a few options for you.
We will be putting together another list for larger groups, and you can also email us at publinie@gmail.com for more tailored advice and maybe something unusual.
Trinity bar, Dame street
Although it's a big place, they can split their venue into smaller areas for multiple parties around the bar. You can reserve a few tables and enjoy your night in a busy atmosphere. They have a late license at weekends and there's live music every night of the week. If you have a group of 10+ they would probably throw in some figer food for you too.
The Bankers, Dame lane
If you're looking for a sit down meal of good quality, but reasonable price. They've got a lovely dining room above the bar called 'The Teller room'. There they'll be serving their Christmas menu, which includes all the festive treats you'd expect, including smoked salmon, turkey and ham, and baileys cheese cake. A 4 course meal is €29.95 per person. They also have some platter options you downstairs if you want a few drinks. A platter and glass of prosecco is €15 per person.
Check them out on twitter: @thebankersbar
JW Sweetman
Sweetmans on the quays is another really large bar over several floors. They can save a space for you and your group and pump you full of their in house brewed craft beer, and a number of platter options. They also do a very appetising food menu. Why not spend your night looking out over O'Connell bridge and the Liffey. You could even turn it into a bit of a tasting session and get some of their beer and whiskey trays. You can sample 5 beers and a number of whiskeys, making the night that bit classier.
Find them on twitter: @jwsweetman
Oscars Christchurch
Oscars in Christchurch have a few lovely areas that you can book for your group. Our favourite is the first floor booth that looks out over the rest of the bar. They also do free finger food for groups of 10+. They have live music at the weekends and some great drinks specials, including gin and tonic for €5, €6 cocktails, €7 prosecco and more. They also have 4 course dining options for groups.
Find more on their website: www.oscarschristchurch.com/promotions/
Blackbird, Rathmines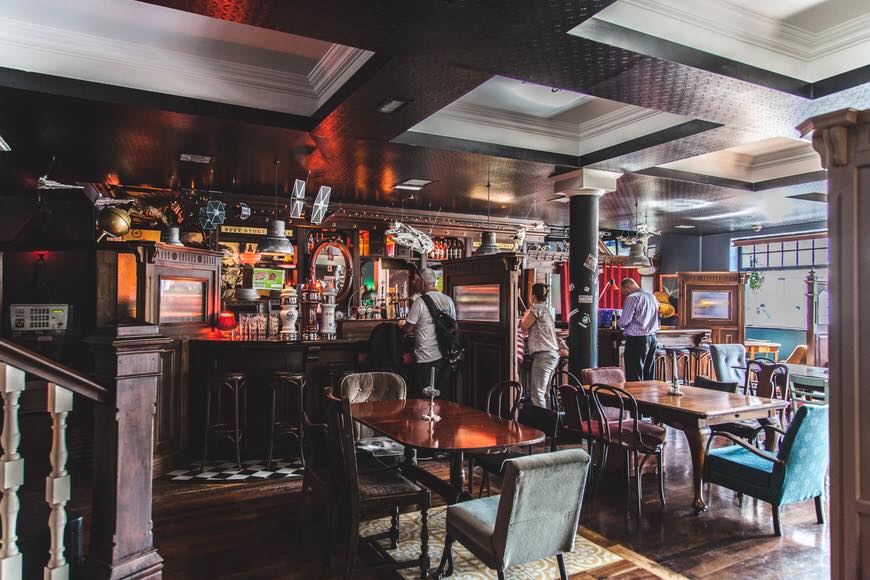 If you're looking for a slightly alternative looking bar for your Christmas party, then Blackbird is a good bet. It's one of the most uniquely decorated pubs and charming pubs in the city. There are several areas largely cut off from the rest of the bar that you could book fro your group. Some of them are 'island snugs' in the middle of the bar. They do some really tasty looking platter options, and they have a heated beer garden too.
Alfie Byrnes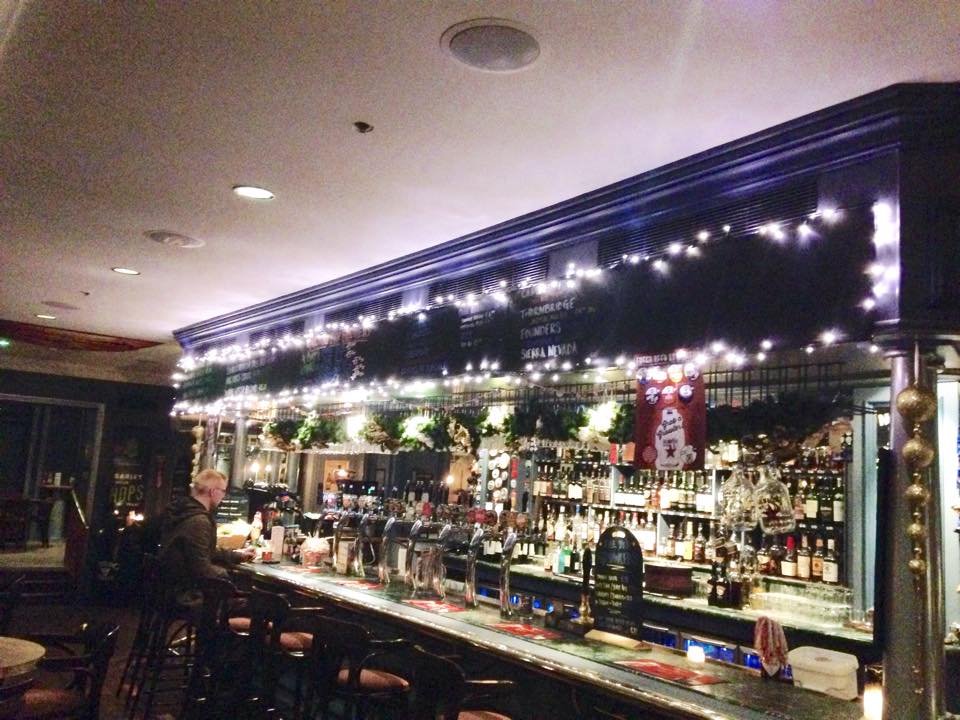 There's a number of small areas for hire in this craft beer speciality bar. It's located just across from the National Concert Hall under the Conrad hotel. They have a huge selection of craft beers, a full menu, a pool table, a table tennis table, outdoor heated seating, and screens around the bar. You could even inquire to see if they'd let you have a pool and table tennis tournament among your group. If you're looking for other craft beer options in other areas of town, you can try their sister bars The Black Sheep, Against the Grain, The Brew Dock, or The Beer Market.
Sober Lane
Sober Lane has party package deals running at €12 per person, which includes festive food, prosecco, and santa hats. They really know how to look after people in here as well. They can accommodate big and small groups and they've always got deals and freebies going on most nights of the week. If your office is near Ringsend or Grand Canal dock, this would be a handy option for you. They have a dining room area or multiple other tables and areas for you to book out.
If you want more options or some help with finding a venue for your Christmas party or any other party, send us an email to publinie@gmail.com or get in touch via facebook or twitter.