Dublin has been used for a lot of big budget international productions such as Braveheart, Michael Collins, and Saving Private Ryan, and Dublin's pubs have even gotten in on the act. We're starting a series of article about movies scenes filmed in Dublin pubs.
Second in our list is the 2007 romantic movie, 'PS I love you' starring Hillary Swank and Gerard Butler.
The synopsis reads:
'A young widow discovers that her late husband has left her 10 messages intended to help ease her pain and start a new life.'
One of the scenes, flashing between two gigs of her former husband and potential current lover (we're not sure as we haven't seen the movie), is filmed in Whelans music venue on Wexford street.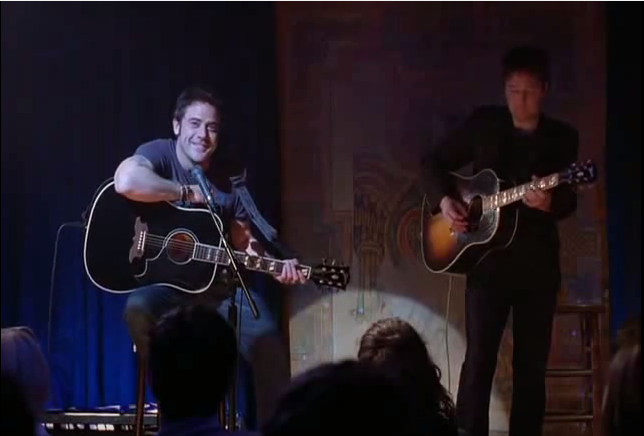 In the present day scene, Swank's character is listening to Jeffrey Dean Morgan playing guitar up on the Whelans stage and her face begins to turn sullen once she is reminded, through flashbacks, of her former husband, who also played on the same stage. The song they play, 'Galway girl', is now played ad nauseam in pubs around Temple bar, probably as a result of the popularity of this movie.
A lot of the shots are quite close to the characters, so you don't get to see a huge amount of the pub. The stage has been given a bit of a makeover with some Celtic designs.
Fair play to Hillary. She nearly takes a sup out of the Guinness before it's actually settled, but she stops herself. Props to the continuity person for having the pint in a perpetual state of settling.
Beer spoiler: She never actually takes a sup, and hands the pint over to some guy when she starts to dance.
Swank and her group of friends leave the venue, but it's not Whelans, and the location is unclear.
You can watch the full clip below.