If stew is the most traditional dish on the island of Ireland, then coddle is the most traditional dish of Dublin. Typically it's boiled spuds, bacon, sausages, and onion, and maybe a few herbs. The recipe varies depending on who's mammy you're talking to, but they're the staple ingredients.
Coddle was a dish that you could leave in the pot, gently simmering away over the course of the day when you were waiting for all the family to get home. Some Dublin pubs have carried on the tradition of serving this iconic Dublin dish. We're providing with you with your options so you can judge definitively what is 'Dublin's next top coddle'.
We should say with regard to the pun, we did hear it a few years ago somewhere online, but we haven't been able to find where. If you're the originator, let us know and we'll credit you here.
Edit: The originator of the great headline pun has emerged! It's Crumlin's next top coddle, a facebook page from 2013. Link.
We're listing here only pubs that serve coddle, and not restaurants.
Kavanaghs, The Gravediggers
They're well known here for their devotion to the sacred broth, serving it by the bucket load daily. They even have  t-shirts available at the bar for real devotees to the bowl of goodness. Chef Ciaran Kavanagh has featured on numerous travel shows, showing his recipe to the world. You can see that video below.
Link to coddle masterclass video.
O'Neill's, Suffolk street
O'Neills is a great pub for straddling the line between offering something for visiting tourists and locals, and delivers on both counts. Their food is good, and the portions are massive. They do ham hocks served with Dublin coddle. 'Slowly Cooked Ham Hocks combined with Sausages, Onions, Parsley and Thyme'. That'll set you back a reasonable €11.50. If it's really good, then you can try their recipe at home, which they've provided on their website.
The Bachelor Inn
The Bachelor Inn on the quays serve up a coddle for €9.95, or you can get it with a pint of any of their beers for €13.00. What better location to enjoy Dublin's signature dish than right on the banks of the Liffey.
The Quays, Temple bar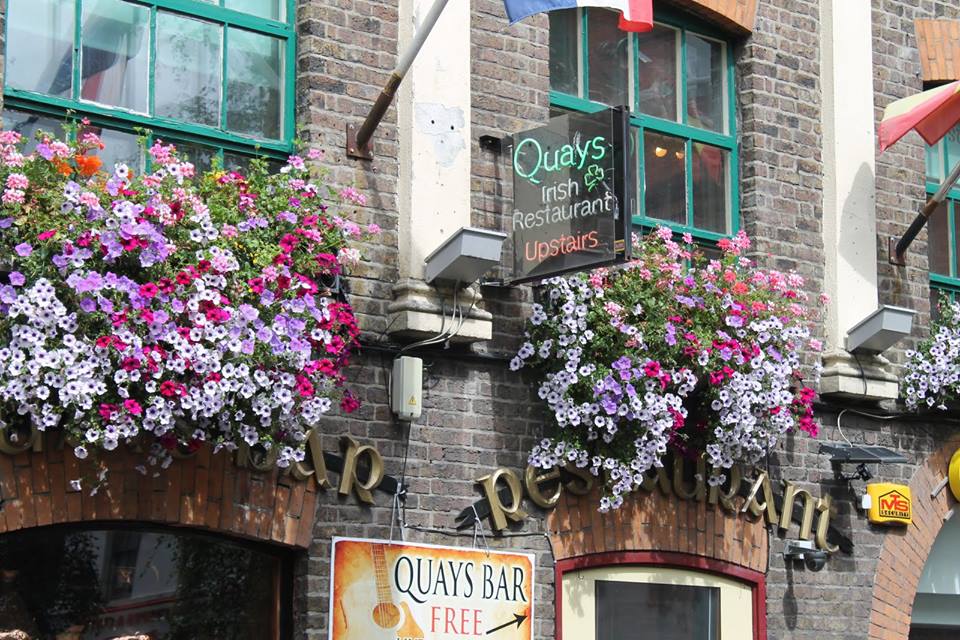 In the heart of Dublin's tourist district you pick try out The Quays bar 'Famous Dublin coddle'. The description looks similar to others, with the critical exception of 'cooked in a rich potato soup'. This sounds like the broth might not be as clear as others, but we like the sounds of that.
Shearys, Crumlin
Ok, so it's not in the city centre, but we're including this pub for the very good reason that they deviate from the regular recipe slightly. Owner, Mick, puts in some tomatoes into his coddle. We tried this once and were mocked by friends for trying to give an Italian twist on this Dublin dish. 'Codello' they called it. Mick, however, is a better chef than I, so we trust him.
The Hairy Lemon
The Hairy Lemon are also in on the act, given that they serve a lot of traditional dishes in their bar/restaurant. Theirs runs for €13.95
Merchants Arch
The Merchants cater to all things traditional including their music and atmosphere, and the cuisine is no different. Theirs is called 'The auld Dublin coddle' and it'll cost you €11.95.
The Lotts
The Lotts show here their winter warmer coddle with a pint of Galway Bay beer. A very traditional Irish pairing. You can try their coddle for €11.95
We haven't found a huge amount of pubs serving the dish, but if you know of any more, just let us know via publinie@gmail.com and we'll add it to the list.
Against the Grain on Wexford street had it on their winter menu last year, so a comeback might be on the cards once the Winter really hits.