In October of last year we had the bright idea to list and visit all of the (or as many as possible) derelict or unused pubs in Dublin. On Thursday the 16th of October we put it to the Publin audience that we wanted suggestions for our list of pubs that were no longer in use. The original idea was just to create a map and maybe write an article about it. The response was so huge though that we thought 'What if we visited them all and tweeted as we went?'. So, the following day with a map of derelict pubs, a phone, a charger, and a camera, I set out on my bike to visit all of these pubs, live tweet the journey, and get some discussion going under the hashtag #ReelingInTheBeers.
Here below are the pubs we visited, the responses we got, and the resurrection of pub history through twitter.
I have linked the original tweet that we sent out from each location so that you can see the complete responses from people on twitter at that exact time.
We should say that all of this info was collected last October and we have mentioned, where possible, if a pub has reopened or has been sold.
The Map
This is the map we put together on the Thursday before we started cycling around the city. This was achieved from our own knowledge and memory, as well as the huge response from Publiners on Facebook and twitter.
1. Sean Mac D's/The House that Jack built. Harolds Cross
2. Scholars Bar. Donovan lane.
3. The Tenters. Blackpitts
@publinie I work next to this, and it is such a shame that it has gone to ruin like it has!

— Jacqueline Grogan (@TartanWeegie) October 17, 2014
4. The Ardee House. Ardee street
5. Nashs, Patrick street
6. The Barley Mow, Francis street. "Buttresses keeping this thing up"
7. The Bayno, Francis street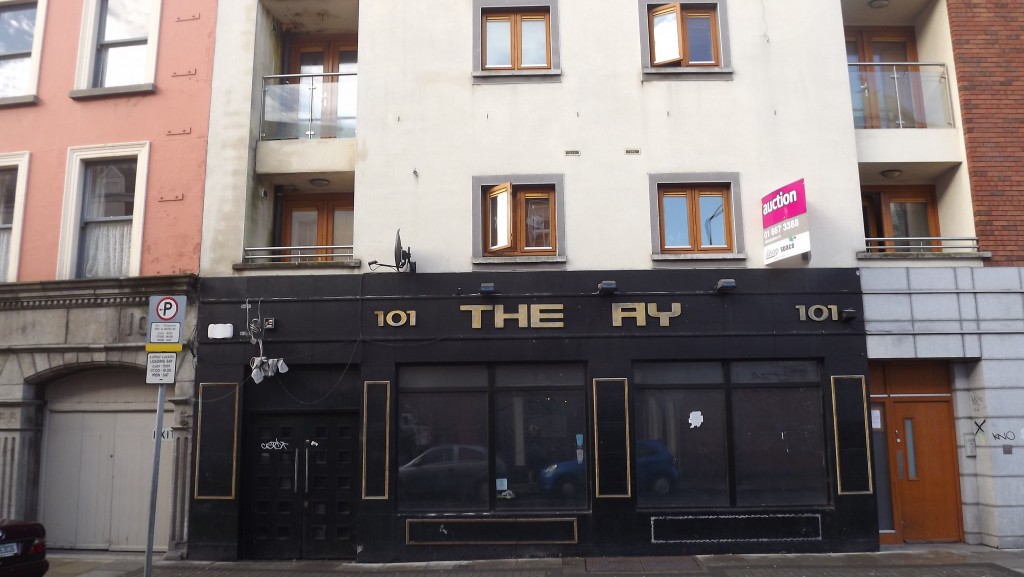 8. Mother Redcaps. Back lane, Christchurch. "Freshly painted".
9. McGruders, Thomas street
4 more photos on twitter.
10. Conways, Thomas street. "Not sure if this was a pub"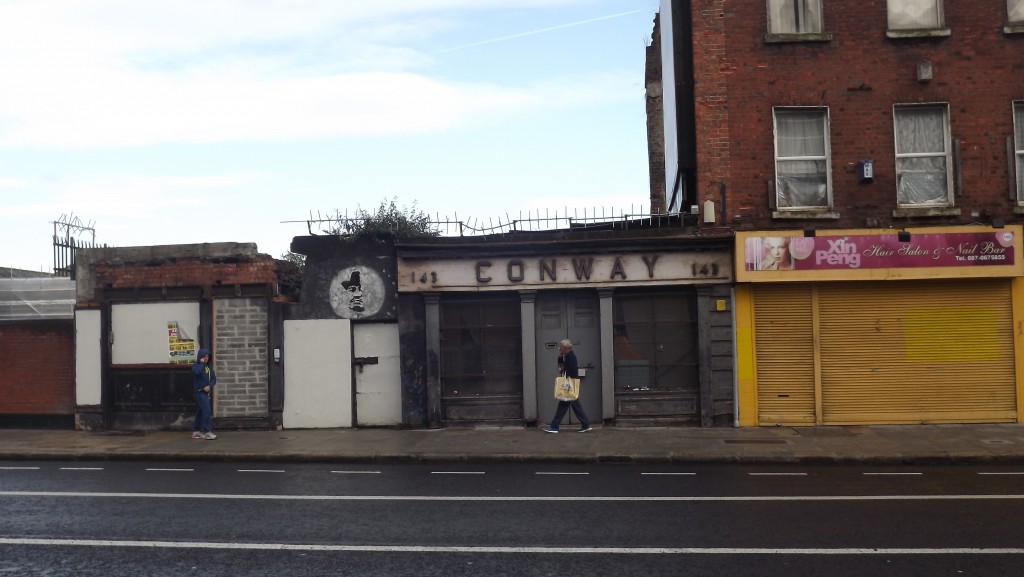 11. The Tram, James street
12. Carrigans, Kilmainham.
Our friend Bryan told us that this was her Grannys local pub. She used to sneak a naggin in with her!
13. The Black and Amber Inn. Islandbridge. "Now THIS is a throwback!"
@publinie that was used in the movie "I went down" with Brendan Gleeson and the fella that plays thr kids dad off moone boy. "git" — Diver Buzz (@diverbuzz) October 17, 2014
  14. Liam Walshes. Parkaget street. "Sold sign above door."
Twitter link
Media
It was at this point that a journalist from TheJournal.ie contacted us to write a story about what we were doing. When their readers were alerted to what we were doing, lots more people started contacting us and joining in with suggestions and memories.    
15. Timmons/Leonards. Watling street. "Used as 'The Napper Tandy' in 'Love/Hate' "
Twitter link Some memories are more specific than others…  
@publinie first place i ever ate mustard on a ham and cheese toasty.

— John Murray Photo (@JMPhotodub) October 17, 2014
16. The Museum rest. Benburb street. "I believe there was a fire here in recent years."
@publinie a picture of the demolition pic.twitter.com/5MdbZgmNgM — dublin.cat (@dubcat) October 17, 2014
  17. The Quill. Arran quay. "Friends lived here during college. Cans and pro evo behind the bar!"
Twitter link  
18. The Legal Eagle. Chancery Place. "I heard this was bought, so should be back in use soon."

Lunch
At this point we went around the corner where The Chancery Inn treated us to a toastie and a pint of Guinness. Thanks lads!  
19. The Belfry. Stoneybatter. "Having work done and reopening soon apparently."

Twitter link My brother told me this was the first pub to have Bavaria on tap. Very important obviously!  
20. Saints and Sinners. Bolton street.

21. Patrick Conways. Parnell street.
Twitter link  
@publinie remember the boom boom room/venue upstairs? Great gigs

— Sarah Peters (@paythers) October 17, 2014
22. The Welcome Inn. Parnell street.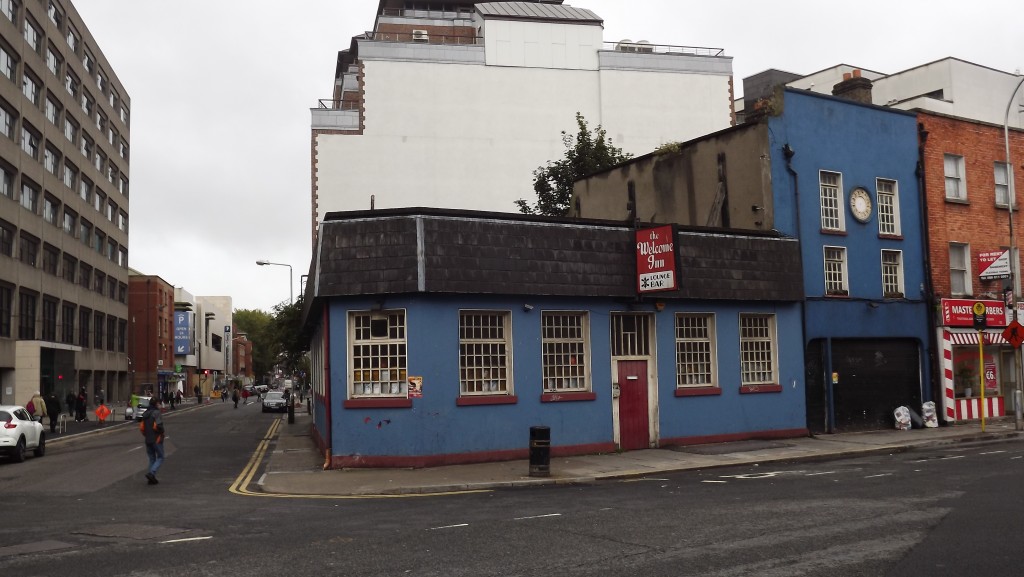 This pub also featured in Love/Hate.
23. The Plough. Abbey street. "Greatest tragedy of all. So much history. License sold from it."
24. The Countess. Townsend street. "Named after Countess Markievicz"
25. Vallance and McGrath. Near point depot. "Estd. 1908"
26. The Good Bits/ The Isaac Butt. Store street. "I had my 21st here".
27. The Vaults. Under Connolly station. "Currently to let. Lad sleeping in doorway."
28. Burkes Bar. Amiens street. "Beautiful building. For sale"
29. The Strand House. Amiens street.
30. Jack Humphreys. Amiens street.
31. The 5 Lamps. Amiens street. "Attached to Jack Humphreys. Planning notice in the window."
32. Gaffneys snug. Fairview. "Main, unattached pub still there and trading. A 1 man pub (meaning could be staffed by 1).
33. The Players Lounge. fairview. ""You won't get too much of a photo ourra that"- Local man"
Formerly owned by father of Ireland football international Anthony Stokes. Amazing rate of decay considering it hasn't been closed all that long.
It was at this point that we got a call from the Dave Fanning show looking to talk to us about #ReelingInTheBeers on their Saturday morning show.
34. The Botanic House. Glasnevin. "Closed since Christmas. Very nice spot"
35. Berminghams. Dorset street. "closed in the last 2 years"
36. Eamonn Dorans tavern on the green. Leeson street. "Didn't last long, but I hear the builders are in"
This has now reopened as 'East Side Tavern'.
37. Larry Murphys. Baggot street.
This pub has recently been sold.
38. Dwyers/Aungier House. Corner of Aungier st and Digges st upper. "Opposite DIT"
39. Crawdaddy/The Pod. Harcourt street.
40. Man of Achill. Clanbrassil street at Harolds Cross bridge.
41. Judge Darleys. By the croppy acre.
We missed this one on our original trip, so we're including it now.
42. The Moy, Dorset street
@publinie here lies The Moy #ReelingintheBeers pic.twitter.com/ziplAopWb8

— Tim (@Macveighkid) October 17, 2014
We couldn't locate this one, but luckily a Publiner sent it to us.  
@TrendsDublin @publinie Never mind trending on Twitter, you know your hashtag is popular when a taxi driver brings it up in conversation!

— Nigel Taylor (@Nigeltails) October 19, 2014
Conclusion
The day itself was an enormous success and a very enjoyable exercise. Media coverage and the reaction of twitter showed just how much dormant history there is in the city, just waiting to be unearthed and discussed.
We'd love to get a more permanent project underway to document old pub names, pub photos, and general lore that has been lost to redevelopment and the general passage of time. We'll let you know when this project gets underway.
If you have memories of any of these pubs, please share them below.