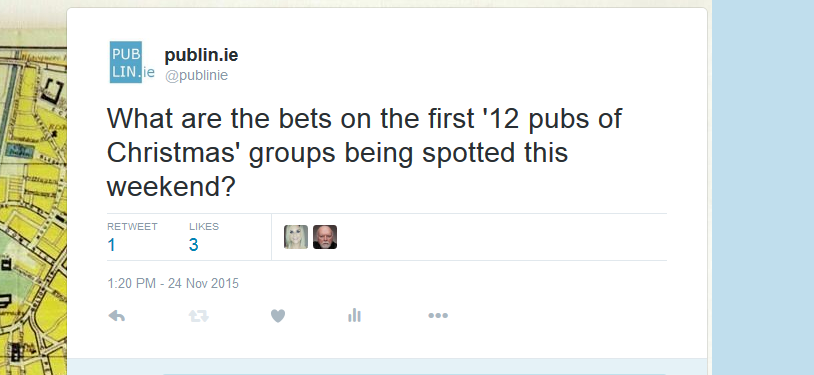 'Its still only November' I hear you say. Well, that won't stop them. On twitter yesterday (Tuesday 24th) we predicted that we might expect to see the first few stragglers doing their 12 pubs of Christmas this coming weekend as we're about to head into December. Little did we know, that a few pubs have already had groups in.
@publinie We had a few in the @IrishtownHseD4 for the #12PubsofChristmas already 🎅🏼🍺🍸🎤🍹 pic.twitter.com/BC1ka3zuUq

— The Irishtown House (@IrishtownHseD4) November 24, 2015
We were told about groups going in to the Irishtown House and Brogans on Dame street, but there's surely more than that.
@publinie in @BrogansBarDub last Saturday pic.twitter.com/VmPpcIeTx6

— WaynedeBuitlear (@WaynedeBuitlear) November 24, 2015
Just as Christmas ads and music get earlier every year, so too do the 12 pubs groups.
As always, for those of you that don't like partaking and don't want to be in a pub that is intermittently mobbed every half hour, we will be putting together our list of pubs that will be banning 12 pubs groups.