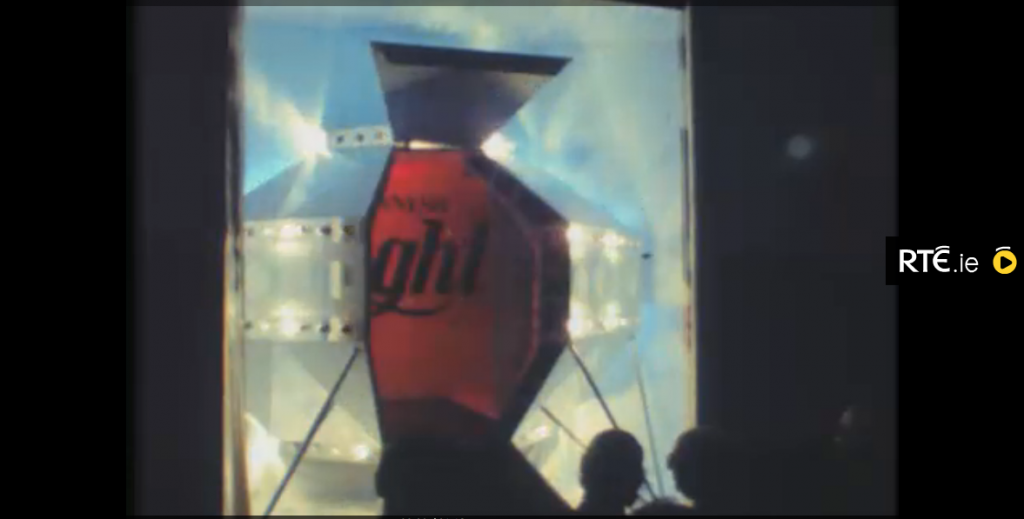 Note:The link to the video is at the end of the article.
These days new beer launches are all about showing that you too could look like the people drinking this beer, and you too could share their lifestyle. Guinness in 1979 took a rather different approach.
RTE archive footage from 1979 shows the unveiling ceremony of the new Guinness Light, which they were targeting at younger drinkers and women.
A group of publicans sit in James Gate, waiting the arrival of something new for them to sell in their pubs. What do Irish publicans enjoy? Science fiction of course!
A silver spaceship made up of triangular boards and flashing, alternating lights opens its doors to reveal the new Guinness Light logo. Then the comely space age lasses arrive, bearing trays full of pints of the new brew, set to the background music of a stock sci-fi tune. They're wearing red leggings and tops, then covered in metalic skirts and blouses. They would look right at home in a late 70s Star Wars rip off.
We're being a bit cheeky in saying that this event was just for the publicans. The campaign had a futuristic theme and was directed at the pubic.  This is one of the accompanying adverts.
Interestingly, they had the Lord Mayor of the time, William Cumiskey, in attendance. It say a lot about the larger or more obvious sway drinks companies and publicans would have had back then. Nowadays, politicians would run a mile from such an event (publicly at least).
The accompanying explanation on the RTE archive website reads as follows
RTÉ reporter Mícheál Ó Briain went to St James's Gate Brewery on 26 June 1979 for the launch of new drink Guinness Light, which had a futuristic marketing theme. This RTÉ News report shows models emerging from a spaceship, dressed in space age costumes and serving pints. Among those sampling the drink is Dublin's Lord Mayor William Cumiskey. Guinness executive P.J. McKenna says the drink should appeal to younger people, who are moving more to ales and lagers.
You can watch the news report in its entirety through this link.
If you would like to see more high definition photos of the launch, there are some more available on the Irish Photo Archive. Link. There's some excellent photos of pubs of the past on the site.