We pick 10 things for you to try in Dublin pubs and bars. They can be something new, an old stalwart, an area, a deal, or just about anything.
So, here's 10 picks for the week. 11th February 2016.
1. The new gourmet hot dogs in Bull and Castle
Bull and Castle have a new New York style hot dog cart with sausage made by their FX Buckley butcher. Looks amazing.
2. 2 Glendalough Red Eye cocktails for €10 in Generator
These cocktails, made from Glendalough poitin, are absolutely delicious. They don't pack the kick of poitin made in a bathtub, but they're full of flavour.
3. The hottest wings in Dublin in Bad Bobs
Bad Bobs have concocted a new hot wings recipe that measures 700,000 on the scoville scale. It's a big of a challenge, but if you like your spicy food, then Bad Bobs is the place to go.
4. Get free finger food in The 51 when you book for 10+
It's a great spot for sports, and just as good for after work parties. Call (01) 660 0150 to book.
5. The Tinder party in Bernard Shaw on Saturday
After great success last year, The Beranrd Shaw are having another singles Tinder party. Show the app at the bar for a free prosecco and try to find the love of your life or the love of your night.
6. The history night in JW Sweetman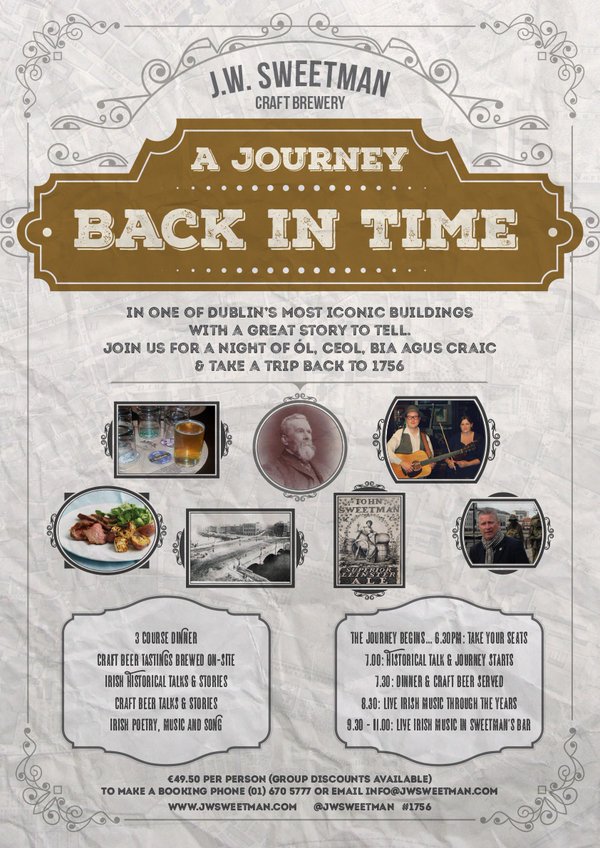 As 2016 is a year of historical reflection, JW Sweetman are offering you a chance to learn more. They have history nights on Mondays with a 3 course meal, craft beer pairing, history talks, and live music. It's a great way to explore history while also sampling some great Irish cuisine and drink.
7. Snuggle up to the fire in McNeills Capel street
McNeills is a lovely small pub and they've got 2 options for you when it comes to a snuggly fireplace. You can go all the way to the back and bask in the warmth of the fire while having a few chats, or you can stay in the main bar area and listen to some live trad music with flickering flames in the background.
8. Join the Gin Palace gin club
If you're a fan of gin, then you really have to go to the Gin Palace on Abbey street. They have a new gin club that will help you discover all of their over 100 gins. You also get a members fleece when you join!
9. Have a meal in the Teller room in The Bankers
Last year the Bankers saw that the tastes of Dubliners and tourists were changing, so they decided to move with the times and open a new dining room. It's pretty casual dining, with some of the best Ireland has to offer, including Clonakilty black pudding, Irish stew, steak, and the chefs fish special. Menu link.
10. Mosey down Thomas street to the Thomas House
Proudly proclaiming itself 'Dublin's best dive bar', it's hard to disagree. Since it opened it has firmly rooted itself as a part of Dublin's nightlife, offering an atmosphere and setting like no other in Dublin. Their patrons are devoted and really love the bar and it's easy to see why. Pop in for gigs, DJs, crafty brews and an experience you won't find anywhere else.