When the sun hits Ireland, it's a brilliant experience. There's no need to head off on holiday, everyone is in a good mood, and the outdoor areas of pubs are heaving with sun seeking punters.
We're always on the lookout for a good beer garden area or sun spot, and we've now put together a list of 18 of what we think are some of the best. For the most part, we're excluding rooftop beer gardens off this, as we already have a separate list of those. Link.
Most of the spots included in this list are beer gardens, but there are one or two places that would be considered 'sun spots' and don't perfectly fit the criteria. They're too good to leave out, so we're bending the rules a bit.
Toners
Toners on Baggot street have a pretty huge beer garden that gets a decent amount of sun during the day and evening. It's a cauldron of sport too, as they show live rugby, football, and GAA here. There's table service outside, which helps greatly. A portion of the garden is shaded for those who want that kind of thing, but there's also plenty of seating and standing room in the sun filled areas.
The Living Room
If you're looking for somewhere to watch sport in the sunshine, then this is the place for you. They have an absolutely massive screen outside that gets put to good use, as well several other smaller (but still large) screens. They even have a full bar out there, meaning you don't have to even go inside for a minute. It's a great atmosphere here for a big game.
The Church
This place might get the most consistent amount of sun of any of the beer gardens in the city. Situated in the grounds of a 300 year old church, the sun terrace is an amazing location to sit out and enjoy their food, wine, cocktail, and beer offerings. They also do BBQ's during the summer, which is the melted icing on the cake.
The Barge
The area at the front of the Barge along the canal at Portobello isn't exactly a beer garden, but it is one of the best sun spots in the city. People pack out the area around the canal while having a few pints, enjoying the reflected sunshine off the water.
The Bernard Shaw
While a lot of this beer garden is shaded, they do have some of the best amenities in any beer garden. There's a pool table, a bus off which you can buy some cracking pizza, and a tiki bar. When it gets really busy, they often expand into the gravel park adjacent to the beer garden, expanding their capacity by a large degree. They make some decent cocktails here, so that might be something to try out while sitting in the sun on a bench.
The Hop House
Whenever we mention the beer garden in this place, people usually tweet 'Shhhh' in reply. This tells us that a lot of people don't know about it, and a lot of people want to keep it secret. It's located at the back of a Korean pub on Parnell street. The food they serve here is wonderful, healthy (at times), and very reasonable. There's a decent amount of sun to be got here. Couple that with the food and you're onto a winner.
House
House may have the most elegant beer garden on  our list. This is certainly a place to come if you want to treat yourself or feel spoiled. When the roof is retracted, the sun is free to shine on the astroturfed grass, and tables full of delicious cocktails, bubbly, and food.
Ryans (Beggars Bush)
They've got quite a big area in Ryan's of Beggars Bush (near the Aviva). It's a family owned pub with very reasonable prices, and very friendly staff. The picnic tables outside get plenty of sun and there's quite a lot of standing room.
DTwo
Here's another good option for those who want to watch sports outside. They've got a big screen outside in their beer garden, complimented by several other smaller TVs. Even if you're not there for sport, it's a great place to enjoy the sun and get fed from their Summer BBQ.
Odeon
Another good option in the Harcourt street area is Odeon. At the side of the building they have a nice terraced beer garden. They've got a BBQ and some fine drinks to accompany the grub.
Diceys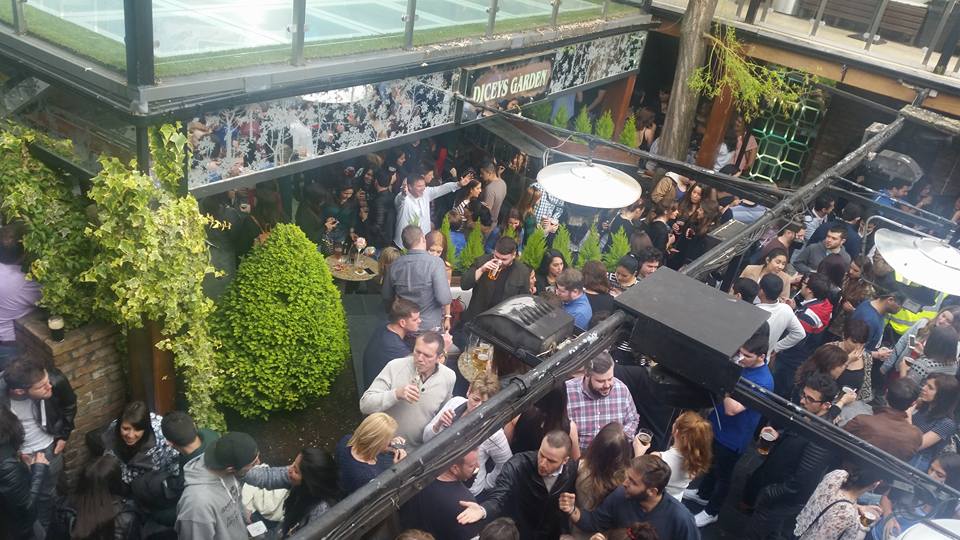 The home of cheap drinks in Dublin, Diceys is a great spot if you're on a budget and you also want a tan. Drinks prices can be as low as €2.50 on some nights, and they also do a cheap BBQ. Check their social media before going in to see the prices for that night. There's likely to be an entrance fee in the evenings.
Horse Show House
'Madigan Square Garden' is a huge area at the back of the Horse Show House in Ballsbridge. They've got an outdoor bar, a BBQ, a live music stage. They're open to the public, but the area can also be booked out for large corporate and private events.
Harry Byrnes
We usually stick to the city centre only, but we've been told several times about the excellent beer garden in Harry Byrnes in Clontarf that we're willing to make an exception.
Delaneys
Delaneys on King street in Smithfield have an excellent beer garden out the back. It seems to have been a bit of an unknown, going by the reaction to an article we did on it. It's not the biggest beer garden, but they do have around 4 picnic tables and it's a very pleasant spot. There's also a hatch from the beer garden into the bar.
The Pav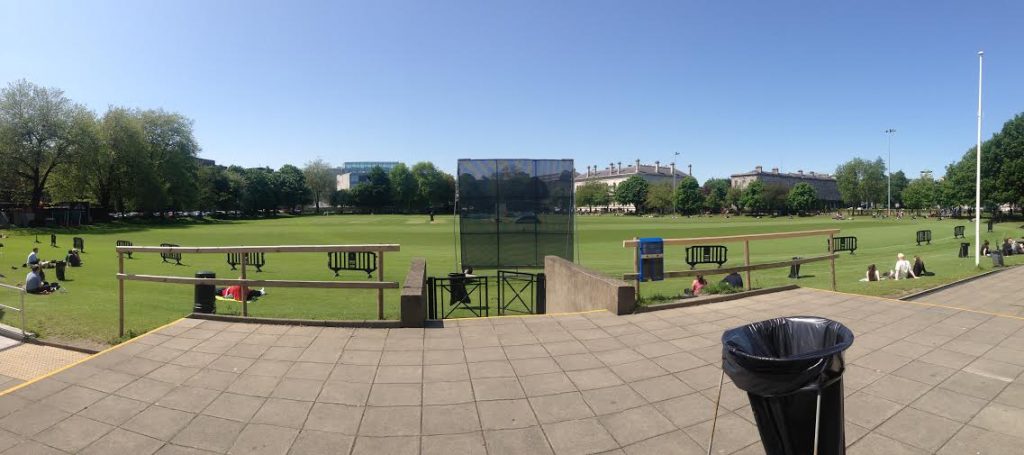 This place, like The Barge, isn't strictly a beer garden, but it does get an incredible amount of sun. It's also a good cheap option, as they sell cans. You can get 4 cans for €9.50. The only drawback to this place is that occasionally they will only sell to Trinity College students. You may even be sold your cans, only to be told to move out of the grounds by campus security. Still, it's an incredible spot for sun in the city.
Oil Can Harrys
There's a really cool terrace on the side of the building of Oil Can Harrys that we think merits inclusion in this list. It gets quite a lot of sun on on side of it, and there's a decent amount of seating.
The Old Storehouse
It's quite hard to find a beer garden in the very centre of the city, and much harder in the centre of Temple Bar. The Old Storehouse solves both of those problems. The entrance to the beer garden looks almost Italian. There's a few picnic tables in this very serene setting.
The Bath
The Bath on Bath avenue have a cracking outdoor area at the front. Ice cold drinks in this area that gets plenty of sunshine makes for a superb experience. You'll feel like you're on holiday.