A new recent development in Dublin pubs is to offer tasting trays for beers, gin, whiskey, and other drinks to give you the opportunity to sample several flavours all at once. Here's a few tasting trays from around the city to test out on your palette.
Gin Palace gin tray
The Gin Palace on Abbey street have over 100 gins on offer behind the counter and you can try a selection of three for €10. There's some fine Irish gins, as well as a selection of British and world gins.
Bull and Castle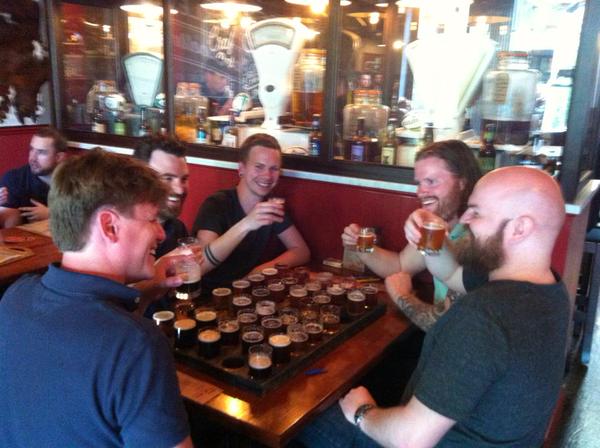 The Bull and Castle have a great selection of Irish craft beers that you can mix and match on one of their tasting trays. Get 4 beers on each tray. You can also opt to get a few all at once as the guys in the photo have done.
57 The Headline beer and whiskey trays
57 The Headline have the best selection of Irish craft beers on draught in the city. Here you can get tasting trays to mix and match up to 9 beers. They also do whiskey tasting trays. You can choose from a selection, which includes Glendalough distillery and Teelings for €11.
JW Sweetman craft beers
Taster tray at @JWSweetman. This is how you Dublin. pic.twitter.com/Ysvk50ZmIV

— Charles (@charleswrites) August 10, 2015
JW Sweetmans are the only Dublin pub to brew on site. You can try a selection of their beers on the Sweetman beer wheel. The wheel gives you info about what your drinking and has a place for all of their beers.
The Norseman
The Norseman in Temple bar are showing the tourists the best of Irish whiskey on their tasting trays.
Dingle Whiskey bar
It's not just the big distilleries that have tasting trays. The new Dingle Distillery have a selection of their own in their Dingle Whiskey bar on Nassau street. They've got a big selection and they also host a whiskey tasting night every Tuesday.
L Mulligan Grocer cask tasting
L Mulligan Grocer in Stoneybatter are at the forefront of the craft beer scene in Dublin and champion a lot of new trends. As such, they've got a tasting tray of their cask beer selection for €8.50
Searsons- Whiskey
Searsons have an amazing whiskey selection and offer some trays for you to sample. They even allow you to book their snug for group sampling. The 'Brendan Behan flight' consists of Jameson, Jameson Black Barrell, and Jameson Gold for €16.50. You can find further details on their website. Link.